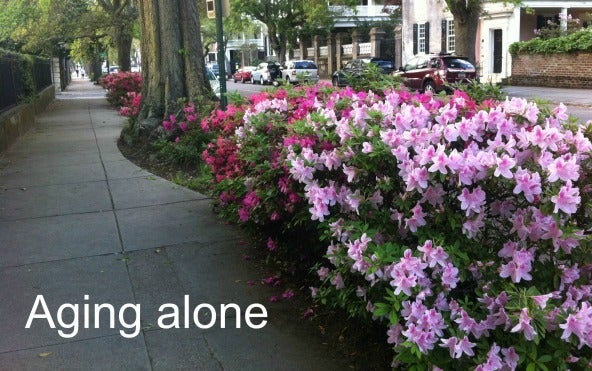 The graying of America illustrates the expansion of the senior population over the next few decades. Today the total is 49,264,900 and evolving every 19 seconds. By 2050, it will settle in close to 83,000,000. And every state and metro will experience the surge. In Texas alone, the number of residents 85 and over will increase 59 percent, from 402,633 to 638,855, while the number of the 65 and over will rise 67 percent over the next 15 years, from 3,112,883 to 5,186,185.
Along with the high population comes an upsurge in health care costs, Medicare expenses, long-term care rates, Social Security applicants, and housing deficits.
These issues are not new. We read about them frequently. However, there is one disturbing number we rarely discuss, and it's the sum of people over 65 who live alone. For example: in Texas, 638,725 seniors live alone and of these, 70 percent are female. 824,389 people 65 and over live alone in Florida, and of these, 70 percent are women.
There are record numbers of people 65+ solo agers in the U.S. Those living alone augments the currently stressed economy but may also increase chronic risks affected by isolation. The National Institute of Health believes the health hazards associated with social isolation compare in scale to the recognized dangers of smoking cigarettes and obesity.
The indicators of isolation related to health, such as living alone, having a small social network, little participation in group activities, a perceived lack of social support, and feelings of loneliness rank high. The risks are particularly severe because older individuals face stressful life course transitions, chronic medical issues, and disabilities.
Since I am 65 and live alone, the glaring difficulties rattle me. I question my independence, my ability to get around, and wonder if where I live will support me as age conveys its burden? Community and liveable practices become increasingly significant. And it seems that even though the demand exists, city and state governments do not appear troubled by the requirements we have. To illustrate the numbers, I made a list of the top cities with the most people 65 and over living on their own. Click on the link to read all factors affecting this population.
Are city and state administrators aware of the emerging problem?
Admond Fong doesn't think so. "I don't feel that this is on the radar for most state governments. They are more concerned with homelessness, job creation and security. It has not been a glaring issue because it was always a family problem where relatives opened their homes to aging kinsfolks."
Nancy Ruffner expresses a stimulating consideration. "Ironically, the methods used to measure the success of a program are the very ones needed up front to measure the needs! State and local government are not set up to look for social ills; rather they are often uncovered or making themselves known by sheer volume. Read about MeHAF, Maine Health Access Foundation and how existing agencies are better woven with volunteers and spearheaded by one agency."
MeHAF launched a program for people aging alone: Reducing Social Isolation in Maine. The initiative directly confronts the challenges of geographic barriers, the need for volunteer help, outreach to the residents and offering in-home supports.
What city governments have operational plans to do something about the emerging populace?
In San Francisco, 31% of the population 65 and above live alone. The city acknowledges "the unfriended" segment, meaning an individual who doesn't have someone within 50 miles of where they live who can help care for them. Donna Schempp, an elder advocate in the Bay area, suggests, "Helping all public institutions to be aware of problems, e.g. bus drivers, restaurants, fire/police, helps identify the people in need and then teach them how to access help."
The Cities Leading the Way
One member of the Seniorcare.com Aging Council, Scot Cheben, admits, "I do not know of a town/state that is doing something about this. We live in an impulsive society, governed by a reactive government. Do governments know the stats? They should. If they don't, they're disconnected from their people. Government and businesses alike are not going to make or change policies until someone at the top goes through it."
However, another member, Ben Mandelbaum, argues, "Most states are aware of the problems with senior isolation, specifically since the population continues to age. Some city administrations have plans to do something about it. Denver, for example, has a large co-housing movement that allows seniors to live together while still maintaining their independence, reducing feelings of isolation and increasing the sense of connectedness to others."
Harsh Wanigaratne explains that Katherine Freund of ITN America, a nationwide organization providing Senior Transportation, cites San Diego as being unique. She discussed some of the innovative programs promoted by San Diego to handle the growing transportation problem of over 500,000 older adult per year losing their ability to drive due to affordability or physical impairment.
Active city councils and governments are waking up to the issues that older people face. And Milken Institute offers progressive strategies to officials that face the challenge.
If you know of or city or metro that provides excellent services for people aging alone, please share with us. The Elder Orphan Facebook group wants to know!
Related
Popular in the Community