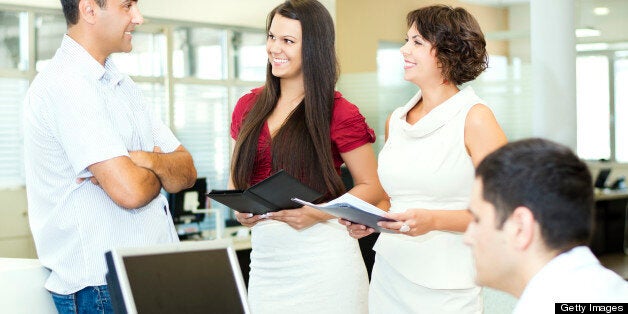 Technology makes it easier than ever to work from anywhere, allowing you the opportunity to grow your small business. Not only can you run your small business from just about anywhere in the world, but you can also work with people all over the world.
Technology provides you with a way to connect to others and collaborate in your small business. In fact, it's not uncommon for me to collaborate on projects with people from multiple locations. I have an agent in Canada who helps connect me with ghostwriting gigs with clients all over the world. My business partner also lives in Canada, and I've done work for clients in Taiwan and in the United Kingdom.
As long as I have access to the Internet, I can run my business from anywhere. There are a lot of tools out there that make long distance collaboration simple for small business owners. Here are five collaboration tools that can make your life easier:
1. ClickMeeting
Thanks to high-speed Internet, there is no need to be in the same room as someone when you have a meeting. Tools like ClickMeeting allow you to connect instantly, in real time, with business associates and collaborate to get things done. Video conferencing tools provide you with the ability to talk to multiple people, share screens, and even use Google to translate your meetings in real time so you can truly "go global."
2. Oktopost
If you are looking to collaborate with your social media marketing, Oktopost is a great tool. Not only do you have access to B2B social management, and the ability to measure your success. Oktopost takes social media branding and marketing to the next level. You can invite members of your team from all over the world, and put together and execute a seamless plan with the help of this tool.
3. Asana
I first started working on Asana when I became involved in planning for the Plutus awards. While I'm still slow to adopt project management software programs like this, there is no denying their usefulness when it comes to business collaboration. It's possible to assign tasks, set goals as a team, and encourage each other. The idea is to avoid email, and that appeals to many business owners as well.
4. Google Drive
If you want to share documents, videos, and other items, Google Drive is a great collaboration tool for small business owners. Not only can you share what you are working on, but you can watch other team members work on the project. You can both work on the project in real time, and see who is making changes. And, since you can upload audio and video, it makes it easy to share almost anything. I collaborate on an investing podcast, and we regularly use our shared folder in Google Drive to upload audio for the podcasts and share other items for our project.
5. Bitrix24
It's also possible to use a private social network for collaboration within your small business. Bitrix24 provides a way for your team members to connect and collaborate quickly and easily. It's possible to have chats, as well as set up projects and timelines that can aid in task management. It's a good way to get your entire business on the same page.
With a little planning, and the right collaboration tools, it's possible for your small business to save money on travel and meeting costs and still get a lot done.
Related