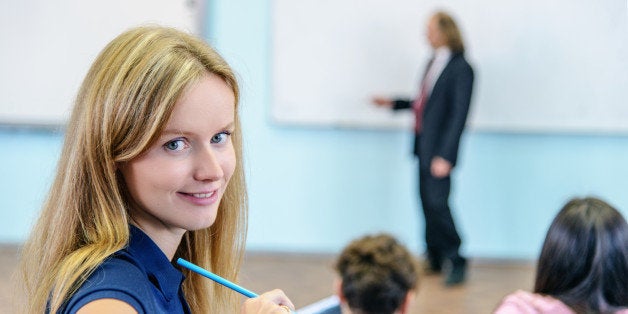 November is National College Application Month and the admissions process, now in full swing, is a time of high anxiety for students and parents. There are essays to write, test scores to report and, for the vast majority of American families, a complex web of tuition pricing and financial aid information to untangle.
At a time when Americans collectively owe $1.2 trillion in student loan debt -- and with tuition rates roughly 12 times higher than they were a generation ago -- the stakes in selecting the right school have never been greater. And yet the true cost of college, after grants and scholarships, often remains a mystery until the very end of the admissions process. In fact, most students don't know what their financial options will be until after they've received their acceptance letters in the mail. This is a hurdle to cost transparency that has prevented thousands of families from identifying schools that could give them a tuition break.*
Families shouldn't be left in the dark about what they'll pay for college. With admissions deadlines rapidly approaching, here are five things you need to know:
1. Understand the Difference Between Early Decision and Early Action. There are two types of early admission: applicants who choose Early Decision apply to a single college and, if accepted, are committed to enrolling. Early Action, on the other hand, is non-binding and gives you the opportunity to compare multiple financial aid packages. If you will be relying heavily on financial aid, Early Action is a better option than Early Decision.
2. Do Your Homework to Finalize a List. Most experts recommend applying to anywhere between five and eight different schools and, with application fees running as high as $90 a piece, students can end up spending hundreds of dollars on admissions costs alone. Before you finalize your list, do enough research to make sure you've included the right mix of reach, target and safety schools, but also make sure you're getting the whole story on factors like graduation rates and student loan defaults rates -- information that is available on the Department of Education's College Navigator.
3. Compare Costs to Get Your Real Number. Most families assume their FAFSA-calculated EFC's (Estimated Family Contributions) are the final word on what they'll pay for college. But this is almost never the case. Every school uses its own formula to allocate financial aid and those net prices are often lower -- much lower -- than a family's EFC. Net Price Calculators, now posted on every college website, are the only way to uncover your actual bottom line. Get your true number by using the net price calculators posted on individual schools' websites, or save time by accessing them all in one place at CollegeAbacus.org.
4. Put Financial Aid Front and Center. If you think you're going to need financial aid, make it a central part of your search from the beginning. Know what level of tuition you can afford, and how much aid you might need, by listing out income sources and estimated college expenses for each month. Also be prepared to file your FAFSA forms early (as soon after Jan. 1 as possible) to increase your chances of getting the most financial aid.
5. Never Assume a School is Beyond Your Financial Reach. Tuition sticker prices don't tell the whole story. Financial aid can vary widely at similar schools, and elite schools can be more affordable than you might think. At College Abacus, we often use fictional characters to illustrate this fact, including Bella Swan from the Twilight Saga series. In the books, Bella's boyfriend wants her to go to Dartmouth but Bella assumes (based on sticker price) she can't afford it. We ran the numbers based on what her father probably earned as a sheriff in a small town and what their assets would have been. It turns out Dartmouth would have cost Bella almost $11,000 less per year than her alternate choice, the University of Alaska Southeast. To make sure you're not leaving opportunities on the table like Bella, use online tools to calculate financial aid estimates for the schools that top your wish list -- and don't rule anything out until you do!
* This is why I created College Abacus, a free online tool offered by the education nonprofit ECMC that allows students and parents to calculate and compare their personalized, bottom-line tuition costs at over 4,000 U.S. colleges and universities -- all in one place, all at one time, before they've submitted applications or committed to schools they can't afford.
Abigail Seldin is the founder of College Abacus and vice president of innovation and product management at ECMC, a nonprofit corporation providing services in support of higher education finance.
PHOTO GALLERY
States With Highest Average Student Debt - TICAS - Class Of 2012
REAL LIFE. REAL NEWS. REAL VOICES.
Help us tell more of the stories that matter from voices that too often remain unheard.