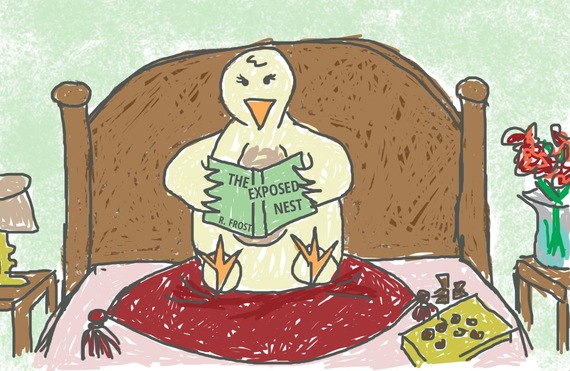 No, you didn't misread that. This fun project debuted on April 1st (fitting), with a full entourage of ticklish chicken comics to inspire you, featuring favored poets such as Emily Chickenson and P.B. Shelly.
From "Love Poultry" and a "Poultry Reading" to "Poultry on Your Pillow" (a play on the upcoming Poem on Your Pillow Day) and more, there are plenty of chances for you to crack a smile over this one.
Readers are invited to scratch out their own poultry poems--serious or funny. Some will be chosen for feature on-site.
Last Night I Dreamed of Chickens
Do you remember, I held empty hands to you
without a thought of eggs and bacon?
Stupid in candlelight, hearing rain,
waiting fulfillment. . .
It was all very simple:
Last night I dreamed of chickens.
 
Could three lines land you in Budapest? Indeed.
Who says writing poetry won't take you anywhere?
 
Poets from 43 states and 12 countries will create experimental poetry in honor of National Poetry Month as part of the Found Poetry Review's PoMoSco (short for Poetry Month Scouts) project. Participating poets will earn digital merit badges for completing poetry challenges on the PoMoSco website. The challenges will generate more than 6,000 poems by April 30th when the project concludes!
Unfortunately, if you're not one of the "chosen poets," you can't earn your badge. But, hey, who says you can't follow along on Twitter and use the prompts for your own fun around the National Poetry Month campfire?
 
This one is fun for both the daily prompts that will sometimes surprise you and the chance to watch Robert Lee Brewer write a poem a day. Here's a poem from day one's prompt (write a resistance poem):
if i pull away
it's so i'll snap right back
on a city street
in a memory
i'm not in love
but how can i trust
i turned my head away
but i never left
Bring your most fitting denim poems and poetic pictures to this project that comes with the potential promise of being published in the e-book Casual: A Little Book of Jeans Poems and Pictures. The challenge is to "go casual" with poetry but still create excellent poems. Writing in form might be the way to go. Or, do a little research about a jeans company or something unique you can relate to the concept of jeans (puns allowed).
Here's an excerpt of an early entry by Richard Maxson, along with a fun custom photo:
Bring a friend so the two
of you can take advantage
of the sale, only three days
left to get a pair of Fibonacci
Jeans at this amazing price--
only five dollars each, and if
you act now, the first eight
people to purchase any
quantity before the thirteenth
of April, will get a gift certificate
to Forever 21, our partner...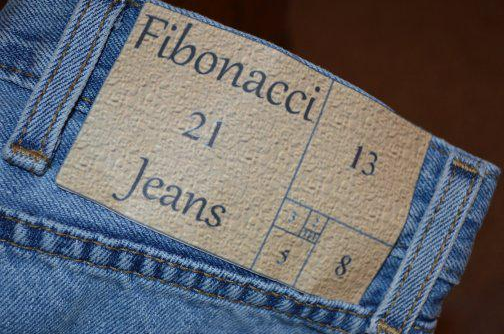 That's it. Five cool, fun (and funny!) National Poetry Month Projects. If you've got more leads for National Poetry Month project fun, let us know in the comments.
Calling all HuffPost superfans!
Sign up for membership to become a founding member and help shape HuffPost's next chapter