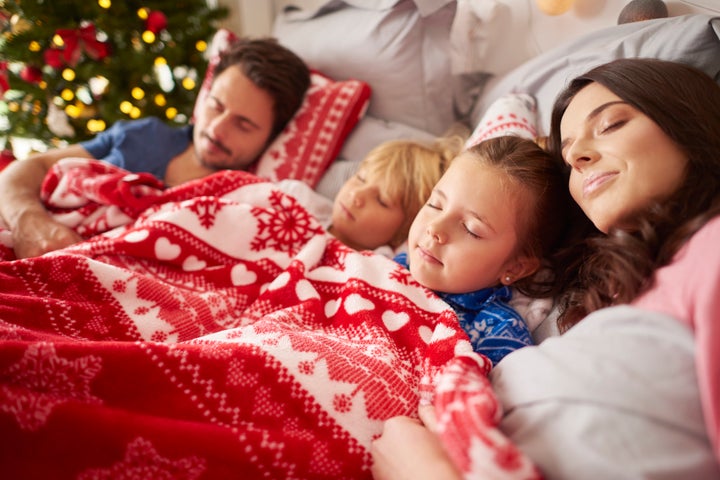 For many couples, the holidays are the perfect time to open their home to guests. Whether it's family from out of town or old friends, there's nothing like having everyone under one roof. But, as anyone who has hosted knows, it's not always as easy as it seems — especially when it comes to sleeping arrangements. We've partnered with Sleep Number to find out what advice experienced couples have for new hosts planning to bunk up, so this holiday season you can be ready for anything.
Alice and Will
"Hosting our first Thanksgiving in 2016 with my husband's family was super overwhelming. I got totally stressed out at one point and my husband had to talk me down with a giant gin and tonic. I was so stressed about the food and logistics of the holiday, I forgot about what really mattered.
My advice is to have a sacred space away from guests. For us, that is our bedroom and our bed. This is where we recharge when we need a break and where we get much needed restful sleep."
Theresa and Alex
"We love hosting our friends for the holidays, whether it's Halloween or New Year's. Since moving in to our home, we've had plenty of trials and tribulations, especially when it comes to sleeping arrangements. Some of our friends haven't grown out of crashing on the floor, but we want them to be able to sleep comfortably.
For our guest bedrooms, we always make sure to have clean sheets and a nightlight in the bathroom for any late night visits. Since we often have more people than we do beds, we also have plenty of throw blankets and pillows.."
John and Ray
"Last year was our first Friendsgiving for all our orphan New York City friends. Everything turned out pretty great, but we agreed on much smaller holiday parties moving forward, at least until we're not crammed like sardines in a New York apartment.
For people who try to host to similar capacity, remember you'll get friends wanting to invite other friends. Don't be afraid to say 'no' if you really are overwhelmed and have invited too many people, especially if they plan on sleeping over. Given our space, (a wall-less loft) we have a no sleepover policy for our dear NY friends. But, if you have the space go for it."
Austin and Lilia
"We host people around the holidays very often. Most recently, we had guests for Thanksgiving and Christmas. Last year, we had one guest travel all the way from Dubai all in the name of getting the 'perfect American Thanksgiving picture' for Instagram.
It was close quarters so we had guests crashing on the couch, but we still provided fresh sheets and new pillows. We also recommend having an extra toothbrush."
Melissa and Randy
"We are a military family and move often. We have hosted family for long visits over the holidays for the 12 years we've been married. Last year, we were stationed in England and had multiple family visits for two weeks at a time and our home only had one bathroom for seven people — it was a challenge for sure!
My advice for new couples hosting friends or family this holiday would be to try to give your guests their own space. Giving your house guests a room of their own to have some quiet moments and sufficient privacy can go a long way in making sure everyone has a fun and enjoyable visit. I also prepare a basket for guests with travel sized toiletries, water bottles, small snacks, and of course, the Wi-Fi password."
Quality sleep is essential to staying happy and healthy this holiday. Sleep Number® beds are designed with that in mind. You can adjust each side to your ideal level of firmness, comfort and support to create your perfect Sleep Number® setting. Plus, when you add SleepIQ® technology, you'll always be informed of how to get your best possible sleep.