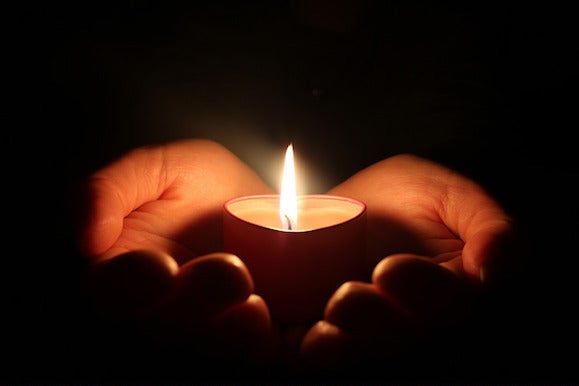 Saying goodbye to someone you love is never easy. It's a process that can extend far beyond the person's death. While it can be difficult to find the right words to eulogize a loved one just after they've died, there are endless creative, meaningful and lasting ways to honor and remember that person. Acts both big and small can help enable a more proactive approach to mourning, whether it's only been a few weeks or many years since your loved one's death. And taking action can provide a reassuring sense of control when you may otherwise feel powerless.
Author Allison Gilbert calls these actions "Forget Me Nots" in her recent book, Passed and Present: Keeping Memories of Loved Ones Alive. Gilbert writes in the book that in the first several months, years or even a decade after a loved one's death, there's plenty of support for those grieving and numerous opportunities to share memories of the person. Yet, that support typically fades over the years, leaving a void and a need for new opportunities to remember the person.
"When it comes to keeping the memory of our loved ones alive, that work is up to us," Gilbert writes in her book.
How you choose to go about said work is highly personal. These days, there are a number of one-of-a-kind rituals or projects you can carry out to honor a loved one's memory that go beyond the traditional graveside visits and scattering of ashes. What follows are some unique ways to memorialize a loved one whose memory will never fade.
1. Create a memorial garden
Memorial gardens have long been a popular way to honor and remember people by, providing both a physical site for loved ones to visit as well as the cathartic symbolism of death, renewal and growth throughout the seasons.
One of Gilbert's favorite ideas for remembering a loved one is to present the grieving person with a basket full of daffodil bulbs in that they can plant and watch grow in honor of their loved one.
"As perennials, they'll come back spring after spring—and they're virtually indestructible," she says in her book.
While flowers are a beautiful way to remember a loved one, your memorial garden doesn't have to stop there.
For years, Chief Caring Expert Dayna Steele's mother would paint small, smooth rocks in vibrant hues and give them as gifts. Following her mother's death last year, Steele created a memorial garden in her backyard, one of her mother's favorite places to spend time. And the garden continues to grow in a unique and meaningful way: Steele keeps a Sharpie and a basket of her mother's painted rocks and asks friends and family members to write a message to her and place it facedown in the garden.
"To me, it was unbelievably cathartic to plant some flowers, write mom a note, and put the rest of her ashes there," Steele says.
In the last year of her life, one of the only things Steele's mother would say to her was "home," or "your house," she recalls. So on her rock, Steele wrote the most fitting message she could think of: "Welcome home."
2. Think outside the box – or the globe
Scattering a loved one's ashes in a meaningful spot is another popular way to remember someone. And much like the memorial garden, this can take many different forms.
When Steele's father died, she and her family chose an unconventional site to scatter his ashes – but one that was totally fitting for them.
"The happiest I ever saw my dad was on one particular golf course, so we used his ashes to fill in the divots and we played 18 holes," she says. "It made us laugh, and it was the perfect send-off for Dad."
While covert cremains scatterings aren't unheard of – Disneyland and baseball parks are reportedly popular spots – it's also a good idea to check the local laws on where ashes can be distributed, as they can vary by state. One creative way around this has emerged in the form of ash scattering via fireworks.
And some folks have chosen to bypass earthly restrictions altogether by sending their loved one's ashes to an interstellar final frontier. "Star Trek" actor Gene Roddenberry and writer Timothy Leary are among the notable figures whose cremated remains were launched into outer space.
3. Commission a piece of art
An increasingly popular way to remember a loved one who has passed is by incorporating them into art – in some cases, literally.
In addition to the golf course, some of Steele's father's remains are now part of a unique artwork – a glass planet created by an artist friend. This type of art is becoming increasingly prevalent, with a number of artists offering to create glass pieces using a loved one's ashes. For customers, the artwork is a tangible and comforting way to keep their loved ones near them after they've passed away.
Commemorative art also includes more traditional pieces such as paintings or sculptures. Whether it's a portrait, an abstract painting or a glass-blown ornament, art can be a beautiful and meaningful tribute to a beloved person who has passed away.
4. Shine a light
Something as simple as lighting a candle can be a powerful way to remember a loved one, especially when multiple people are involved in the lighting. People have long held candlelight vigils for someone who has passed away, but today, there's a new type of candlelight remembrance that's gaining steam.
In Passed and Present, Gilbert features a Chicago-based organization called The Compassionate Friends, which unites friends, family and strangers across the globe in a mass candle lighting in honor of a deceased loved one. While the group focuses on honoring children who have died, as Gilbert points out, anyone can take inspiration from this idea.
In the age of the Internet, it's easier than ever to coordinate with friends and family worldwide to schedule a mass memorial candle lighting. Gilbert recommends choosing a birthday, anniversary or other meaningful date and time to honor the deceased person and planning to light candles en masse at the same moment as friends and family, regardless of where in the participants are located.
Gilbert suggests creating a hashtag on Twitter referencing the person you're all remembering. Tagging any photos, video or comments with the hashtag on social media will help everyone keep track of the event, no matter where you are. You may choose to repeat the candle lightings on the same date every year, or to schedule vigils on different dates. It's an easily customizable way to remember someone along with other people who loved them, and to support one another.
5. Preserve your memories for eons to come
While the Internet and even outer space can be fitting venues to remember a loved one, other times call for a more down-to-earth memorial. Among the many creative "Forget Me Nots" featured in her book, one of Gilbert's favorites is the "Family Fossil."
The author says she was inspired to create this artistic keepsake after seeing photos in National Geographic of fossil-like masses composed of melted plastic litter, sand, rock fragments and other debris. Gilbert shared the concept with a Hollywood prop artist, who was able to bring the Family Fossil to life.
But she notes that this can easily become a do-it-yourself project, with a simple glass container, a water solution, and small objects (think buttons, pendants, and other small tokens) that represent your deceased loved one. These tend to look like snow globes filled with tiny floating keepsakes instead of fake snow.
A version of this article was originally published on Caring.com. Read the original article here.
More Resources from Caring.com
Popular in the Community