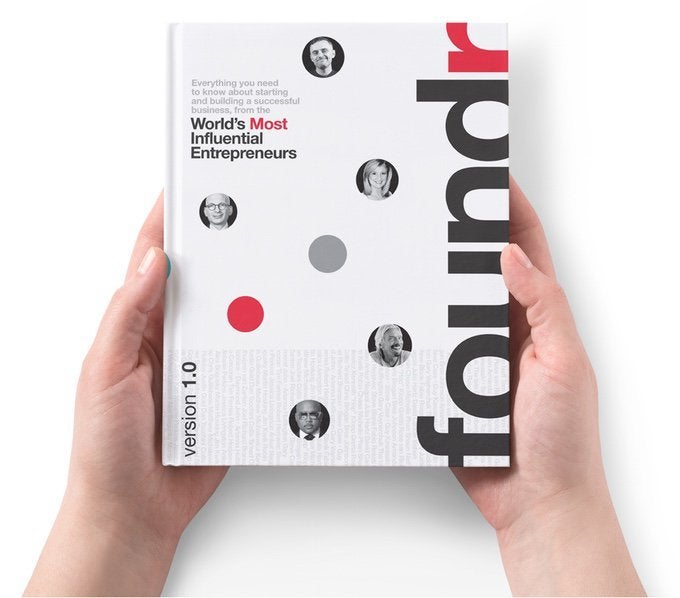 Over the last three years of running Foundr Magazine, Nathan Chan has had the opportunity to sit down with over 300 of the world's most successful and influential entrepreneurs.
As their next big undertaking, Foundr is launching a beautifully designed coffee table book via Kickstarter, capturing the best pieces of advice from world leading entrepreneurs such as Richard Branson, Arianna Huffington, Daymond John, Tim Ferriss, Seth Godin, Barbara Corcoran, and Tony Robbins, to name a few. It will be a timeless book of advice for entrepreneurs at any stage, broken down into sections such idea validation, hiring, team building, scaling a company, social media, raising capital, and everything in between.
In anticipation of the book's release, I sat down with Nathan to find out the top five lessons he's learned from these mentors.
1. Presell your product or service to find out if it's something people really want.
Joel Gascoigne, cofounder & CEO of Buffer (a company known for creating innovative social media products) shared that Buffer was able to launch their initial product by pre-selling a minimum viable product they built in about seven weeks. Buffer now nets over $1 million in revenue each month.
He argues that "throwing your hat over the fence" in this way is one of the best ways to launch a product or service because it provides strong idea validation while de-risking the business and minimizing upfront costs. Put it out there. If not enough people buy, then it means not enough people care and you may need to tweak the idea or try something else entirely. Pre-selling can be executed using a dedicated platform such as Kickstarter or Indiegogo or even a simple sales page in some cases.
Entrepreneurs wanting to execute a pre-sales strategy need to have a prototype or something to show. Before starting, they should speak to as many people as possible to get a sense if demand exists. Finally they should build an audience around a topic, find out their deepest pain point and take them to a sales page of some sort. Only when sufficient demand is proven should they move forward to build and sell the product.
2. In the early days, founders need to focus on one thing: their product.
According to Justin Kan of Twitch (a live video-streaming platform acquired by Amazon for $970 million in 2014) the number one thing you need to be focused on at the start of any venture is product (and product market fit).
Many people tend to be focused on press, social media growth, blogging, content marketing and many other things when they shouldn't be. At the initial stages, the best thing you can do is find a product that people love and then speak to those people to learn more about your ideal customer. For example:
Why did they buy?
Why were they interested?
What objections did they have and what got them past those objection?
How did they find out about it?
Focus on making the best possible product that people will be prepared to pay money for, talk about, and tell their friends about. Once you have that nailed down, you can start to worry about the rest.
3. Culture: A company is only as successful as the people that are part of it.
According to Vishen Lakhiani of MindValley, a $40M learning experiences company, culture is absolutely critical. If you don't have the right people on the bus it's not going to function properly. And culture is not just about employee perks. It's a set of beliefs and habits that your people possess - the beliefs and habits that define who you are.
If you want to build a successful company, part of that is building strong core values. Your company values become a decision making mechanism which makes sure that you are getting the right people on the bus. If it's not a strong value fit, it's not going to work out.
4. Social media: The goal is not to master one channel. It is to master them all (one at a time).
This advice comes from successful entrepreneur and social media dynamo Gary Vaynerchuk, and Foundr has taken it to heart. They first attacked Instagram, leveraging that platform to build an engaged following of over 900,000 Instagram followers. Now they are attacking Facebook and Snapchat with Pinterest not far on the horizon. Other entrepreneurs can pursue a similar strategy to put their businesses on the map.
5. Notes On Building A World Class Brand...
"I believe that any great company, whether it is improving a sector or creating a new one, needs to have an excellent product or service at its core, strong management to execute the plan, and a good brand to have the edge over its competitors"
-Richard Branson, founder & CEO of Virgin
"When it comes to having a great brand, put out something that is different to what exists"
-Shaun Neff, CEO of Neff Clothing, a $100M clothing company
"Brands are like coral.They build on a whole bunch of diff points and come together in an elegant way down the road. While you are building them, it is hard to see and their impact doesn't show immediately, but over time. Brands come from consistency and patience and from using novel and innovative ways to shout your message to the marketplace"
-Hap Klopp, founder of global outdoor brand, The North Face
And that is just a small sampling of what you can expect. If you are interested in more wisdom from leading entrepreneurs, feel free to check out Foundr's Kickstarter campaign. Although they reached fully funded status in less than a week, additional contributions may allow them to hit stretch goals, thereby unlocking additional rewards for contributors.

Muoyo Okome is host of the Daily Spark Podcast and founder of the Daily Spark Entrepreneur Community, a fast-growing online community dedicated to the empowerment, education & support of entrepreneurs. He has previously started, grown, and sold a mobile gaming company and runs several businesses in the mobile, online & e-commerce spaces.
A career-long technology professional and alumnus of the Princeton University (BA) and The Wharton School (MBA), his prior experience includes software engineering, consulting, and business management roles at companies such as Microsoft & IBM.
REAL LIFE. REAL NEWS. REAL VOICES.
Help us tell more of the stories that matter from voices that too often remain unheard.
This post was published on the now-closed HuffPost Contributor platform. Contributors control their own work and posted freely to our site. If you need to flag this entry as abusive,
send us an email
.