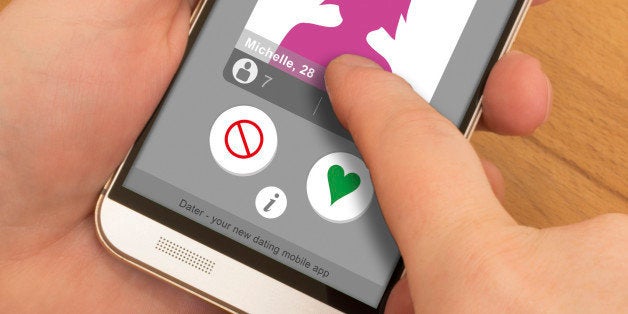 I love a good dating experiment! My latest one was to use my handsome friend RC's picture and create a male profile so I could get a really good look-see into the man's world of online dating. The profile had the same hobbies and details, but I made him slightly taller, his profile briefer and more humorous than his own would be, in order to promise mass appeal.
Although I recognize that men have to work harder online than women do and knowing what I know, I still learned some surprising things during my experiment. From those lessons, I wanted to share some better ways that women can use this to have more success meeting really great men.
1. Women are pickier than I thought.
One surprising thing I found was men get far less clicks on profiles than women. Which means, you are being even more visually-picky than men, who are um, visual! Ladies, if you aren't clicking on profiles then you are making rash judgments based on their profile picture alone. No matter HOW MUCH you tell me that you are looking for a GOOD man and looks don't matter... I call bullshit!
My advice is to click on lots of profiles and just check them out. I know their main picture might suck, but guess what? They often have better ones inside the photo album and I can't tell you how many men I've met who look better in person and just take crappy pictures.
2. Women aren't sending messages.
Now, I knew this because I talk to countless women of all ages who feel the man should initiate contact. I usually go into my explanation that men have a low return rate on messages they send out and women should definitely send a simple three-sentence message to see what happens. When working with private clients, I give them a goal of 5-10 initiated messages a day. But Ladies, we are doing even worse than I thought.
During the experiment, I did not initiate any messages on RC's behalf and I did not respond to any. RC actually lives and hour and a half away and isn't going to meet anyone in my area for a few reasons, so it wouldn't be fair. But after 8 days online, he only received 14 messages. I will say while there were only a couple "Hi handsome/sexy/just plain Hi" messages, the rest of women had made a real effort to write something worthwhile. Just to compare, when I am actively online, I can count on getting usually 15-20 initiated messages a day but many more the first two days I'm on a new site. While I feel attractive and confident, I am also in the "a little extra" category of body type, as a size 14-16, which won't appeal to everyman. However, the bulk of the messages I get are "Hi sexy, red, beautiful" and not much else. I would say probably only 25% of the men who contact me send a quality message.
So Ladies, good job on sending better messages but those of you who don't ever send them, quit wasting your time being on a dating site and not taking any responsibility for your results. Send a damn message to those men who interest you!
3. There's a whole lot of boob going on.
I get it, we know that men appreciate a nice set of boobs. For heaven's sake, stop flashing them all over your profile and then in your profile going off about the men who contact you only looking for sex. Please! Just! Stop!
A v-cut shirt never hurt anything but I was shocked at how many pictures of just boobs I saw, or how they had their head cut off in pictures and were showing their figure, or were lying in bed in a t-shirt with their legs in provocative positions. I mean, that's all well and good if you are just looking for a fuck-buddy but you are the same ladies who talk about how you are sick of losers or men who use you and you want a real and loving relationship.
How about using pictures that show a glow in your eyes and a smile in your heart? I guarantee you THAT will attract more men of quality than you ever thought! As I always say, you teach people how to treat you and your profile is their first impression...play to your audience, girl...be who you want to attract!
4. They've got their share of odd situations to contend with also.
While women tend to stay on guard against creepy guys, narcissists and so on, men have to watch out for some crazy women and situations themselves. One thing I was surprised about was how many men/crossdressers/trans used women's profiles but didn't proclaim their proclivity or orientation difference in the profile. I love that OkCupid has given a platform to people of all orientations and relationship styles, but I would be nice if those same people were clear about their intentions there. I know of men who have gone on dates with "women" to find out the anatomy matched theirs. Just be honest is that's your thing.
There are also women who look really odd...so much that I assumed it was a costume, only to go into the whole photo album and find out it's their everyday look. But hey, I believe ever pot has a lid, so it will float someone's boat. Men also have to deal with a lot more anger against them in profiles, and while I occasionally see men rant about women when I'm online myself, it's not nearly to the degree that women are doing it.
My advice here...women, if you want to attract a no-drama relationship like your rant exclaims, then drop the rant from your profile and BE no-drama. The law of attraction is alive and well in dating...so be who you want to attract and you just might find the man of your dreams.
To the men of the online dating world...don't give up on us yet! I know you're weary and sometimes the deck seems stacked against you, but hang in there and trust that there are great women who will come and find you!