Arriving at my ryokan in the Higashiyama district of Kyoto, a commotion of tourists near the hotel entrance erupted as maiko (apprentice geisha) stopped in front of a silvery-leafed tree to pose for a photographer.
Given my location near Gion, famed for the ochaya, or teahouses, where geisha entertain affluent clientele, the sight of maiko became a common experience during the week I spent in Kyoto.
At night I would see them on their way to appointments, balanced high on wooden clogs called okobo, kimono shifting gracefully with each tiny step upon flagstone streets lit by old-fashioned lamps-a singular image that sums up the elegance and romance of the city. Kyoto offers a glimpse into the past of Japan, a city of rich tradition and cultural importance.
It's been said that you must dig to find the historical side of Kyoto, with its layers of the past nestled here and there among bustling city streets and tall modern buildings. But for me, it felt like the other way around. There are several thousand temples, hundreds of Shinto shrines, pagodas, Zen gardens, and numerous historical districts to be explored.
It's possible to get a taste of the city as a day trip from Tokyo -- the trip by shinkansen (bullet train) is only a few hours. But for those with more time in Japan, three days is the suggested minimum by guidebooks. Considering the traveler's affliction known as 'temple fatigue,' for some three days might just be enough. With more time, day trips from Kyoto to more far-flung destinations are possible, thanks to Japan Railways, a network of track and speeding trains that connect cities all over Japan.
Kyoto Day 1: Historic Neighborhoods
Get a feeling for the city by exploring the historic neighborhoods in eastern Kyoto, starting with Higashiyam and then moving onto Pontocho Alley.
Higashiyama & Gion
Higashiyama translates to 'Eastern Mountain District,' a literal description of its location on the East side of the Kamo River, at the base of the Higashiyama mountain rage. It's perfect strolling territory, with narrow stone-paved lanes that wind their way through tidy, aged neighborhoods; spires of pagodas that peak above silvery rooftops and the crisscrossing patterns of electrical lines; and temples and shrines that intermingle with modern day shops and homes -- a sight that becomes familiar at every turn, but still manages to surprise.
Begin with the Yasaka Shrine at the end of Shijo-Dori, and then make your way down the quaint Ishibe-Koji Lane, past traditional inns and teahouses. Take the stairs up to the Kodai-ji Temple and gaze upon the rooftops of Kyoto from the hilltop. Say a prayer to the giant Buddha called the Ryozen Kannon on your decent towards the Yasaka Pagoda and Sannenzaka Slope, known for its jumble of shops selling traditional crafts and souvenirs. Top it off with a rickshaw tour, powered by men in black tights.
Head over to the heart of neighboring Gion, Japan's most widely known geisha district. Called geiko in Kyoto rather than geisha, the term means 'a woman of art' -- geiko are entertainers, trained in conversation, music and dance. As Gion is an entertainment district, it's quiet during daylight hours, and offers pleasant strolls along streets lined with old-style houses and traditional teahouses, as well as exclusive restaurants.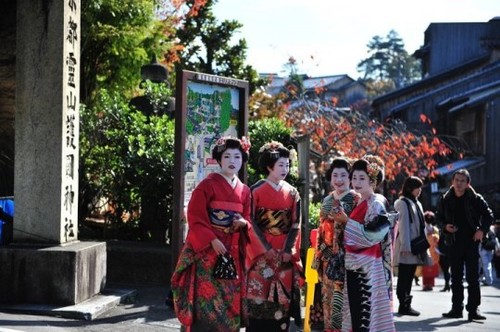 Kyoto's Pontocho Alley
On the other side of the Kamo River, Pontocho Alley comes alive in the evening, when the restaurants and bars that line the narrow lane and branching streets open for business. Another place to spot geiko on their way to and from appointments at traditional ochaya, Pontocho Alley began as a gay quarter and remains a lively entertainment district best experienced at the dinner hour and beyond.
Kyoto Day 2: Temples & Gardens
While Kyoto possesses too many temples to name or visit during the average traveler's stay, several temples in the Northwest area of the city provide plenty of peace and Zen for any spiritual diet, and rank among my favorites.
Ryoan-ji Temple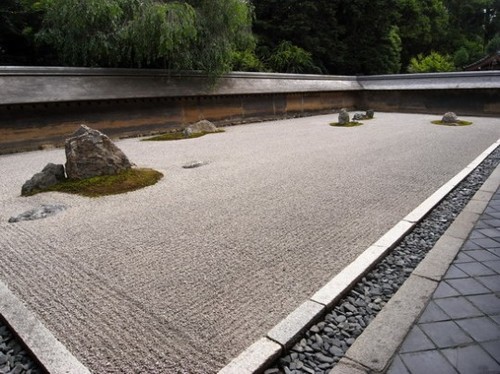 Best known for its Zen rock garden, the 'dry landscape' style of Ryoan-ji is comprised of nothing more than 15 rocks and white gravel, and dates all the way back to the 15th century. Visitors are encouraged to ponder the sight and determine their own interpretation of the message conveyed-and though I find meditation difficult, I felt peace here. Another point of interest is Tsukubai, a stone water basin for the temple's tearoom with a Zen-inspired inscription that reads, "I learn only to be contented."
Along with its great pond, a manicured forest that reflects the beauty of Japanese gardens provides a quiet respite from the outside world. Get here early before everyone else as the temple does get crowded.
Daitoku-ji Temple
A large temple complex with many subtemples, Daitoku-ji is home to the Daisen-In rock garden that dates back to 1509 AD and was created by one of Japan's most famous abbots. Visitors are able to purchase a cup of green tea to enjoy while contemplating the garden that not only surrounds the temple, but also becomes a part of it.
For me, though, the highlight of Daitoku-ji is found at the Koto-In Zen Temple. Established by a military leader and great warrior named Hosokawa Tadaoki in 1601, Koto-in Zen Temple is comprised of a famous teahouse known as Shoko-ken, and a garden considered to be a masterpiece of simplicity, especially noted for its maple trees in the autumn. Even in the winter the garden is captivating, peaceful, and poignant.
The site contains many rare paintings and other artworks, along with the graves of Tadaoki and his wife. Tucked on one side of a towering bamboo forest, the temple is a place of quietude and beauty, made all the more special once returning to the street sounds of traffic and city noise.
Kyoto Day 3: Day trip to Nara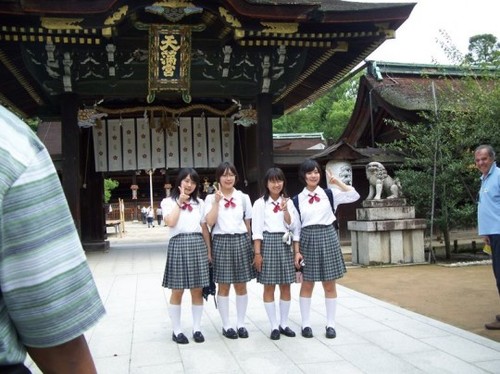 The capital of Japan from 710 to 784, Nara was considered the cradle of Japanese culture, arts, and crafts-today its many treasures are registered on the UNESCO World Heritage List. A train from Kyoto to Nara takes under 45 minutes.
Plan to spend a full day in Nara exploring the park, where most of the city's attractions are found, along with sacred deer-thought to be messengers for the gods in the olden days, they are now protected by law. The Todai-ji Temple is Nara's biggest highlight. The present structure (completed in 752) is the largest wooden building in the world and houses a 50-foot bronze Buddha. My favorite place in , though, is the orange-colored Kasuga Taisha shrine, which is lined with hundreds of lanterns.
Kyoto Day 4: Modern Kyoto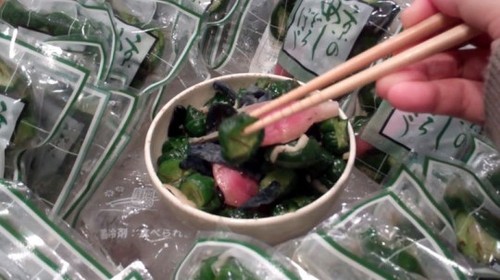 Aside from the many temples and historic districts, Kyoto is a modern city full of concrete and neon. Beyond the city's train station, a modern mammoth of steel and glass, downtown Kyoto provides a wealth of activities for those feeling templed-out.
If museums and shopping fit the bill, check out the Museum of Kyoto or the Nishiki market located in the center of town. A long covered alley with vendors selling veggies and fish, mounds of bonito flakes, pickles (which you can sample), and baked goods, come to Nishiki for snacks like sashimi on a stick, or to simply take in the sight. Kyoto's shopping district (which offers everything from notebooks to the latest fashions or traditional fans) is located around the intersection of Shijo-dori and Kawaramachi-dori, and spans many blocks.
Kyoto Day 5: Day trip to Himeji Castle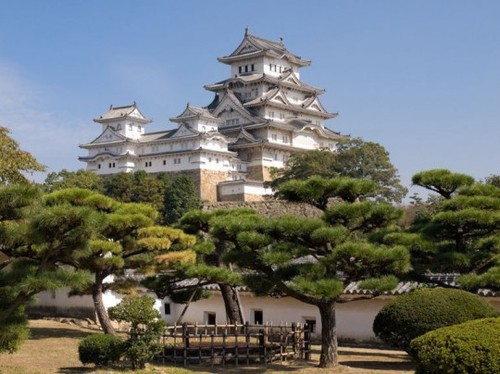 With its start as a simple fort in 1333, the Himeji Castle evolved over the years under the guidance of various lords -- the castle as it stands today was finally completed in 1609 and can be reached from Kyoto by train in a few hours. Plan a full day to visit Himeji Castle, and keep in mind that the premises close at 4 pm (September - May) or 5 p.m. (June - August).
Called the 'White Heron' for its white plaster exterior, the castle is considered the best preserved in Japan, and is listed as a World Heritage site. It may look familiar if you saw Kurosawa's 1985 film, Ran.
The graceful curves of Himeji Castle is one of its distinctions, along with fish images on the roof known as Shachi-gawara, and the Osakabe Shinto Shrine at the top, where Japanese tourists pause to donate a few coins and say a prayer that ends with a swift three claps.
Originally located on the top of the hill where the castle was built, the shrine was moved during construction, and then returned to the site when the new location proved 'unlucky.'
Next door to the castle, be sure to visit the Koko-en Garden, built in 1992 to celebrate Himeji's 100th anniversary of the municipality. Located where the castle's samurai houses once existed, the Koko-en is comprised nine individual gardens designed in the style from the Edo period. There's also a teahouse where visitors can partake in a traditional Japanese tea ceremony.
-Cheryn Flanagan for Viator
Related