Keeping units filled in multi-family buildings can be a challenge. Whether renting or buying, today's residents are looking for amenities that go beyond the apartments themselves and out into the front lobby, shared common areas and outside spaces.
Some multi-family developers count on amenity-laden buildings to compensate for shrinking apartments sized to maximize profits, according to a report in The New York Times. But trends also show that residents across multiple generations are willing to trade in-unit square footage for common area space to do everything from work out, pursue hobbies such as bowling and pool and dine out to socialize, groom pets and consume media.
Savvy multi-family developers and builders should take note of these evolving demands--especially as The Wall Street Journal is reporting that the bull market for apartments on the decline.
At Mary Cook Associates, in our work designing model home interiors, amenities and recreational spaces for multi-family buildings, we have seen the substantial return on environment that smartly-designed spaces can have for on the occupancy rates in these projects. Here are five key elements builders, developers and architects should always consider in the design process: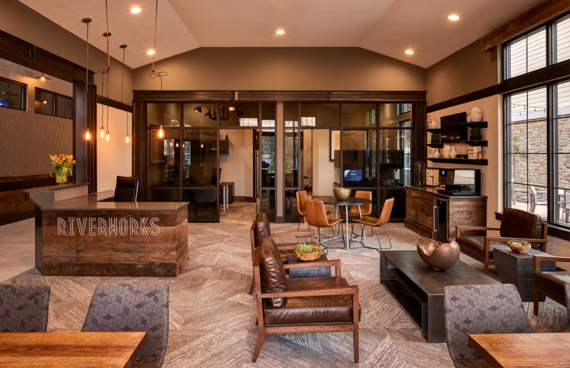 In a space that serves as a leasing office by day and shared common room by night, glass partitions create office pods that are private yet connected. Several different types of tables and chairs offer residents the opportunity to vary the size of activity areas. (Image: Mary Cook Associates)
The name of the game in multi-family buildings is connectivity. Opportunities for connectivity can happen in the lobby, at the mailboxes, at the fitness center or even in the laundry room, storage areas or dog run. With so many Millennials embracing e-commerce, as noted by leasing consultancy Hightower, some buildings are even adding rooms just for package handling, but they are far more stylish than the receiving rooms of yore. But before investing in a trendy amenity, it's critical to think about how residents' needs are already being served in the neighborhood. If there's a popular gym across the street, a pricey fitness center many not be worth it. However, if the nearest grocery store is a car ride away, adding access to an on-site shopping service could be a good value-add asset to a property. Remember that you're not just designing interiors; you're designing a community.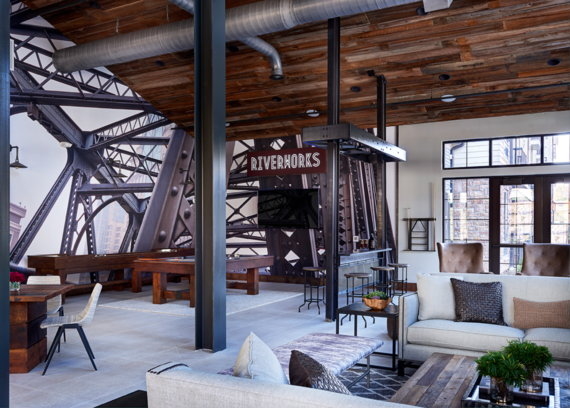 Activity areas are artfully arranged, but not "set in stone," in an activity area that can accommodate resident's needs for working, relaxing, game playing and meeting. (Image: Mary Cook Associates)
Millennials, at 80 million strong, are the largest demographic for multi-family rental buildings at the moment. And they crave customization in every area of their lives, notes Forbes. Not surprisingly, that goes for their physical environments, which must be as malleable as their technology. That means units with options built in for flexibility, adaptability and personalization. Lobbies and common areas need to reflect this, with tables and chairs that are lightweight and easy to move into different configurations for enjoying drinks with friends, but with enough nooks for privacy so a resident could feel comfortable bringing a laptop for some solo time. Think about all the different ways each of the building's communal spaces will function at various times of day (and throughout different times of the year) and make the furnishings adaptable for all. And model home interiors must showcase the flexibility of a unit with furnishings that can serve multiple functions.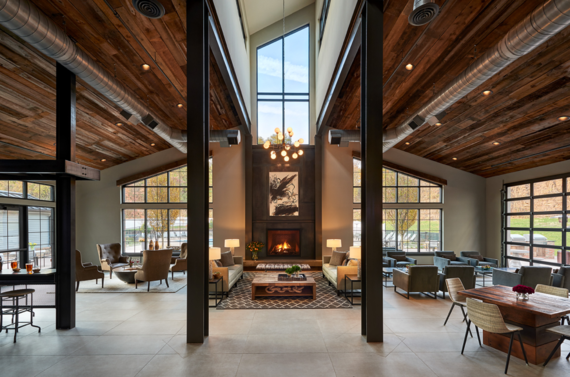 In a community room, sturdy but comfortable furnishings sport hardwearing fabrics and finishes, while an equally durable hardscape features resilient tile flooring and recycled wood paneling that's practical for sound control and attractive. (Image: Mary Cook Associates)

3. MAKE DURABILITY A PRIORITY
A plush velvet sofa in a multi-family building lobby may look fabulous, but if there are young, diaper-changing families in the building the wow factor could be short-lived. Just as we use waterproof, UV resistant fabrics for patios and common areas to resist damage from the sun, durable materials that will hold up and look fresh after sustained wear and tear are a better investment. Design should always consider function, so even if the grand lobby or party room could be used for elegant cocktail soirees, remember that there may also be raucous children's parties held there too. You don't want furniture or floor coverings to look stained or worn. This applies to everything from flooring to textiles. At the same time, color choices and patterns can offer the opportunity to add authenticity with a nod to the region's history or culture.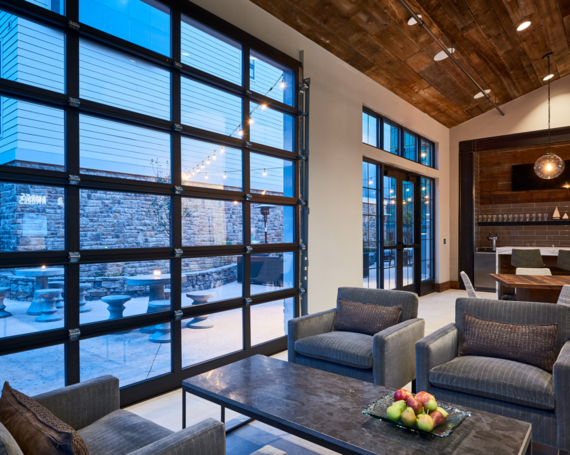 Retractable glass walls are transformative; closed their size and styling amplifies light and decorative dazzle in space, and open they bring the outside in to double the size of a room and maximize function. (Image: Mary Cook Associates)

4. ADD OPTIONS TO TRANSFORM
From residential to hospitality, a design element that has elevated functionality for many of our projects is the use of moveable or retractable walls (such as those offered by Nanawall). Imagine the ability to literally open a wall from a building community room to an adjoining outdoor patio. Retractable walls are also useful to create maximum flexibility in fitness spaces. Remove the walls for a large Zumba session and then close them to create two separate spaces for yoga or meditation--or, weather permitting, opening the space for outdoor classes. We have also used partitions and sliding barn doors to close off common spaces and create compartments that can adapted for multiple purposes. In many common areas, It can make functional space double or triple the size.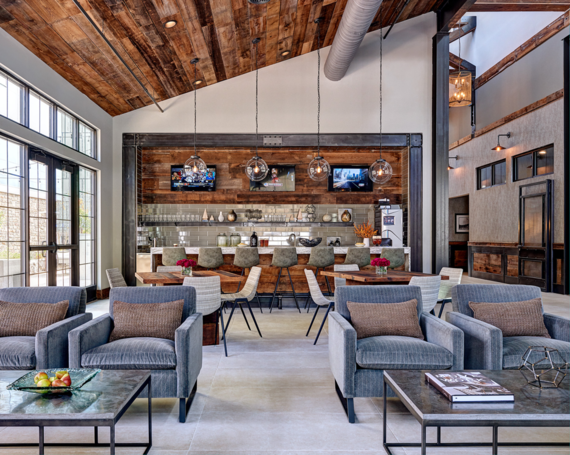 Reclaimed wood offers a sustainable and chic alternative to traditional decorative treatments, and also offers sound control on the ceiling. (Image: Mary Cook Associates)

5. MAKE SUSTAINABLE CHOICES
The ultimate goal of any design project is to create spaces that allow people to live better. Whether it's a model home interior or a multi-generational home, universal design and sustainability are an important part of the equation, a view supported by Morgan Stanley's recent report "Bricks, Mortal and Carbon; How Sustainable Buildings Drive Real Estate Value." Think about what kind of finish is on the wood you're putting in the floors, or the glue behind the wallcovering, the fibers in the carpet and even the materials going into workout facilities. Multi-family developers and designers alike are being held more accountable than ever before. This adds a whole new layer to the process, one that calls on everyone to be more educated and conscientious to create environments that don't compromise residents' health.
Related
Popular in the Community