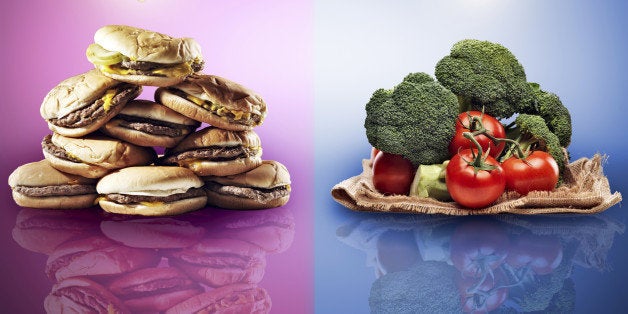 No matter who we are socially, culturally, or economically -- snappily-dressed professionals savoring the latest culinary innovation at that new experimental joint downtown or a college student taking their first stab at budget cooking in a cramped kitchen -- we all eat. Food matters to all of us; it's kind of a big deal. It's not something you can just bypass or skip and if you do, your stomach will remind you that you need to eat.
Food Day is a celebration of real food and the belief that it should be affordable, accessible, and good to the earth. It's about learning more about where our food comes from, and focusing back on the basics. While changing food policy is a hot button topic -- one that's giving political leaders the sweats -- it's not something that produces immediate results. What many of us may lack in political pull, we can make up for in taking the time to become more educated and present in our food choices. Below are five great documentaries to get you started (several of which are available for rental online):
Fed Up highlights the use of sugar prevalent in most food companies and how it's contributed to America's obesity epidemic.
Cowspiracy "may be the most important film made to inspire saving the planet" -- Louie Psihoyos, Oscar-Winning Director of "The Cove." This feature-length documentary investigates the devastating environmental impact of animal agriculture and sheds light on what seems to be the intentional refusal to discuss the issue.
Forks Over Knives makes the case for plant-based diets and how what you think is healthy actually may not be.
Vegucated is a well thought out documentary that follows the journey of people from different backgrounds as they explore going all veggie.
Let's put our cell phones down, stop checking our emails and social media accounts, and make time to cook a real meal with our family and friends -- not just today, but as often as possible. Real food sounds like chopping, dicing, and sizzling from the stove; the oven timer going off, the scrape of forks on dishes, and good conversation. Let's sit down and be more active participants in our food together! The work can wait for a few hours, but quality time with loved ones can't.
Over 8,000 events are taking place across the country on Food Day, 10/24/14. Join in on the conversation in your city in person -- host dinner parties and cooking demos at local schools -- and on Twitter with #FoodDay2014. It's never too late to make a pledge to learn more about food and cook more often.
Popular in the Community