After another hardwood masterpiece on Monday night, one statistic climbed to 73. Another jumped to 497. 
The two numbers tell the tale of the University of Connecticut's women's basketball team, its dominance and, somehow, the disrespect it's constantly forced to face. With Monday's Elite Eight victory, the Huskies have now won 73 consecutive contests. As of Monday's Final Four berth-earning W, it's now been 497 days -- over 16 months -- since they last left the gym with a loss on their hands.
This past weekend, however, UConn made the headlines not for their superiority or their spectacular play, their long-standing tradition of greatness or the even longer hours they log in the gym to stay on top, but because, according to sportswriter Dan Shaughnessy, they are "killing [the] women's game."
Facing a firestorm of criticism for what many saw as poorly concealed misogyny, Shaughnessy doubled down on his comments on Monday, saying that he tunes in to sports for the aspect of "competition," and that when a team is this talented, their impeccability becomes a negative simply because they are so damn good at their craft.
The problem with this rationale is that we've had dominant teams in the past. We've had winners and record breakers that draw hordes to living room couches, gluing eyes to the screen to watch Jordan soar, Tiger putt or Mantle swing. That is, we've had dozens of supremely talented teams that barely anyone cares to complain about.
For what reason, then, are the Huskies and their 16 straight months of victory after victory viewed as a detriment to the sport while other past teams and their runs are not? We think you can figure that out. 
The take we saw this past weekend was incorrect and insidious. So to show just how flawed its logic was, here are five legendary, dynastic basketball teams that weren't accused of "killing" the game.
John Wooden's 1963-1975 UCLA men's basketball programs
From the 1963-1964 season to the 1974-1975 season, the brilliantly coached, star-studded Bruins won a blistering 10 national titles in 12 years. The teams tallied perfect 30-0 records in four of those campaigns and notched only one loss in three others. Graced with the presence of sideline leader John Wooden and players like Lew Alcindor -- better known today as Kareem Abdul-Jabbar -- the club was the cornerstone of college hoops for over a decade. 
Bill Russell's 1960s' Boston Celtics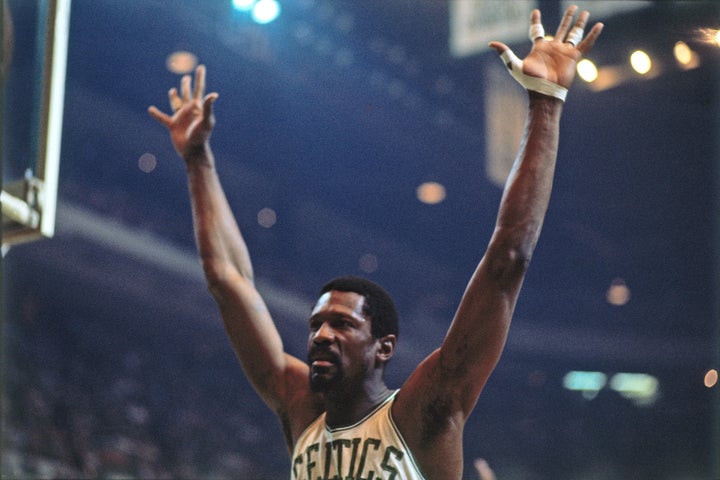 Behind five-time MVP Bill Russell and his long-as-the-night arms, the Boston Celtics painted the 1960s' NBA scene green. The franchise won 11 titles in 13 years, riding Russell's leadership, length and loyalty to record after record. The Celtics' 11 championships in that decade and change are more than any other franchise, excluding the Lakers, has earned to this date.
The Dream Team: the 1992 U.S. men's Olympic basketball club
A power lineup from A to Z, the Dream Team romped its way to the 1992 Olympic podium, dismantling and disheartening every foe on its way to that gleaming gold medal. Imagine having M.J. and Larry Bird fill the lanes on a Magic Johnson fast break. Or having John Stockton come off the bench to provide a one-two punch with his parter in crime, Karl Malone. Clyde Drexler, Patrick Ewing and David Robinson waiting for their own moments to strike. Charles Barkley blocking out, chasing the boards. The myth is true: The team was that good. After all, they took down their opponents by an average of 44 points per game.
And with that squad came basketball as we know it today.
Michael Jordan's Chicago Bulls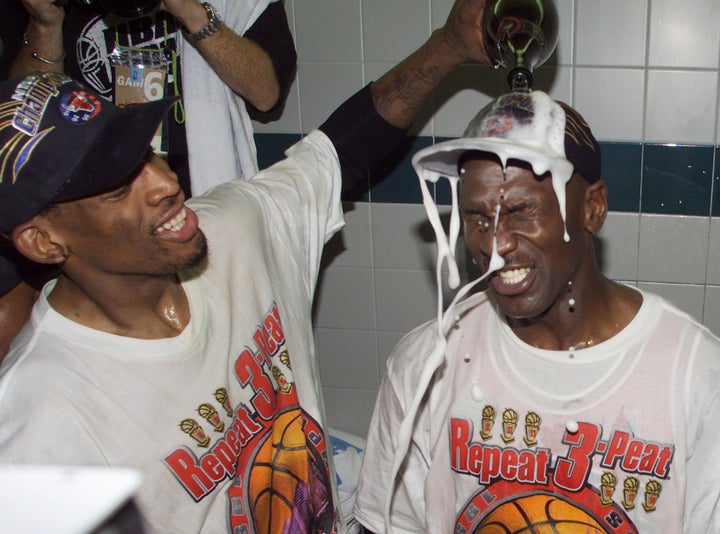 It barely even needs to be said. When a sweaty, exhausted, elated Michael Jordan hoisted the Larry O'Brien trophy into the air in June 1991, he gave birth to a new era in the NBA. We all know the highlights from the Bulls' dynasty: M.J. soared and shot and up-and-under-ed his way to six titles in eight years, making the city of Chicago see red as his legend grew whenever he stepped onto the floor. They won '91-'93, and '96-'98, with the two-year title drought coming only when M.J. took his hiatus from the game of basketball. He was Michael. That was it. The first first-name player. And along with David Stern, he helped usher in the league's supremely successful global platform, as audiences all over the world climbed and clawed their way for any opportunity to see His Airness take flight.
Today's Golden State Warriors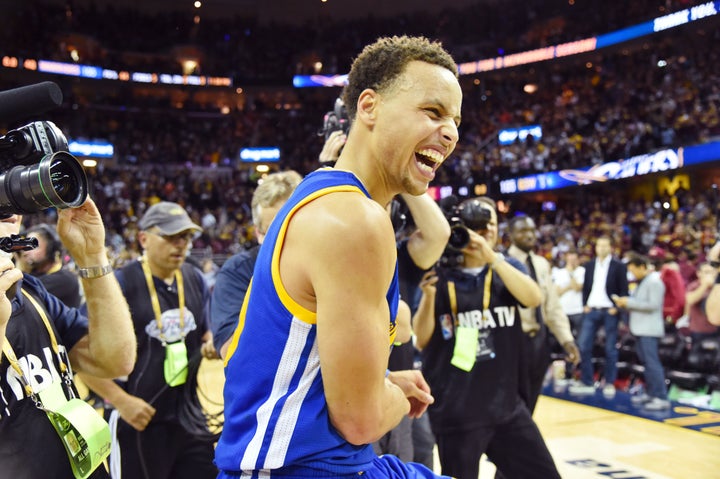 Barring a collapse, Golden State is just days away from shattering one of the most revered records in all of basketball. Set by Jordan's Bulls in 1995-1996, the 72-10 win-loss record is the ultimate tape measure of an NBA team's success -- so for (likely) breaking that alone, Golden State should get a spot on this list. But they've also broken about a dozen other records this year, as Stephen Curry and Klay Thompson help redefine the small ball game.
If you ever oohed and aahed over Jordan or Johnson, if you ever wore Bruins blue or Boston green with pride, you should appreciate the passion and play of the UConn women's team. They are dominant because they are dedicated. They are successful because they have honed their skills more than any of us could ever imagine. As champions, they have changed the game. And you can be sure that they've changed it for the better.
REAL LIFE. REAL NEWS. REAL VOICES.
Help us tell more of the stories that matter from voices that too often remain unheard.
BEFORE YOU GO
PHOTO GALLERY
Amazing Sports Photos