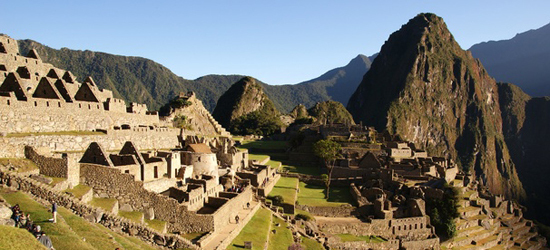 Yes, you CAN afford to visit Machu Picchu! Try going with an affordable group tour by G Adventures. (Photo courtesy of Luq1/Dreamstime. Article by Kaeli Conforti of Budget Travel.)

Think dream trips like Europe and Hawaii are totally out of reach? You'd be surprised how many affordable packages are out there to help. Here's our ultimate list of dream trip adventures -- plus, the travel deals to help you get on your way.
Machu Picchu, Peru
I have to admit, this was the number one thing on my personal dream trip list, and I was finally able to do it in April of this year thanks to a super-affordable vacation package by G Adventures. The Machu Picchu Adventure 8-day tour starts in Lima, where you'll get a chance to soak up the food scene -- try the lomo saltado, a delicious dish made of tender beef, veggies, rice, and french fries, or stick to ceviche -- and take a walk by the Pacific after dinner. Then, you'll board a one-hour flight to Cusco and spend the next five days exploring the sites of the Sacred Valley, visiting ruins in Ollantaytambo, relaxing in the hot springs of Aguas Calientes, and of course, taking a bus ride up the mountain to view Machu Picchu at sunrise, definitely a memorable experience. You'll love hearing about the legends and stories of the Inca from native Quechua guides and locals along the way -- all that stuff you've learned in school about the Conquistadors doesn't quite sink in until you see places where they demolished once-beautiful Inca temples and built gigantic churches on top of them. Plus, with G Adventures, you'll have a great mix of guided tours and free time to explore the cities of Cusco and Lima on your own, as well as exclusive access to a traditional Quechua women's weaving cooperative and restaurant, experiences with the locals that you'll never forget.
Vietnam
Home to beautiful beaches, vibrant cities, and a wealth of historical sites, Vietnam definitely deserves a spot on your dream trips list. World Spree offers a 12-day tour that includes airfare from San Francisco (or L.A., Chicago, Dallas, Atlanta, D.C., and New York City for an additional charge), making this amazing county more accessible than ever. The trip also gives you time to explore Ho Chi Minh City (Saigon), Hue, Hoi An, Hanoi, and takes you on a cruise around scenic Halong Bay at the end. All transfers, ground transportation, and intra-Vietnam flights are also part of the package price, as are most meals, a comprehensive sightseeing itinerary, and the services of English-speaking guides throughout. Several optional tours are also available for a little extra, including a half-day trip to see the infamous Cu Chi Tunnels ($40) and a half day historic tour of Hanoi's "Old Quarters," the "Hanoi Hilton," and a traditional water puppet show ($50), but you'll have a number of guided tours along the way that are included as well.
Hawaii
Ah, a place that's probably on everybody's dream trip list. So much so that my parents' dream was to live on Oahu, a beautiful place they'd lived after they first got married, and where we lived from 1994-2001. I'm not going to lie, Hawaii is a pretty expensive place, but like everywhere else, there are ways to get around it. Check for flash sales and other discounts offered by Hawaiian Airlines, which just started flying non-stop from New York City two years ago, so no more excuses, east-coasters! Their website even offers bundled vacation packages combining several nights' accommodations with airfare and other island activities on Oahu, Maui, Kauai, and the Big Island. If you're a cruise-lover and can only spare a week of vacation time, you're in luck! Norwegian Cruise Lines offers a 7-day cruise onboard the Pride of America, taking you around the Hawaiian Islands with stops in Kahului, Maui; Hilo and Kona on the Big Island; and on Kauai before returning you to Honolulu, a great way to get a taste of the islands.
Europe
While the idea of visiting Europe might already make your wallet nervous, keep in mind that there are always ways to get around the big-ticket items like airfares, hotels, and activities. Check for airfares on sites like AirFastTickets.com or Hotwire.com for flash sales, or keep an eye out for seasonal sales by Irish airline Aer Lingus, a great budget-friendly option that I use every time I travel with my family to Europe -- we even mentioned them on our list of Best Budget Airlines. If you're up for spending more money on what you do outside the room, versus spending heaps on a fancy hotel, opt for Generator Hostels, a revolutionary new style of affordable accommodations that's taking Europe by storm. You'll end up spending about half of what you'd expect to pay normally, stay in a great location not far from the city's main attractions, have access to hostel-only activities like movie nights, live music in the lounge, and have the opportunity to meet travelers from all over the world without leaving the lobby. The old way of thinking about hostels has changed -- Generator's biggest percentage of clients are actually a mix of families who rent out an entire dorm room and business travelers of all ages who yearn to mingle rather than stay cooped up in a fancy schmancy hotel. Buildings and rooms are stylish, and if you really want to avoid sharing a room with your new friends, single and double private accommodations (with your own washrooms) are always an option. Generator Hostels can now be found in London (I stayed there in March and will definitely keep these in mind for future European travels!), Dublin, Berlin, Barcelona, Copenhagen, Hamburg, and Venice -- they're also expected to open in Paris and Rome later this year, so keep an eye out!
Of course, if you are between the ages of 18 and 35 and are looking for an exciting way to see the continent, you should probably opt for a good old-fashioned bus tour by Contiki, a company that's been around since the 60s and is still full of young people traveling abroad for the first time whether they're from the U.S., Australia, or everywhere in between. The best part about Contiki: you'll get a ton of included guided tours, day-trips, and exclusive access to cool places (like a behind-the-scenes tour of a popular French Perfumery with special discounts in the gift shop!) as well as a mix of free time to go out and explore the city you're visiting. There are different levels of tours and accommodations depending on your budget and the kinds of places you want to stay in, and several meals like daily breakfasts and the occasional lunch or dinner are part of the deal. I took my first group tour with Contiki last year, spent 10 days getting to know London and Paris with really fun people from all over the world, and had so much fun, I came home and booked my next one from Amsterdam to Barcelona, a trip I'll actually be on by the time you're reading this article!
Caribbean Cruise
For a little affordable fun closer to home, opt for one of Norwegian Cruise Line's finest. Their newest ship, Norwegian Getaway is now setting sail from Miami in its inaugural season on a 7-day adventure to Phillipsburg, St. Maarten; St. Thomas, U.S. Virgin Islands; and Nassau, Bahamas. Don't miss brand new waterslides, Legally Blonde The Musical, and dinner-and-a-magic-show in The Illusionarium, among other family-friendly onboard activities. Adults will love the Svedka Ice Bar, onboard casino, and tons of entertainment ranging from nightclubs and live music to an improv dueling pianos bar. The Norwegian Breakaway sets sail from New York City on a 7-day trip to Bermuda and offers Broadway show Rock of Ages and other only-in-New York themed experiences, and, as on every Norwegian ship, a wide variety of restaurants to satisfy your every craving.
Book it: Cruises onboard Norwegian Getaway start at $449 per person. Cruises onboard Norwegian Breakaway start at $469 per person. Great news for solo travelers: Norwegian's ships offer a special section full of studio-style staterooms that help to lower costs if you're traveling alone.
Popular in the Community