Not only is it Women's History Month, but today is International Women's Day, a celebration of our mothers, friends, mentors, and sisters, who enrich our lives each and every day. According to the International Women's Day website, the 2017 theme is #BeBoldForChange, calling on the masses to forge a more inclusive, gender equal world. I am drawing inspiration from this look below, featured in alice+olivia's NYFW Fall 2017 Presentation. Not only do I desperately wish I could wear this all day, but I simply cannot think of a better combination than a thought provoking Ghandi quote paired with a glitter pantsuit to illustrate this year's theme.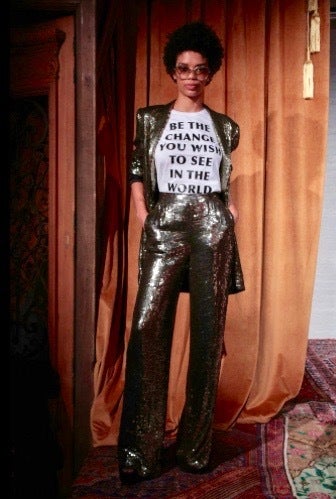 In my opinion, the best part of this quote is that it is a call to action for each reader to lead by example and embody the best version of themselves imaginable. It also highlights the power we each have to make our wishes come true. So, where to begin?
1. Express gratitude to at least one influential female in your life
Try reaching out to a relative or friend who probably has no idea how much of an impact they have had on your life. Be bold and vividly describe how their presence inspires you and enhances your life.
2. Support a female-owned brand
Although women now own 38% of the businesses in America, they only contribute 4% of the nation's business revenues. This 4% share has not changed over the past 20 years (American Express). What can you do to help? Buy from female owned companies. Some examples include:
S'well: aesthetically stunning water bottles that keep drinks cold for 24 hours and hot for 12. The company has also partnered with UNICEF to bring clean water to Madagascar through 2018
Birchbox: For 10$ a month, the company delivers you 5 new cosmetics tailored to your specific needs
Proactiv: Tried and true, this line of products was founded by two female dermatologists who know exactly how to keep your complexion clear and free from any blemishes
Hobnob: A free app that allows you to invite your friends via text or email to an event using one of their stunning design templates, keeps track of RSVPS, compiles a group chat for attendees perfect for last minute announcements, and offers the ability to easily share photos of the event with everyone afterwards
If you shop at Walmart, look out for the Women Owned insignia below, which promotes female owned brands sold at the store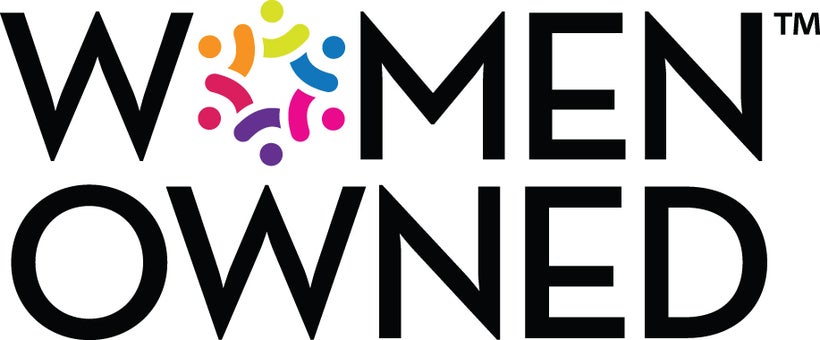 3. Commit to watching a show, downloading a song, or reading a book written by a female host, artist, or author
Opening up to embracing a female's point of view might be more enlightening than you think. No one person can speak for an entire group, but this simple shift is certainly a step in the right direction.
4. Compliment the women you admire
Words are free, and this quick read from Lifehack outlines 7 reasons why giving someone a compliment every day benefits both parties. Be as specific as possible to demonstrate your genuine admiration and appreciation of the "little things" that make her unique.
5. Refresh your resolutions with a female focused one
As it is already March, I'm fairly certain most of us have slipped slightly with regards to many resolutions set in the beginning of the year. Start today with one that incorporates the females you know — whether you decide to spend more time with your girlfriends, learn more about gender inequality around the world, donate to a female focused cause, encourage your mom to take time treat herself, or intentionally show your significant other more affection- there are countless little things we can all do to make the females in our lives feel loved and appreciated. Just remember, be the change you wish to see in the world!
Calling all HuffPost superfans!
Sign up for membership to become a founding member and help shape HuffPost's next chapter
This post was published on the now-closed HuffPost Contributor platform. Contributors control their own work and posted freely to our site. If you need to flag this entry as abusive,
send us an email
.