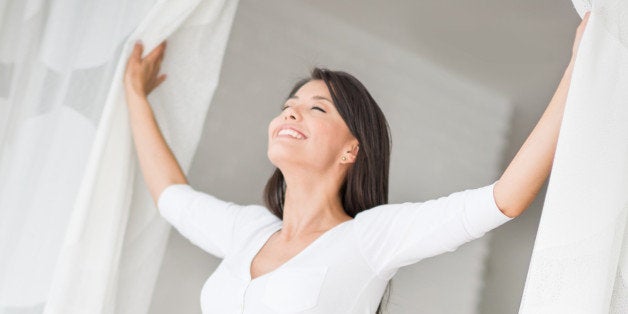 Everyone knows what it's like to have a bad start to the morning. You wake up with a back ache and the thudding reality that you've slept past your alarm. You rush through the morning routine only to discover that your dog made a mess in the living room. You spill your coffee. You burn the toast. You read the news . . . and well, that's enough to send you back to bed with the covers over your head.
Or maybe you just wake up with negativity: you don't want to get up, you don't want to go to work, you don't want to face your day. Maybe every day feels like you're waking up on the wrong side of the bed.
We are, in fact, wired with a negativity bias. It was evolutionarily advantageous for our ancestors to constantly scan for danger and be vigilant for negativity. Doing so helped them survive. Unfortunately, our modern world triggers our negativity bias without increasing our chance of survival or improving our mood.
As a result, we need to be intentional about creating a happier and more positive disposition, especially in the morning. Try the following five easy practices to start your morning out right.These short cuts to inner peace set the tone for a more positive day and create a more optimistic outlook.
Good Morning Sunshine -- before you even get out of bed, take a few moments while you're lying down to saturate yourself in the calming feeling of love. Breathe in love, breathe out love. Think about who loves you (your partner, your friends, your parents, your children, or your dog) and breathe that in. Then think about who you love (your partner, your friends, your parents, your children, or your dog) and breathe that out. Do a few cycles of breathing while you intentionally soak in the feeling of love. For added emphasis, place your hand over your heart as you breathe.
Who Knows -- as you brush your teeth, foster a feeling of curiosity about your day. As you think of each experience ahead of you, ask the question, "I wonder how that will turn out?" You may think you know the answer but invite curiosity into the mix. Let an attitude of curiosity temper any element of dread or anxiety that you might feel. Let your inquiring mind roam free and accept the day as it unfolds.
Freeze Frame -- as you take that first sip of tea or coffee, pause for a moment and notice. 'Freeze' the frame of this moment breathing in the scent of the beverage, noticing how the cup feels in your hand. Imagine where the coffee beans or tea leaves were harvested. Sink into the sipping, allowing your gratitude for this beverage to rise to the surface. Allow yourself to be intentionally grateful.
Heaven and Earth -- before you get dressed, do this simple stretch. Reach your arms high up to the sky, then do a forward fold and bend toward your toes. Hang in this position for up to 30 seconds. Let your back relax into the stretch. You can also do this stretch while sitting in a chair if that is more comfortable for you - reaching high and then bending over to touch your toes. Most people awaken with their bodies stiff from a night of immobility. So take a moment to loosen your joints, thus allowing you to face your day with more grace and ease.
Grounding Breath -- before you drive to work, do three rounds of a grounding breath called the 4-7-8 breath. This ancient yogic breathing technique helps to calm and balance your nervous system. Breathe in through your nose for the count of 4. Hold your breath for the count of 7. Exhale through your mouth for the count of 8. Repeat this cycle 2 more times, for a total of 3 rounds.
If you make one or more of these practices a regular part of your morning routine, your days will look brighter. And guess what? The added benefit is that your positive nature will be contagious. Your kids, your partner, your colleagues will feel the better vibe and respond accordingly. So get ready to wake up intentionally on the right side of the bed. Make a better day for yourself and those around you.