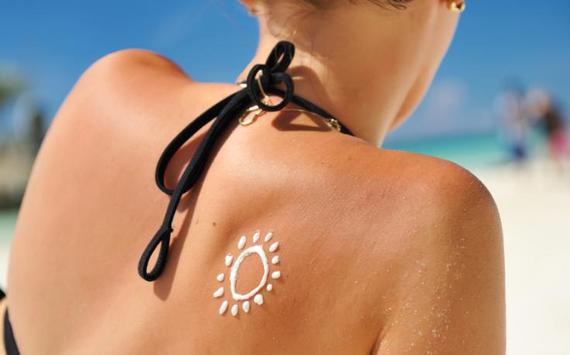 Ah, your first sunburn of the season. You might be fishing in shorts and a tank top as UV light ricochets off the clear creek onto your tender flesh. Or maybe you're weeding your garden and relentless solar heat made you shuck your shirt, just for a minute. We've all been there and we know the best way to avoid sunburn is to stay out of the sun altogether. Yeah right, it's summer and it's time to get outside.
We've rounded up a gaggle of earth-lovin' sunscreen to protect you and the planet. Some sunscreens contain chemicals that can be harmful when they wash off in rivers and oceans and have been reported as agents in coral bleaching and can be absorbed by fish. The sunscreens on our list are chemical-free, protect against both UVA (skin cancer-causing) and UVB (sunburn) rays and are all under $25. They are designed to screen those of us that spend all day in the sun, and are extra creamy because of all the zinc, which replaces nasty ingredients. Even if you are impervious to sunburn (congrats!) your skin still absorbs UVA rays, so this applies to you too!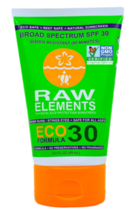 Raw Elements Eco Formula SPF 30+: Attention river rats! If you don't have the luxury of a Bimini (you're doing it wrong) you can rely on a squirt of Eco Formula for brutal Grand Canyon days. It contains quite a bit of zinc and many other organic goodies like sunflower oil and cocoa butter, but be sure to reapply after getting dumped in the rapids. ($18.99)
Sun Bum PRO SPF 30: This is popular gunk among savvy surfers. Its main sunblocking agent is zinc oxide, making it indestructible on the water and a staple for lifeguards. The mineral formula is slip-proof and won't bleed into your eyes while you're getting tubed. Will not protect you from sharks. ($17.99)
Alba Botanical Very Emollient Sport SPF 45: If you want your skin to be supple as a baby's bottom (or you're applying it to your baby's bottom), this is the prudent choice. With jojoba oil and aloe, Alba Botanical's newest sunscreen is about as close as you're gonna get to the fountain of youth, and it's water-resistant. ($11.49)
Badger All-Natural Lavender Cream SPF 30: Smell like a dream and avoid skin cancer? Yes, please! If this one explodes in your pack, at least it'll keep your gear smelling heavenly with a light lavender fragrance. It scores extra eco-points for its BPA and phthalate-free tube. ($15.99)
Terrain TerraSport SPF 30: This stuff is no joke. Oxybenzone-free, non-whitening zinc, water/sweat resistant and non-greasy, this screen is well matched for the sun. This is my shield of choice while spending long hours leading kayak tours on the San Francisco Bay or hiking in the Tetons and I will swear on Lewis & Clark's journals that it's the best around. ($22.99)
Look for sunscreen that has at least SPF 15 and at most SPF 50
Reapply every two hours and after swimming or heavy sweating
Make sure it offers 'Broad Spectrum' protection, which shields against UVA and UVB rays
Choose lotions over spray for more consistent coverage
-- images courtesy of Raw Elements, Alba Botanical, Badger and All Terrain
-- top iStock image courtesy of haveseen
Caitlin Kauffman is an editorial intern at Sierra. She is a sea kayak and hiking guide in the Bay Area and the Greater Yellowstone area. She enjoys good eye contact and elk burgers.
REAL LIFE. REAL NEWS. REAL VOICES.
Help us tell more of the stories that matter from voices that too often remain unheard.