I'm a cancer survivor, and during chemotherapy, I lost every strand of hair on my head. When chemo starts, it's not as if every hair on your head falls out simultaneously. The reality is much more gruesome, much closer to exactly the opposite. I used to wake up in the morning to a pillow covered in my own hair, a Hitchcock-worthy sight, and a scalp that became gradually more sparse. Shaving it short wasn't quite enough to halt the effect; it just meant shorter, itchier hairs on the insides of hats and pillows. Eventually it did fall out entirely, taking with it my eyebrows (which I would later comically forget to paint on for my own prom, leaving a span of years in which I wondered 'something is off...what's missing?'). That, combined with the chubby steroidal cheeks and pink glow of my skin, I was only a shadow of my former self.
But after winter comes spring, and my body blossomed slowly over the years to be womanly again. I lost the weight and my hair came back and I am happy to say now that the process of losing -or in the case of makeup, sacrificing- these elements, I had the opportunity to greet beauty anew, much like a young lady does. This time, at an age when I could understand the wonder of it, the artistry of it, and enjoy the process rather than use it to cover guilt and blemishes.
The exploration of femininity from an aesthetic standpoint was a journey after my journey that I still treasure and discover continually.
In honor of all that, and the beautiful spring upon us now, we created a series of mantras to change the way you think about your features and your unique beauty. These are designed to turn your beauty routines into a place of inspiration, self-love, acceptance, and celebration. (You can read more about turning makeup routines into zen routines here)
From the spring lip hues to our perfectly pedicured toes, we'll share beauty as a gateway to our own divinity. After all, if artists of the Renaissance could see the heavens through their worldly muses-their lovers, why can't we see the goddess that resides right here within us?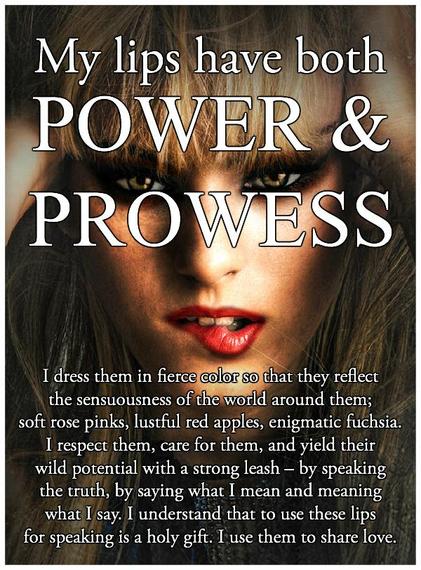 Lips are powerful things, being the shield to our sharpest sword. We can share love, we can share hate. We can kiss, we can spit. We can share our truth, or we can conceal who we really are, all with the power of our words and our lips. What you do with yours, how you take care of them, and how you present these powerful muscles is up to you. Don't forget... a just-bitten lip has always been one of the most seductive looks for a reason...
With our eyes we see the world, but rarely do we give to the power behind them. That's not just the power of seduction, the power of a glance or a glare, the power of a wink, or all that we can say in just one look...
What about the power our feelings have over the way we physically see the world? What if we took control of our mind, and so was able to see more beauty in the world? What if we stopped the negative messages about ourselves in our mind so that our eyes could see more beauty in the mirror?
If our eyes have the power to make us fall in love at first glance...then let us fall in love with ourselves and life around us again.
I cherish my skin and body because they allow me to feel this life. The unique shape and texture was handed down by generations of warrior women before me. I protect it body from the sun, I feed it from the inside out by drinking water, by eating clean, by soaking it when it is tired and needs my love, by allowing it to be caressed by someone who deserves it's suppleness- someone that is kind and worthy of all the incredible things I do in this world. I am kind to my skin. I am thankful that it heals when the world cuts through it. I am proud of it's every scar, and I treasure it with my thoughts and actions.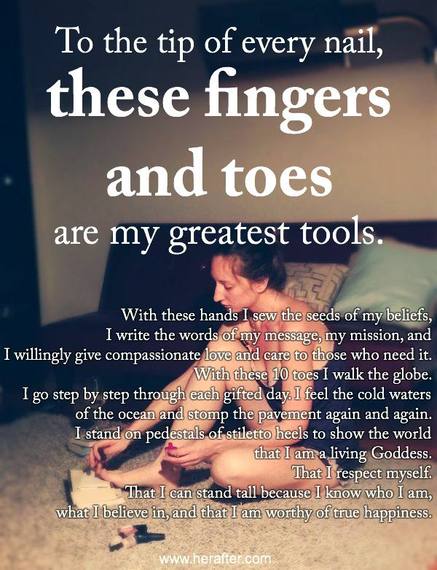 photo: www.HerAfter.com
Why shouldn't we honor that which we use most? The hands that can touch those we love, that can serve them and serve those in need? The feet that let us walk the globe, that let us run to keep our heart healthy, that let us dance to our own beat?
In honor of them (and because it's #TBT!) we revert back to an article on the bliss found in an evening at home in solitude, when a warm sea salt bath and a self-painted pedicure can help you connect to your deepest, truest form of beauty and individuality.
See more on this topic here.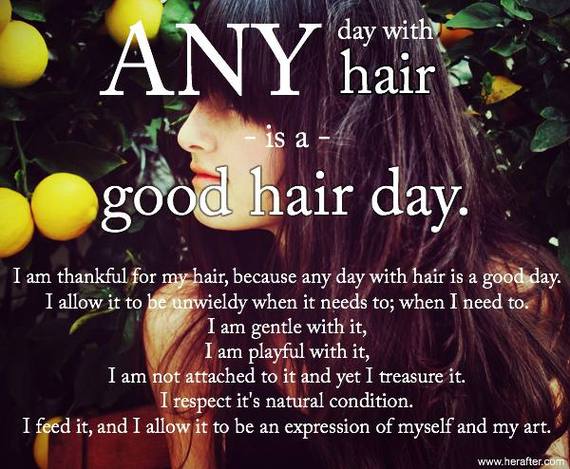 photo: 21/365 if you think that a kiss is all in the lips by Jane Rahman | modified (source) (license)
Having hair is a tricky thing; you want to care about it enough to nurture it and take care of it and even style it, but you don't want to be so attached to it emotionally that it defines you, and you become to scared to even cut it. That's a conundrum cancer patients know well; when it finally grows back, will I be so bonded to it that I can never cut it off again?
The truth is, hair should be fun. It should be free from pressure. It should be more art than personal worth. It should be more carefree than careful. Love your hair, honor it, let it have a personality, but never be defined by it.
These mantras are part of a five-day series that includes spring beauty trends, at-home treatments and beauty recipes, and more insider tricks. See the full article here.
Rachael Yahne (@RachaelYahne) is a writer, blogger, and 10 year cancer survivor. You can read more of her articles about healing from life's big struggles, plus more on beauty, well-being, and living with passion on her website, HerAfter.com.