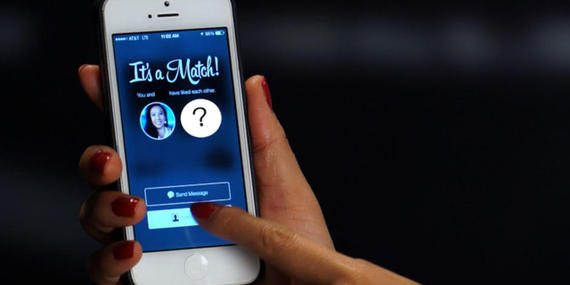 Dating apps are the future, and the future is now. I don't think it's long before we see traditional online dating sites go by the wayside. If you have any misgivings about dating apps, thinking that they are just for people looking to hook up, it's time to let those go.
The truth is, millions of people of all types around the world are using dating apps, and that number is increasing daily. Tinder alone has an estimated 50 million users. Dr. Helen Fisher, world-renowned author, brain researcher and relationship expert estimates that 80% of Tinder users are looking for a long-term relationship.
There are so many apps on the market, from Bumble to Hinge to Bae to Sweatt. And they're all free, easy and even fun to use.
That means if you are looking for love, dating apps are way too huge a pool of potential partners to ignore. Here are the five hacks that will ensure you find the most success when you swipe:
Part of the appeal of dating apps lies in the thrill/ego boost of swiping right and getting the "You're A Match!" message. If you rarely or infrequently use an app, the chances that another user who swipes right on you gets that thrill are diminished.
That's why dating apps discriminate against infrequent users and show you other infrequent users - resulting in fewer matches for you, and with a pool of people who are less dedicated to meeting someone.
The solution is to open your app frequently (daily, ideally) and swipe, swipe, swipe!

#2 Don't Be Overly Picky
Similar to the infrequent swipers, super picky swipers are also less favored by dating app algorithms. If someone swiping right (or yes) on your profile is unlikely to match with you, then the app will show your profile to other super picky swipers. As a result, fewer people will swipe right on you.
To increase your chances of getting matches, open yourself up to possibility. Don't rule someone out who could be interesting/intriguing/attractive just because they have bad photos. Most people are terrible at picking photos! So give them a little grace. Don't expect to fall in love based on a two inch wide photo and a 200 character bio.
My recommended baseline is "Could I have a drink with this person and it not be terrible?" If the answer is "yes" or "maybe", swipe right and see where it leads!

#3 But Do Exercise Some Judgment
If you swipe right on everyone, the apps don't like that, either. That just makes you look like a spambot. And no one likes spambots, including an algorithm! Anything less than saying yes to every single profile should keep you in the clear.
#4 Share Something Of Yourself
Blank profiles are a big no-no. If you say nothing, you're coming off as someone solely looking to hookup. Same goes if all you list is your height or some other basic biographical information.
You don't have to tell your whole life story, but if you're looking for something serious you should at least give a brief preview. List your favorite activities, the TV show you're currently binge-watching or the thing you love best about the city you live in.
Research shows that dating app users respond well to emojis. So go ahead and emoji your heart out, though some actual written words should also be included!
Don't be shy about stating who you hope to meet, either. If you have a weakness for loyal brainiacs who can cook, say so! You want to speak to the people who you want to attract (and of course that's not everyone) - show some personality so they can recognize you as a good match!
There's no point in making tons of matches that don't go anywhere. Make a habit of sending a message as soon as the match is made. Women can get away with very short opening messages - just a "Hi, ______" with a smiley face emoji is enough of an opening line.
Straight men should put in a bit more effort - try giving a non-physical compliment, or asking her about something in her profile. Get a conversation going, keep it going (asking questions helps) and then take the conversation offline and meet face-to-face!
Francesca is a love and lifestyle coach for singles. You can catch her as a regular expert guest on NBC's The Today Show, and on The Hoda Show on SiriusXM's Today Show Radio channel. Get more dating advice, and even book a free session at www.francescahogi.com!
Related
Popular in the Community