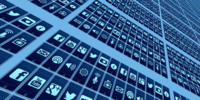 If you spend any length of time surfing social media channels than you have bumped into thousands of social media marketing campaigns. The channels I tune into include LinkedIn, Twitter, Facebook and Instagram. If, as a campaigner, I am doing my job properly, you would be intrigued enough to read, click, share, like or buy something I offer. Ultimately, anyone running a social media campaign is trying to get you to do something. Since you have limited time to invest in reading, watching or listening, the messages you are receiving need to keep you interested, invested and involved in the campaign or you will tune out.
High touch trumps high tech. Every. Single. Time.
Do a quick analysis and see how you compare. So, are you social? In order to be successful, any business, no matter the size, should focus its attention on building a social media campaign with the following components in mind:
THE LIST
It's a great idea to start here because any campaign, even an awesome one, will go absolutely nowhere if there is no one to promote a product or service to. So where does one get this list? Interestingly enough, the businesses that build a social media campaign effectively build it one prospective customer at a time. Over the last 2 years I have been fortunate to build a sizeable list with thousands of people by connecting via post, content and promotion. That being said, I would much rather have 500 connections that I personally connected with on social media than 5,000 people that have no idea who I am or why I am interested in them. If you are reading this message, chances are good I have connected with you directly over the last two years. Under no circumstances do you want to buy followers, connections or likes.
BRAND
Would I know who you are if I saw your logo? Do you have a signature saying or slogan that's easily recognizable? What is your company's reputation on social media? Defined, your brand is what the public thinks of you when they hear your name. Real or imagined, it doesn't matter, it's the public's perception of your image. On social media channels, the message you put out, the content you create, the images you use, your tone and the speed at which you respond on social media will all help determine your brand. If you have a great message and your content is stellar, but you fail to respond to people requesting information via social media, your reputation (and your brand) will go down the toilet. The biggest complaint I see on social media is a company's lack of response to questions, critique, complaints or praise when posted.
"A brand is defined by the customer's experience." - Shep Hyken
CONTENT
What are you doing to be an expert in your industry? If all you do is "puke product" you will quickly destroy your list. To become an expert, you should be blogging, posting on your page, guest blogging, sharing other's content and promoting your industry in addition to talking up your products and services. The idea is simple, if you become the expert, others will point to you and they will promote your products as well. And don't just stick to writing. Try your hand at podcasting, video creation, pictograms and anything else outside the box. You may be thinking, "How the heck am I going to find time for all of this?" My answer is this: If you don't find time for this new way of marketing in the "social age," you will be left behind. Get involved now.
CALL TO ACTION
When you create your message or your content, you must tell people what you want them to do. Don't just post a link. In addition, tell people to "click on the link" to see the five must do's of social media campaigning or do something to get them to want to keep their focus on you. Give away your content, and tell people to act now and act often. Do it gently, creatively and with enthusiasm. On social, offer a free download or bonus materials or give a little extra. People like to feel compelled to do something and by offering a call to action that includes a fun, free or festive outcome, they are more likely to act.
HUMAN ELEMENT
Above all else, people like to feel as though they are connecting with other people, not machines. I have and will always be an "xoxo" kind of guy, running an "xoxo" kind of company. On social media especially, there are way too many companies that have automated their processes and have enlisted the help of "robots" to respond to requests for information. Not good. Even tiny companies of one (called solopreneurs) can set aside time during the course of their day to add the element of "social" to the mix. It requires only seconds to respond, even if the response is, "Please provide me with a phone number so I (a human being) can call you back later today."
I run an 'xoxo' kind of company. Don't like it? Than you'll have to get used to an impersonal experience with an attitude from someone else.
Include the above five components in your social program and you will have a huge head start in creating a successful social media campaign. I would be remiss if I didn't mention the importance of having a solid product or service and good reputation for supporting it as well. Even the best of campaigns will fall short of the mark if your stuff stinks. Do not hide behind technology, thinking that social media will provide an opportunity to get lost in the shuffle millions of subscribers, connections and friends. Just the opposite will occur. Social media is a microscope and a bad experience can be broadcast to millions faster than you can say, "Janet Jackson wardrobe malfunction." If social media is going to be used as your only source of marketing, dedicate enough time during the day to make it a successful program. Invest your time wisely in the campaign and you will rise to the top when you add consistency, persistence and dedication to the social frontier.
For more tips on building a successful business, check out my book, Nice Guys Finish First.
Calling all HuffPost superfans!
Sign up for membership to become a founding member and help shape HuffPost's next chapter