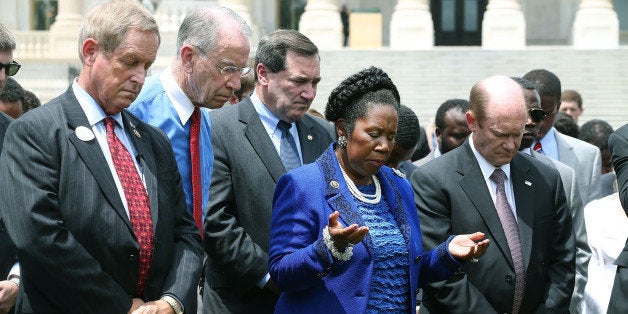 The mass shooting at Mother Emanuel AME Church in Charleston, South Carolina is still fresh. The country is still attempting to wrap its head around the notion of a shooting in a sacred space. We are still attempting to process the death of a young Pastor, State Senator, community activist, husband and father. We are still trying to understand the mindset of a person who would seek to commit a hate crime in a church.
This is a relatively new story. And there is so much we will be processing and learning about this case over the next few days and weeks and beyond. Yet even as we are still learning and processing, there are already some things we can learn as individuals and as a collective from this tragedy.
1. It's time for white Americans to commit themselves to the very hard work of white anti-racism.
The last story to dominate our newsfeeds was the story of a white woman who changed her physicality and lied in order to be identified as black. She worked in black communities and with black people on issues that related to black people. But for her and for many other white people around the country the harder but clearly more important work will be staying white and engaging those who are white in conversations about what it means to be white.
The more sacrificial but essential work will be convincing the parents of the next Dylann Roof that anti-racist child rearing is essential. The more frightening but crucial work is sitting with your white family members who says racist things at the dinner table and helping them to understand why they may want to begin thinking and speaking differently.
2. Ministry is not something to be taken lightly.
There are so many who go into ministry for the wrong reasons, for the prestige, the notoriety, the seemingly exulted status, nice shoes and maybe even a private jet. Those things are nice but truly saying yes to the call to ministry means opening and committing yourself to a kind of vulnerably that few can understand.
Rev. Clementa Pinckney took stands for racial justice in his community made him subject to a certain type of attention. Committing to this work made him visible and vulnerable. But when you commit to following in the footsteps of the ministry of Christ cannot put down what God has asked you to pick up even it makes you vulnerable to scrutiny and even death.
At the end of the day, Pastor Pinckney may have very well felt in his mind or spirit that there was something "not quite right" about Dylann Roof's presence in that Bible study. Yet his commitment to his call put him in a position where he still had to be present, open, hospitable and giving.
3. The work of the civil rights movement is far from done.
Dylann Roof was born same year Nelson Mandela was elected president in South Africa. Yet there is a picture him going around the internet with an emblem on his jacket that represents the Apartheid. The truth held in that irony is that we can change all the laws we want but if we don't commit ourselves to changing hearts and changing minds, the laws will continue to fail us. We will continue to see this sort of pain and suffering.
Last night during the Bible study I attend, there was an argument between two attendees. There were words exchanged and hurt feelings. The conflict seemed to heighten way too quickly. And someone said, "there must be something else going on." And in my spirit I believe that the "something" else was this shooting.
My faith tells me that we are all children of God and therefore brothers and sisters. It don't surprise me that a shooting at a prayer meeting may have reverberated amongst the spirits of those who also sat in Bible studies and prayer meetings across the nation at the same exact time. And even if we were not "feeling something" at that time last night, when we heard the story our hearts broke. We thought about our family, our faith leaders, our church, our children, our parents. In spite of the hateful and divisive nature of the crime, we are all connected. And regardless of the attempts of those who allow evil to use them, the sacred cord that connects us all cannot be destroyed.
5. Lastly, I would not be doing my duty as one ordained to the ministry if I did not say that we must continue to pray.
1 Thessalonians 5:15-17 says, "See that none of you repays evil for evil, but always seek to do good to one another and to all. Rejoice always, pray without ceasing..." I am by no means a minister who is going to tell people who are subject to racism not to be angry. I am not ever going to be the person who uses to wag my finger at young black people who take to the streets to express their frustration with violence perpetuated against their bodies.
I am, however, going to say that this moment needs our faith. This moment needs the unexpected prophetic voices that have heard from God. This moment needs our focus. And these things come through prayer. And in spite of this young man's attempt destroy the sanctity of prayer, we need prayer -- prayer that is active, prayer that is hopeful, prayer that is unceasing.
Calling all HuffPost superfans!
Sign up for membership to become a founding member and help shape HuffPost's next chapter