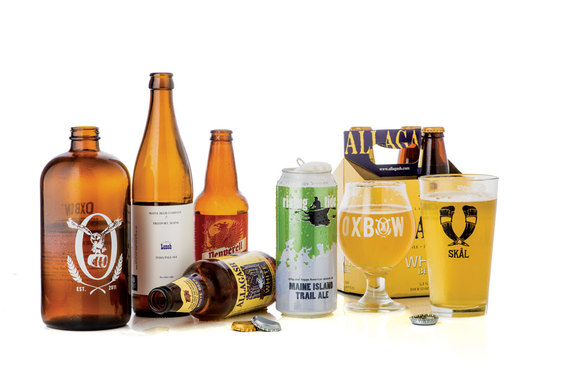 Allow us to throw down the gauntlet: Maine's craft beer scene right now is as vibrant, creative, and vital to American brew culture as in any state in the country. Five years ago, Maine hosted some 30 craft breweries. Today, we're up over 60 (with taprooms galore!) and they're churning out some of the nation's tastiest and most inventive brews. We're not saying these are Maine's five best beers . . . but we're not saying they're not.
Grizacca Oxbow Brewing Company
While the bulk of the country's craft breweries are committed to hoppy and English-inspired ales, Maine's brewers have been ahead of the curve in embracing more obscure Old World beer styles. Oxbow's Grizacca is a great example, a remix of an old thirst-quencher called a grisette, a kind of mildly alcoholic Gatorade for 19th-century Belgian coal miners. It's a light, tart beer that smells like melon and freshly cut grass, brewed to be refreshing rather than wildly potent or complex. Grizacca is the perfect chaser after a long shift on a hot day, a reminder that Oxbow's great achievement in its four years has been to obliterate the distinction between a craft beer and a workingman's beer. Draft only. 274 Jones Woods Rd., Newcastle. 207-315-5962. 49 Washington Ave., Portland. 207-350-0025.
In 2011, this spectacular India Pale Ale (IPA) launched a pair of nano-brewing brothers to what passes for stardom in the craft beer world. For a while, they couldn't keep it on shelves. It's still one of the most sought-after beers brewed in Maine, and its list of accolades defies easy summary (it's among the highest-ranked beers nationally on BeerAdvocate, the online mecca of beer geekery, with a "world-class" score of 98/100). Just waving your nose over this beer is like snorting flower petals and grapefruit. But despite its wicked bouquet and a respectable 7 percent ABV, Lunch doesn't pack a wallop. It's complex, very hoppy, and slightly sweet, in an astringent way. Admired (and consumed) by many Maine brewers, Lunch is the beer equivalent of that knockout meal the chef makes at home on her days off. On draft and in bottles. 525 Rte. 1, Freeport. 207-221-5711.