There are about a million reasons to love teachers. In my work at Educators for High Standards, I've had the invaluable opportunity to meet tons of amazing teachers, and I have to say one commonality I've seen among the most talented classroom teachers I know is their belief and investment in high standards, for both themselves and their students.
While I feel like every day should be Teacher Appreciation Day, today serves as the perfect excuse to share a few of the reasons I love teachers.
They go above and beyond to do what's best for their students.
Beth Maloney, a fifth-grade teacher in Arizona, goes above and beyond to teach her students vital skills like collaboration and active listening. Impressively, she also encourages her colleagues to leverage those same skills to engage policymakers, since, as she points out, "teachers play one of the most influential roles in school and student performance." Teachers who share their experiences and expertise have an invaluable opportunity to advocate for students and work with policymakers to improve teaching and learning, and, in Arizona, Beth Maloney is doing just that.
They leverage their expertise and creativity to raise the bar for learning.
Over her 25 years of teaching, Tricia Ebner has learned that pacing guides and textbooks aren't always the best keys to unlocking learning for her students. Instead, she uses the Ohio Learning Standards, a set of high grade-level learning goals, to guide her lessons. When her students had questions about the Holocaust, she leveraged the freedom that high standards grant teachers by crafting a brand-new unit for students:
"The result was a four-week unit that provided opportunities to further develop reading, writing, speaking, and listening skills while answering their questions. We used the text Smoke and Ashes by Barbara Rogasky as our anchor text. I arranged for a guest speaker to come and work with us… [who] led the class through an exploration of how a dictator such as Hitler gradually separates citizens from each other, creating scapegoats."
They see parents as teammates.
For parents, the classroom can be a mysterious place, and it can be overwhelming to help extend a child's learning by helping them at home. Ohio educator and parent Char Shryock sympathizes with parents' eagerness to help their child but emphasizes the importance allowing them to learn through "the struggle" in math. Char's advice:
"Math is not a series of steps. It's a process and a way of thinking about things…. You are actually doing your child a disservice when you do the math for them. The learning comes from the struggle in math. We need to give parents those tools and strategies to help facilitate math learning, rather than giving into the frustration and reaffirming that 'yeah you're not a math person, because I wasn't a math person, and that's OK.' Because it's not. Everybody can do math. It's just a shift in thinking about it."
They know how to help struggling students grow.
Great teachers love their jobs because they believe each and every child in their classroom can learn and grow. While some students may face more challenges than others, teachers like Barbara Gottschalk, an English language teacher in Michigan, know that despite where they start, all students can reach the same finish line if their teachers have the right resources and mindset:
"English learners might need more time and ample instructional support, but they have the potential to master rigorous academic standards, just like their peers. Acquiring English language proficiency is an arduous process, but when we focus on growth over achievement, in both the short and the long term, we'll see that well-supported English learners are successful over time."
Instead of seeing challenges in the classroom as roadblocks, great teachers, like New Jersey middle school teacher Liz Gardner, know that when students don't understand, it's an "opportunity to work with them, and as team, figure out what's going wrong and how we can fix it together." High standards haven't just raised the bar in Liz's classroom – they've given her an opportunity to throw away her collection of mindless worksheets and, instead, invest in her students' ability to learn:
"The focus on fewer topics, the pursuit of conceptual understanding, the hunt for ways to apply skills to the world around us, the extension of learning from skill to skill and grade to grade have all created in environment in which my students and I feel alive. The work is rigorous, but not impossible, and my students are unafraid of working hard."
Take the opportunity to show your appreciation for the teachers in your life today. But don't forget that teachers are amazing the other 364 days a year, too.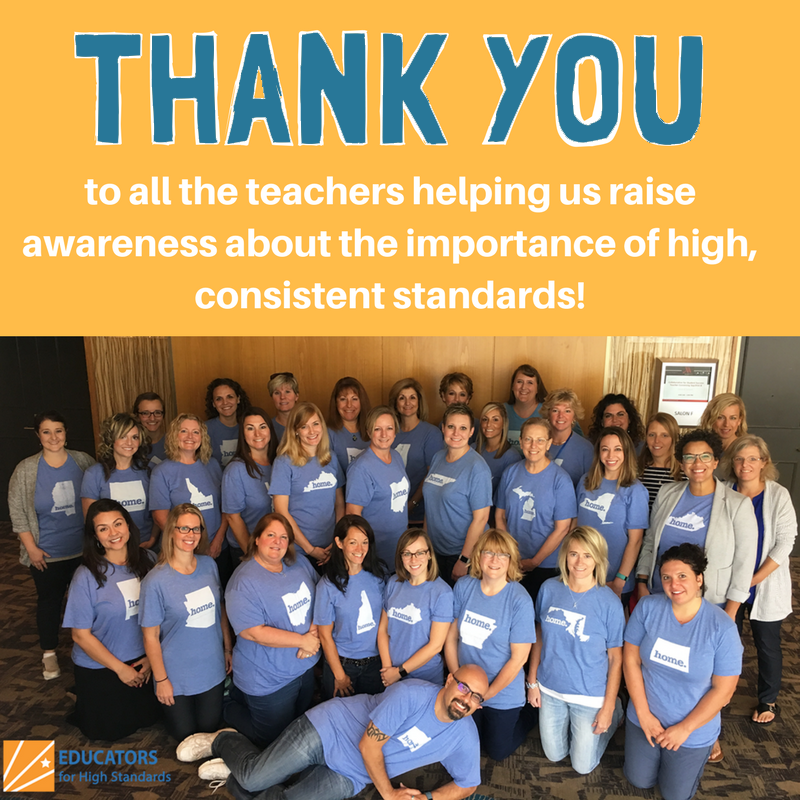 REAL LIFE. REAL NEWS. REAL VOICES.
Help us tell more of the stories that matter from voices that too often remain unheard.
This post was published on the now-closed HuffPost Contributor platform. Contributors control their own work and posted freely to our site. If you need to flag this entry as abusive,
send us an email
.