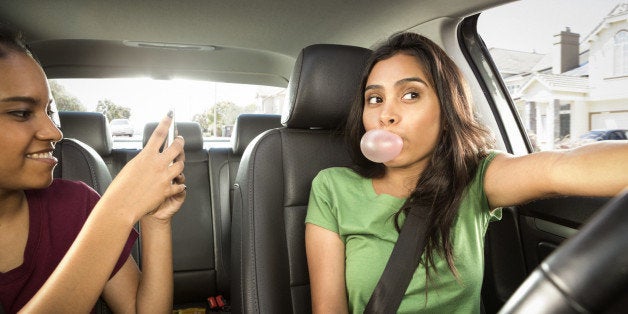 Having a teenage driver is a hair-raising experience that can keep parents awake at night. And, as if that wasn't enough, parents also get hit with an enormous spike in their auto insurance premium after adding junior to their policy.
According to the 2014 Annual Teen Driver Study by insuranceQuotes.com, U.S. families can expect an average annual rate increase of 79 percent when adding a young driver to their existing car insurance. While this is a huge increase, it's down slightly from last year's average increase of 84 percent.
In this article I'll tell you how to put the brakes on car insurance rate hikes. Plus, you'll find out how to avoid some common and expensive mistakes that parents of teen drivers often make.
5 Expensive Mistakes Parents of Teen Drivers Should Avoid
Mistake #1: Letting Your Teen Drive Too Soon
Why are car insurance rates so high for teens? Come on, you remember being a teen driver. Speeding, following too closely, stopping short, driving while texting, talking, singing, eating, and preening and simply being inexperienced behind the wheel are reasons why teens get into car crashes three times more often than older drivers.
Car insurance carriers don't turn a blind eye to teens' risky behavior or the resulting increase in claims. They know that insuring a teen is more risky and charge accordingly.
However, the good news is that for every birthday your teen driver celebrates, he or she becomes less expensive to insure (and hopefully more mature). So even waiting one year to let your teen get behind the wheel means you'll save money on premiums and potential accidents they might get into.
Here are the national average annual rate increases for male teens, according to the insuranceQuotes.com study:
• 16 years old: 109.65%
• 17 years old: 99.12%
• 18 years old: 90.45%
• 19 years old: 69.08%
Rate increases for females are much lower than for their male counterparts:
• 16 years old: 81.63%
• 17 years old: 72.69%
• 18 years old: 64.81%
• 19 years old: 47.58%
Mistake #2: Not Reporting Your Teen's Good Grades
If your teen driver is getting good grades, be sure to brag about it to your insurance agent or company. Being smart usually pays off when it comes to car insurance. Most carriers offer a good student discount that could cut your insurance bill by up to 20 percent!
To qualify, the driver must be under the age of 25 and a full-time high school or college student. You simply provide academic records showing that your student has a grade average of "B" or better, a combined 3.0, or made the dean's list or honor roll.
Mistake #3: Not Sending Your Teen to Driver's Ed
Many insurance companies offer a discount if a teen completes a driver's education or defensive driving course. These classes are typically available online and may also be offered by:
• Your insurer
• Your state's Department of Motor Vehicles
• Your teen's high school or college
• A local driver's education school
In addition to saving about 5 percent on car insurance, a driver's education course reduces the likelihood that your teen will get into an expensive accident in the first place. He or she will get a good review of traffic laws and learn the best ways to avoid potentially dangerous situations on the road.
Mistake #4: Not Enrolling in a Pay-As-You-Drive Program
If you've never heard of pay-as-you-drive insurance, you're not alone. Also known as usage-based insurance or telematics, these programs are starting to catch on and are offered by some of the nation's largest companies.
Here's how it works: You sign up and allow the insurer to monitor information about your driving behavior. The data could be transmitted by an in-car device that you must install or through an existing on-board communication system (such as OnStar).
Some companies watch multiple metrics like how often you drive above a certain speed, the time of day you drive, and how many miles you cover a day. Progressive's Snapshot device even beeps disapprovingly when you hit the brakes too hard. And some companies, such as National General Insurance and Metromile monitor your mileage only.
If you're considered a safe or low-mileage driver, you'll get a sweet discount that could range from 10 percent to 30 percent. But what if you or your teen is considered a terrible driver? Well, insurance companies don't raise your rate if someone in your family has a lead foot -- they just don't offer a discount.
Mistake #5: Forgetting to Shop for Lower Car Insurance Rates
The most important shopping tip to remember is to get a minimum of three quotes from different companies at least once a year, especially when you're paying for a teen driver. That's because each insurer will give a substantially different rate. And, as I previously mentioned, the rate for your teen driver should come down every year.
Some companies give more weight to factors such as the make and model of your car, where you live, and your driving record. Others may put more emphasis on years of driving experience or your credit (in states that allow it).
Taking a few minutes to shop for car insurance by getting free quotes can really pay off. Let's face it: there may not be an easier, legitimate way to put a few hundred dollars back into your bank account.
Laura Adams is a personal finance expert, award-winning author, host of the top-rated Money Girl podcast, and senior insurance analyst for Bankrate Insurance. For more on auto, home, health, life, and business insurance, click here.