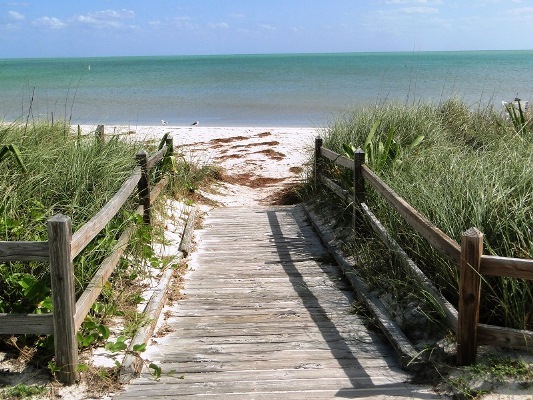 You can discover some of the finest, most pristine beaches in the world at Florida's state parks.
Kindle the flames of love on Lovers Key, bury your toes in sugar-sand on Grayton Beach, or learn to kayak at MacArthur Beach Park. Explore the eerie and beautiful Boneyard Beach on Big Talbot Island, and camp on the beach at Bahia Honda.
These beaches were ready for their closeups when Trekkers outfitted with Google's Street View camera strolled through on an odyssey documenting the Sunshine State's shores. The journey of more than 740 miles and two million footsteps began at Gulf Islands National Seashore in July and finished in South Florida in early November. The Florida beach panoramas, built with 7.5 million images, will be available on Google Maps and VISITFLORIDA.com in 2014. The Trekkers, using their smartphones, also took photographs to record a journal of their travels. Browse the selection of images here.
In the meantime, if you want to unplug and reconnect with nature - and at a bargain price - you can't do better than these Florida beaches in our state parks.
John D. MacArthur Beach State Park
10900 Jack Nicklaus Drive
North Palm Beach
561-624-6950
John D. MacArthur Beach State Park boasts tangles of mangrove swamps, trails that meander through canopies of trees, and a vast walkway that traverses a lagoon - never mind almost two miles of unspoiled Atlantic beach.
Nestled on a barrier island, this is the only state park in Palm Beach County, an idyllic natural treasure in the midst of an urban jungle. It offers swimming, fishing, educational programs, special events, kayak rentals and exceptional snorkeling, as well as a nature center, gift shop, playground, and picnicking facilities.
If you visit during June or July, make sure to go on a guided sea-turtle walk, where you can watch a mother sea turtle lay her eggs under the cover of darkness.
Bahia Honda State Park
36850 Overseas Highway
Big Pine Key
305-872-2353
Bahia Honda State Park has it all - the best beaches in the Florida Keys, legendary snorkeling, a bounty of shore and wading birds, and a plentiful underwater population that will keep anglers smiling.
It also features a concession, a restaurant, kayak rentals, snorkeling tours of the reef, geo-seeking, and a butterfly garden. For the ultimate getaway, rent a vacation cabin or get some sand between your stakes in a full-facility campsite. Some of the sites are right next to the beach, where the sound of the surf can lull you to sleep.
Don't miss hiking the trail up to the Old Bahia Honda Bridge; it plunges into the forest, spills out onto the old bridge, and finally, rewards you with soaring views of the entire island.
Big Talbot Island State Park
State Road A1A North
Jacksonville
904-251-2320
Some, half-buried, rise out of the sand; some merely sprawl atop it. Some of their limbs oddly twist, others arch into the sky, ramrod straight.
There's a simple explanation for the phenomenon: Live oaks and cedars, some a century old, grow on Big Talbot's dunes. As the dunes erode, the trees tumble onto the beach below.
Besides offering unrivaled beauty, the trees' remains provide shelter and food for coastal wildlife. The park is also ideal for nature study, bird-watching, and photography.
For a fascinating glimpse into its salt marsh, rent a kayak or take a guided paddle tour with Kayak Amelia (888-30-KAYAK). Kayak tours require advance reservations.

Lovers Key State Park
8700 Estero Boulevard
Fort Myers Beach
239- 463-4588
Lovers Key State Park promises two miles of natural beach, thick with white sand, that's perfect for shelling, swimming, picnicking and sunbathing.
You might see manatees swirling in its waters, dolphins leaping from the surf, or bald eagles soaring on the salty currents of air.
This park features more than five miles of trails for hiking and bicycling, a boat ramp for anglers and explorers, as well as kayak tours and bicycle, canoe and kayak rentals.
For the ultimate romantic experience, have your wedding or renew your vows on the park's shell-strewn shores.
Grayton Beach State Park
357 Main Park Road
Santa Rosa Beach
850-267-8300
The park also encompasses Western Lake, a rare coastal dune lake that's ideal for both freshwater and saltwater fishing, and for canoeing, kayaking and paddle-boarding. It offers more than four miles of trails for cyclists and hikers, plus a full-facility campground and modern cabins.
Make sure to explore the nature trail; it winds over impressive dunes and through a coastal forest fringed by scrub oaks and magnolias.
-- By Lauren Tjaden for VISIT FLORIDA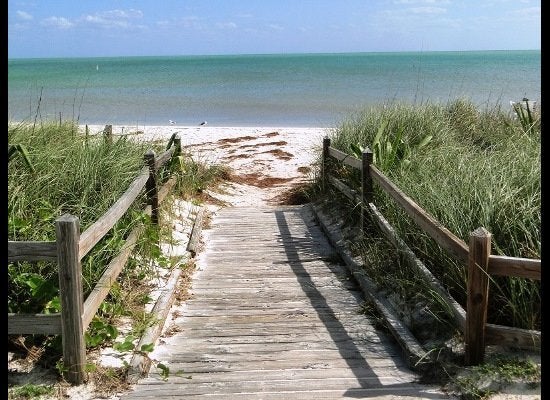 5 Fantastic Beaches in Florida State Parks