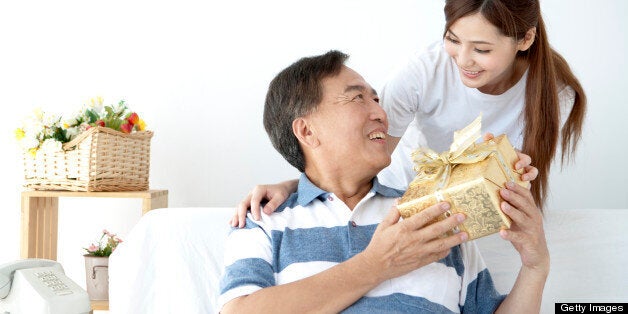 While Father's Day is a great excuse to buy something expected for dad, like a new bottle of his favorite cologne or that cast iron pan he's been hinting at for weeks, it is also an opportunity to bond with the old guy! If you ask me, making a memory is worth more than a dust collector any day. I think that the ultimate Father's Day consists of an activity to do together whether it's something you love, he loves, or both of you are passionate about. It'll give him the quality time with his kids that he wants but never asks for. If you're stumped about how to plan an epic Father's Day adventure, read on to get started.
If there's one thing most dads appreciate, it's booze. And lucky for you both, there's no shortage of tipsy activities to experience. For beer lovers, an outing to a new beer hall might do the trick or get on a plane to Dublin for the ultimate Guinness Tour. But if he's more of a whiskey fan, you can go all out and take a road trip to Louisville for the Kentucky Bourbon Trail or find a local watering hole that does whiskey flights. For wine lovers, a trip to a local winery or a tasting at a local wine bar could a perfect pairing.
Dust off the old tent in his garage and get dad into the great outdoors, overnight. You can show off your survival skills, play board games and grill to your hearts' content. Best of all, you can go on adventures like you did when you were a kid. Take your dad hiking, foraging, or canoeing and paddle around the lake together. Don't forget to pack ingredients for s'mores because you're never too old for those!
Dads are to water like peanut butter is to jelly, they just go together. So, planning an activity around the ocean or a lake is a guaranteed way to have fun with dad. If he's a fisherman, you might want to sign up for a group excursion on a charter boat, or take a weekend-long fly fishing trip together. You could also head out on a boat for the day to just enjoy the water, have lunch and shoot the breeze.
Sometimes it may feel like you and dad have little in common, but when it comes to sports, you're always on the same page. An obvious slam-dunk of a day for the two of you would be to catch a game together. But if your favorite team is far away, or it's the off-season for the sport you like best, I challenge you to get creative. Get in the car and drive to the Basketball Hall of Fame in Springfield, Mass., or schedule a friendly game with extended family and friends.
While some daughters are as happy to watch sports or fish with dad as some sons are, testosterone overdrive isn't for everyone. One of my favorite alternate outings is live music. Lots of hip bands from your dad's day are still touring. i.e. my in-laws just went to see Joan Jett and Pat Benatar and loved it. My dad, being an ex-hippie, loved it when I took him to see Ravi & Anoushka Shankar play sitar together a few years ago. Talk about father, daughter bonding time! You could also take him to see one of "your" favorite bands. Outdoor concerts pop up in every town this time of year, so that's always an option too. Of course, if dad is more cultured than stadium rock or bar bands allow, there are always orchestras, musicals, lectures and plays to attend at universities, libraries and performing arts centers. Just do some digging and you'll find the perfect thing.
Half of the fun of these adventures is when things go wrong, so be prepared to laugh off the rain, bugs, spilled drinks and bad sound engineering. No matter what happens, you'll be talking about it for years. So, this Father's Day start planning for a gift that won't fit in dad's drawer, but will fill both of your hearts for a lifetime. Happy Father's Day!
Dana Holmes is a lifestyle, gift and etiquette expert who acts as Editor in Chief of Gifts.com and the Gift Rap Blog. She has been working in trend forecasting and gift recommendations for the past decade. Dana loves making occasions special with her unique gift ideas, tips and touches. She has been interviewed by the New York Times, Associated Press, Fox & Friends, TODAY in NY and many more.