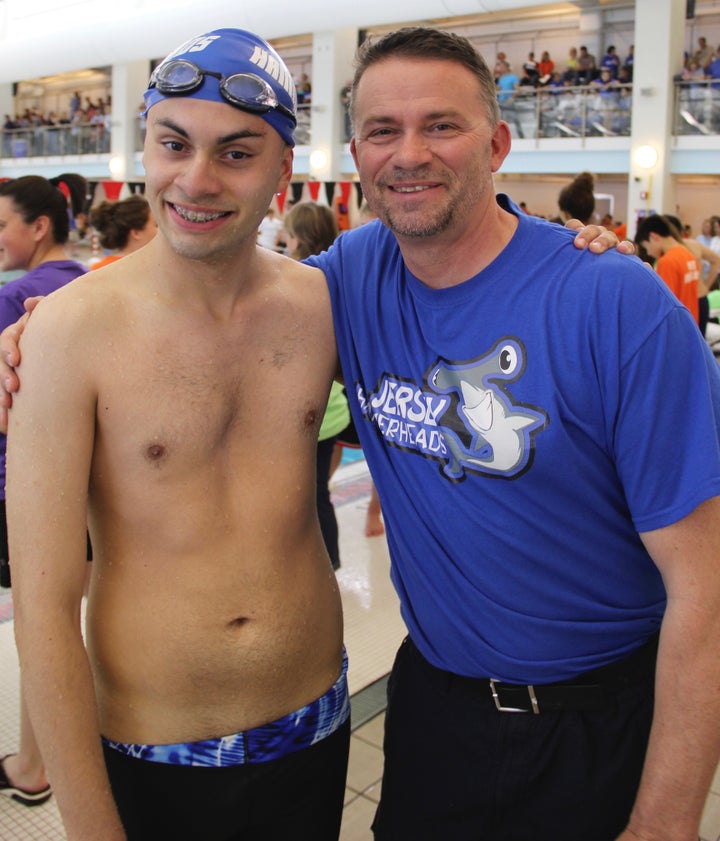 When I think about the great fathers that I know, Coach Mike McQuay is right there at the top of the list. I've had the privilege of closely observing Coach Mike for a few years now because he volunteers as a coach for the Jersey Hammerheads, the competitive swim team of teens on the autism spectrum that is the subject of my feature documentary film, "Swim Team."
Coach Mike happens to be the father of one of the team's athletes, Mike McQuay, Jr. (Mikey), but the whole team benefits from his nurturing style and high expectations. Seeing him in action, it's no surprise that Coach Mike guided his swimmers to successfully dominate the competition at the state and national level Special Olympics events documented in "Swim Team."
Here are my top five favorite quotes of Coach Mike's from "Swim Team" that embody his winning approach to fatherhood:
1. "You have to have patience."
Coach Mike demonstrates enormous flexibility in trying different techniques to train the diverse group of 17 kids on his swim team. Each child is different in the water; some can't swim at all at the start of the season and a few have multiple disabilities. Mikey loves animals, so Coach Mike gives him directions in animal terms: "Be the flying squirrel!" he says when he wants Mikey to stretch out and dive off the block. Kelvin, one of the team's stronger swimmers, is often resistant to swimming the laps required to build stamina and speed; Coach Mike negotiates with him time and again until Kelvin dives in. It's incredible to see how these kids blossom with a coach who has the patience to give them a chance. All kids need the patience of their parents as they explore the world, test their limits and stretch their wings.
As Coach Mike says in the film, "coaching a special needs team versus a regular swim team is night and day." Perhaps the biggest difference is that the athletes in "Swim Team" need consistent practice to master skills that typical swimmers might find obvious, like remembering to swim a certain stroke or making sure to touch the pad at the end of a race. Coach Mike motivates all of the swimmers to work hard, and I was pleasantly surprised to discover team members training on their own even on days when the team wasn't meeting. All of this dedication translates to wins for the team in and out of the water. The persistence and determination that Coach Mike coaxes from these kids are an inspiration for parents of any child.
3. "We're not here to sugarcoat or hide who he is."
One of the most difficult moments for Coach Mike in "Swim Team" takes place in a lawyer's office, when Mike and his wife are learning about guardianship and other options to help Mikey make decisions as an adult once he turns 18. Key to Coach Mike's parenting style is his clear-eyed sense of what his son is and is not capable of. He's never for a moment in denial that Mikey may need assistance as an adult, and yet it doesn't stop Coach Mike from helping Mikey achieve his potential. Indeed, Coach Mike says he thinks he "became a better father by having an autistic son," by spending more time with Mikey and giving him the extra support he needed to learn things that come easier for typical kids. All of our kids have strengths and weaknesses; Coach Mike's balanced approach means guiding them to elicit their best efforts while always accepting who they are.
4. "You can't give up on your child."
This is Coach Mike's mantra – and one of the big themes of "Swim Team." Most of the families in the film had received devastating prognoses from doctors and professionals about their children. Coach Mike was told his son would never talk or be able to change his own clothes, let alone be self-sufficient. Spoiler alert: Mikey talks and can get changed. He's also a champion swimmer. The experts don't always have the answers, especially in the case of an individual on the autism spectrum since so much about autism is still unknown. Typical kids face their own challenges too, and all families can benefit from the self-fulfilling prophecy of high expectations. So much is possible when you always, always, always believe in the potential of your child.
5. "Mom and Dad's not always gonna be with you."
One of the most poignant scenes in "Swim Team" features Coach Mike teaching Mikey to cook eggs. Young people on the spectrum may need to be painstakingly taught skills, especially life skills like self-grooming and meal preparation, skills that seamlessly become second nature for typical kids. Parents are on the front lines of this important work.
"Mom and Dad's not always gonna be with you," Coach Mike tells Mikey. Every parent of a child on the spectrum hopes their child may some day be able to live independently but knows it may not happen. Since Mom and Dad won't be there forever the best thing parents can do for their children on the spectrum is to help their children acquire the skills that will matter most when their parents are no longer able to care for them.
Typical kids must also learn how to be self-sufficient and not rely on their parents to buffer them from life's sometimes harsh realities. All parents should remember to think of themselves not as snow plows smoothing out every life kink ahead of their children's paths, but as guides walking alongside their children and nurturing their independence.
See Coach Mike in "Swim Team," opening at IFC Center in New York on July 7th, at Laemmle Monica Film Center in Los Angeles opening July 21 and in select theaters nationwide. "Swim Team" will also air on PBS' acclaimed non-fiction showcase POV on October 2. For more information, visit www.swimteamthefilm.com