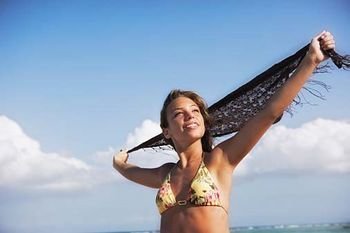 To enjoy solo travel, you don't have to bury yourself in an Indian Ashram or get fat off Italian gelato like Liz Gilbert did. Sigh of relief.
Wherever you go, traveling solo is the ultimate self-indulgence. You absorb new surroundings unfiltered by the tastes, prejudices, and charisma of travel partners. It's just you. And you can be selfish.
Want to extend your hotel reservation for more beach-time? Go for it. No one is stopping you.
Thirsty? It's 5 o'clock somewhere, who says you can't crack a beer before noon.
Do what you want, when you want to. No accountability, no reigns.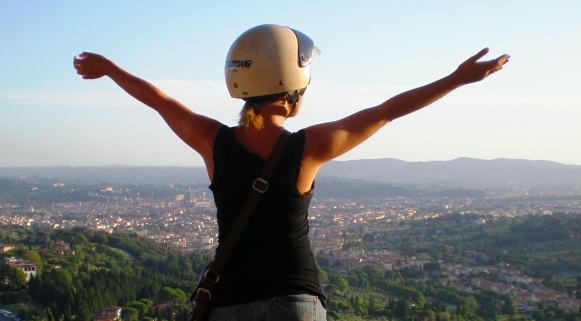 People refuse to travel alone based on five major fears, which are completely avoidable: solo travelers don't make friends, the single supplement expense is unavoidable, solo travel is dangerous, it's boring, and eating alone really sucks. Holding back from solo travel based on these fears is a big mistake. Based on my own experiences, and after several conversations with other solo travelers, I've found these common misconceptions don't have to turn into your reality. Here's why.
1. You'll make connections along the way, guaranteed
Sure, you're on the road alone. But that doesn't mean you won't make friends. You might experience pangs of loneliness, but that instinct will naturally drive you toward people. If you ache for conversation, chances are you'll find it. Remember your first day of pre-school? At first, you probably didn't want to let go of your mom's hand, but when 4 p.m. rolled around, she had to drag you out of the sandbox. The same concept applies to solo travel. Hostels are specifically designed to encourage communal interaction. You'll sleep, eat and drink around other travelers.
On the road, I've found being solo doesn't make you weird -- it makes you interesting and a bit mysterious for other travelers. As a female solo traveler, people are curious about me. Other travelers tend to take me on and I spend more energy finding "me" time than I do finding friends.
On a solo trip to the Greek Islands, I tucked in with five guys from Miami. One of them sat next to me on a bus ride from the port, we started talking, and before I knew it, I was their sixth roommate on Mykonos. Then they changed their itinerary to meet me on Ios two days later. By coincidence I ran into them on Santorini at the end of the week. No matter what your social skills are, unless you sit in the corner and stare at the wall, you will make friends. Promise.
2. If you act smart, you will avoid danger
Like anything in life, travel, and traveling alone, has risks. But, if you watch your back, you will stay safe. Take note of dangerous parts of cities before you visit. Cheaply let your friends and family in on your travel game-plan via Internet cafes or calling cards. Take out your earbuds and pay attention. Locate the closest U.S. embassy. Carry copies of your passport and driver's license. And don't wear a huge camera around your neck when you're in transit. That makes you a bull's-eye for thieves. If you need directions, duck down in a less visible place to check the map. Don't advertise yourself as a tourist.
"I don't live my life in fear. The most important thing about safety is keeping your wits about you, and like life in your home city, trust your gut," says Marie Elena Martinez, an NYC- native who ditched her job in 2005 to travel the world. Now a long-time solo traveler, she offers advice to newbie solo travelers. "A lot of people have issues trusting themselves, that's why they're afraid. You'll hone your instincts overtime and the more you travel, the more you'll trust them."
Travel writer Chuck Thompson, who wrote To Hellholes and Back: Bribes, Lies, and the Art of Extreme Tourism (Holt Paperbacks, 2009) agrees. "Don't wander into stupid situations. If you have any flicker of doubt about somebody's intentions, bail out." Thompson says of all the countries he's visited, he only had reservations about traveling alone in the Congo. And he suggests visiting Japan if you're a female alone on the road. "Women in Japan had a more confident posture walking alone at night. I was amazed that women didn't shy away from me, even if we crossed paths on a dark street at 4 a.m. Guys tend to sense a female's hesitancy in their posture walking alone at night, but these women didn't have that... Japan is a good starting point for more wary solo female travelers."
3. It's near impossible to get bored
Just like life at home, you develop a routine on the road. Each day might not be the same, but each day has its rhythms and cadences -- the best part (the entertaining, sometimes frustrating, and often rewarding part) is figuring it all out. Just because you are in a new place doesn't mean you stop doing stuff. Explore the town, score tickets to a play, hike a mountain, shop at local markets, visit a reputed restaurant, try a new sport. Museums are not limited to art-nerds like me, and not every museum is an art museum. Amsterdam has a sex museum, Prague has a Barbie doll museum, New Delhi has a toilet museum, Berlin has a currywurst museum. The Daily Mail, England, compiled a list of the weirdest museums to see -- why not incorporate one into your solo trip? Most hostels have corkboards where local companies pin activity promo leaflets for tourists.
It's okay to sit still too. Grab a frappe at a café and people watch for an afternoon. Your to-do list will fill up quickly so enjoy downtime as it comes.
4. You won't pay more to go alone...
...if you use your bargaining power. To avoid the single supplement (fees attached to single rooms in hotels) shop around before you buy pre-planned trips. I prefer to create my own itinerary, which dodges this fee entirely. If that's too much work, look into traveling off-season. I'm a huge fan of the "walk-away" threat. When you bargain for a scarf at a market --you always have more buying power if you shelve your desire and walk away. Chances are the vendor will come back at you with a lower price. Same goes for hotels: you have money to spend and you need a place to stay. If you threaten to walk away from a room with extra fees, they'll most likely accommodate you. Hotels have to make money too.
"If I query a hotel about a room, and they come back at me via email with extra fees, I just tell it like it is -- I'm a traveler alone on a tight budget. I'd like to be in your city and stay at your hotel," says Martinez. "You have to be kick-ass about it, and 9 times out of 10, I avoided extra fees. Travel is so last minute... You didn't think you were going to Mumbai but all of a sudden you're in Mumbai, and you need a room for 2 p.m. the next day. Last minute booking typically works out best because for you paying the lesser rate [minus the supplement] is putting money in the hostel's pocket anyways."
5. Eating alone doesn't suck as much as it sounds
Eating alone isn't that awful... after I embraced it, I found I prefer it. I savor flavors more because I'm not focused on conversation. I do my best people watching when I eat alone. The reflection time allows me space to process the day's events, and soak in the ambiance. Outdoor cafes are perfect places to relax with a book or a journal over a meal. Plus, when I eat alone, I befriend the waiters to score insider-information on a place -- locals always know the best places to shop, party, and dine.
"You quickly get used to eating alone," says Thompson. "Bars are great because you don't feel quite as conspicuous as you might at a formal white-linen dining room table. Even if you don't drink, bars are a great place to strike up conversation, if you want it. And it's totally okay to be the "nerd with the book in a bar". In a way, eating alone is pleasant and peaceful. Avoid eating gas station food -- I've learned there's nothing in a gas station that you want to eat... your third day of chips and hot dog will just punish you."