It is a beautiful day. I am somewhere in the middle of Canadian Rockies. I breathe in the sweet mountain air and listen to the song of the birds. I am walking over rusty maple leaves that gently crunch as I step on them. I am far away from my homeland; I do not know what day of the week it is and I can only tell the time by solar movement. A waterfall sneaks out of the heavy forest of coniferous trees, leaving my pupils dilated, for I am in love with this place. I cannot resist the temptation to put down my heavy backpack and plunge into the pristine water.
As I jump, the water beneath me begins to recede and I am falling into an infinite space. The song of birds is mingled with sounds of feet scampering around and the sound of a waterfall is taken over by a constant sharp beep that is beginning to pierce through my head. I shut the alarm and wake up from my dream with a heavy heartbeat, and sweat all over my face ready to begin my day just the way it has always begun.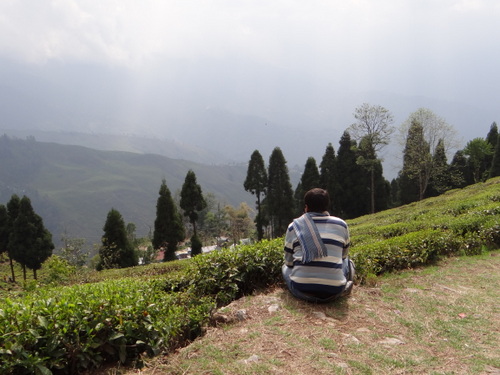 Traveling the world and exploring varied cultures is a dream that everyone, to some degree, craves to fulfill. In my own country and during my journeys across the world, I have come across people who, after a brief conversation, could not resist from saying, "Oh! I wish I could live your life." It makes me think about what stops people from fulfilling their dreams, which, in this case is the dream of being a traveler.
1.Fear of the unknown - This is perhaps the biggest fear that people face. We are brought up in an environment, where, anything that you can't see should not be trusted. We have our lives clearly defined -- a settled job, a house, a car and a family. Being a traveler would require you to move out of your arm chair and walk into the unknown. A traveler may have to come across unknown circumstances, cultures, countries, cuisines and languages
A wakeup call: Mariellen Ward of BreatheDreamGo started when only a handful of people in this world could relate to who a traveler is. She works for empowering women to travel solo and safely at #WeGoSolo
2.Fear of losing your job - A settled job with steady income is what we want. However, the path to fulfilling your dreams does not always pass through fragrant meadows. A traveler may never hold a promising job
A wakeup call: Shivya Nath of The Shooting Star quit her plush corporate job at 23, and chose to travel. The path was not paved with roses but she has created what she once dreamt of.
3.Fear of not having enough money - It is a fact that you need money to travel. Fear of not having enough money haunts us to the core such that we are not left with enough courage to take the first step. A traveler may never have the money sufficient enough to be compared to his rich neighbor with a settled job
4.Fear of the societal buzz - We know that anyone, who took the path less beaten was ridiculed by the society. The fear of going against the norms woven into our fabric takes away the courage that is required. A traveler may have to challenge the very norms he was taught to follow
A wakeup call: Runaway Jane booked a ticket to Australia in a spur of a moment when she was only 17. She has never looked back. She set out at an age when the society's expectations are the highest.
5.Fear of not being able to give our children a good future - Ideally, in a family the children should be able to get a good education, followed by a settled job. The conventional education system is believed to be the answer to our questions in life. A traveler may not be able to give his children that education consistently.
A wakeup call: The Vogel family - John Vogel (a.k.a. Dad) and Nancy Sathre-Vogel (a.k.a. Mom) quit their jobs, and set out on bicycles from Alaska to Argentina with their two sons, Daryl and Davy. The kids couldn't have gotten a better education, says the Vogel family.
It is not enough to just know what your fears are. What is more important is the skill to deal with them. We spend our lives trying to make our fears disappear so that one day we will be able to fulfill our dreams. Fear however, will always persist. Acknowledging and accepting our fears to ourselves and to the people around us liberates us from its jaws. Accepting our fears and still taking actions is the key.