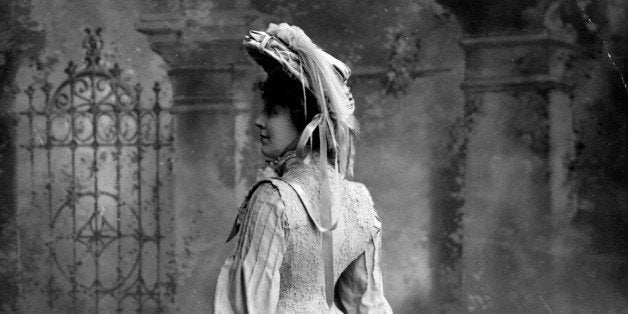 As I read Diane von Furstenberg's biography, The Woman I Wanted to Be, I was reminded of the significant role of women in the world of fashion. Match the following women with her accomplishment.
____ 1. The first woman to receive the Congressional Medal of Honor (for her service during the Civil War), she controversially rejected the feminine attire of corsets and hooped skirts in favor of trousers.
____ 2. After her name was misspelled on her bank loan application, she developed the first commercial maternity dress. Later, she pioneered clothing for full-figured women.
____ 3. A temperance reformer and later suffragist, she is often remembered for her pants and tunic costume, named after her.
____ 4. One of the most influential fashion disseminators in her time through the distribution of mass-produced and mass-marketed dressmaking patterns.
____ 5. A former slave, she served as a dressmaker to Mary Todd Lincoln.
A. Amelia Bloomer
B. Ellen Curtis Demorest
C. Mary Edwards Walker
D. Elizabeth Keckley
E. Lena Bryant
The editor of the first newspaper for women, The Lily, Amelia Bloomer worked first in the temperance movement and later as a suffragist. Remembered for introducing Elizabeth Cady Stanton to Susan B. Anthony (1851), she also attracted much attention for her pants and tunic costume, which came to be known then -- and today -- as bloomers. Her newspaper was published from 1849 to 1853. Bloomer has been inducted into the National Women's Hall of Fame.
Elizabeth Keckley was born a slave in Virginia in 1818. She excelled at dressmaking and was able to purchase her freedom in 1855 from her earnings. Keckley moved to Washington, DC and soon had a clientele that included much of the Washington elite. Mary Todd Lincoln became a special client and good friend. Keckley was at her side through many of the traumas that Mrs. Lincoln experienced. After Keckley wrote a book about the White House years, however, the friendship was terminated.
Born in upstate New York and a graduate of Syracuse Medical College (1855), Mary Edwards Walker went into private practice as a doctor in Rome, New York. After the onset of the Civil War, she volunteered as a nurse and served as a surgeon later in the War. In 1865, Walker was awarded the Congressional Medal of Honor for her service. Although the Medal was revoked in 1917, it was restored posthumously in 1977. Walker wore the bloomer costume into the 1870s, at which point in time she began to dress in men's clothes. Walker worked for women's rights and was proud of the role she had played in changing ideas about appropriate fashions for women. She has been inducted into the National Women's Hall of Fame.
Ellen Curtis Demorest began her fashion career with a millinery shop -- selling hats. After her marriage, she made major contributions to the fashion industry, including corsets that were more comfortable than others available at the time, a hoopskirt that could be purchased by the masses and mass-produced and mass-marketed patterns for dressmaking. Middle class women wanted paper patterns and bought sewing machines to make their own clothes; Madame Demorest helped filled their needs. In 1876, she sold over three million patterns to women in the U.S. and Europe.
In 1904, Lena Bryant applied for a bank loan to support her dress shop. The loan officer spelled her name wrong -- and thus was born the clothing store Lane Bryant. She pioneered clothing for pregnant women, offering the first commercial maternity dress. When newspapers would not accept her advertisements because the clothing was considered "lewd," she started a mail order catalog business that by 1950 was the sixth largest mail order catalog business in the U.S. She developed clothing for another unserved market -- clothing for full-figured women -- by measuring women who came into her store and determining the type of clothing that would fit them. Bryant also pioneered by providing her employees with benefits at a time when this was rare in the retail industry.
Learn about more she-roes and celebrate amazing women. These women with a connection to fashion are among the more than 850 women profiled in the book Her Story: A Timeline of the Women Who Changed America. We delight in their accomplishments and are proud to stand on their shoulders.
(answers: 1-C, 2-E, 3-A, 4-B, 5-D)
Popular in the Community