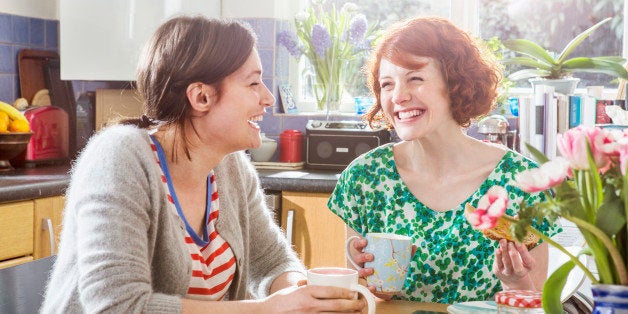 Friendships evolve a lot over time. People's lives take different routes, our tastes change, our priorities shift, our personal morals and values become deeply rooted and we end up more passionate about them than we may have been in the past. But there are a few key friendships that every woman should have. The ones that will lift her up and help her fall and be there for a laugh when nothing else seems to work. They may evolve and you may see different people step into each role for a different chapter of your life... but as long as they are there, in some context, they will help you write a truly memorable story:
1. The male friend. The guy you have no interest in sleeping with. The guy you have never had any interest in sleeping with. The platonic male friend. He's out there. Mine curbs my crazy, gives me much-needed perspective into my husband's mind when I need it (and I like to hope I offer the same in return on his wife's behalf) and offers a point of view on life and all its troubles that my girlfriends simply can't offer up. One that is typically a little less stressed, a little more positive and certainly simplified.
2. The cheerleader friend. The one who "likes" every blog post you publish, the one who tells you every venture you try is a good one, the one who is always cheering you along life's path, even when it's rocky. This friend not only has your back, she believes in you and everything you do and wants to see you succeed without envy or critique. She makes you feel invincible.
3. The fun friend. The one who talks you into that last-minute trip to Vegas. The one who tells you to buy the sequin mini. The one who truly believes that laughter is the best medicine and prescribes it in bulk. The friend who will celebrate happy hour at noon when you need it, who will take silly selfies and who will help you remember, even on your toughest days, that life is but a game... and you have to play once in a while in order to succeed.
4. The family friend. This can be a sibling or a cousin or a sister-in-law. Someone who knows all about your family's own personal crazy (we know we all have it), understands it and the root of it and can help you navigate and survive it. We all have our own histories and stories and personality ticks that come from nothing but genetics and decades of drama, and having someone who has lived it alongside you, or is close enough to know it firsthand, is a godsend.
5. The day-to-day friend. If you're a working mom, this should be a fellow working mom. If you're a stay-at-home mom, this should be a fellow stay-at-home mom. If you're an entrepreneur, this should be an entrepreneur. If you're a single 20-something living in a new city by yourself... you get the point. Someone whose schedules and priorities and goals mirror your own in some way. Someone who can relate to your day-to-day, your hurdles, your wins, your life as you live it each and every day. It doesn't mean we can't cross-pollinate here, some of my closest friends do not work while I do, but I absolutely need the perspective from fellow working moms as well to make me feel sane and settled when I feel anything but.
Of course there are lots of other people who will bring joy and support and love to your life, but I have one of each of these in my own personal circle and they all make me a better person. Will they fade in and out as the years go by? Maybe. And again, that's OK. Because their mark will last forever.
Popular in the Community