As a curly-haired girl I often find myself in a state of buying and trying new products geared toward helping out us girls with curls. Some are winners and some end up in the cosmetics graveyard located underneath my bathroom sink.
I'm always on the hunt searching for the best combination, the best mix, the best product cocktail, the best method to avoid the halo of frizz surrounding my thirsty, giant hair.
Having naturally curly hair is kind of like math, which I was never very good at. Like... If I use Brand A shampoo, with Brand B conditioner, add a drop of Brand C serum mixed with Brand D styling cream, my hair will look great!
Maybe doing my hair is more like science? Which I wasn't much better at.
Here's what I was good at, growing up in the 1980s: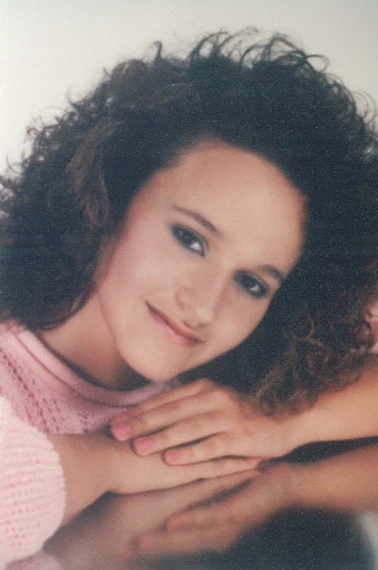 I was good at making my hair enormous.

In Big Hair Class, I would have gotten an A+.
Fast forward on your tape deck to today -- here are a few items in my current rotation of products that seem to be helping tame the frizz:
I will never use a regular hair dryer again! This lollipop shaped Curlipop hair dryer by Bed Head reminds me of my Curly Top hair dryer that I used all through high school and would sing into like a microphone. No diffuser to attach, this hair dryer IS one giant diffuser. And I can belt out an '80s power ballad in it. Again, I will never use another hair dryer.
Holy moly, Dove Quench Absolute Intense Restoration Mask was made for me. The container says it's a "mask" which I guess means a once-in-a-while-type-of-thing but nope, I'm using it as my conditioner and things are working out great.
Arc AnGEL by DevaCurl is what I've been looking for -- it's a strong gel that doesn't leave my curls with that "wet" look (ick) or leave them all crunchy. I'm still on the fence about the rest of this line with the no sulfates/no lather/no poo (as in shampoo) thing, but I'm really digging this stuff which also has no sulfates. Or poo.
Day three after washing is when my curls are looking their best -- that is a scientific fact. Maybe I am good at science. Anyway, on day three I like to give it a little drink of the amazing Argan Oil by Josie Maran. I rub it between the palms of my hands, apply it to my hair and poof -- the shine is boosted and any fly-always disappear. I also use it on my cuticles, face and that spot I can't reach on my back that's always itchy. Science.
On the days I do wash my hair (twice a week! Mondays and Fridays! How great!) I blast it with a shot of freezing cold water at the very end of my shower, put my product in and let it air dry as long as I can stand it (or as long as I can hold out before I'm going to be late for work) before I bust out the aforementioned awesome hair dryer.
So if you're naturally curly like me, maybe you want to give some of these reasonably-priced products a go. Or maybe you have a product combo that works great for you, please, leave a comment so the curly-haired girl community can hear them!
And let me tell you, that community is real. I love giving a smile, a nod, or asking a question or paying a compliment to a stranger with fabulous curls as we pass each other by.
Lori's website, Drawn to the 80s, is where her 5 year old drew the music hits of the 1980s. Her blog, Once Upon a Product, is where she writes about important things like beauty products and her Mick Jagger obsession.