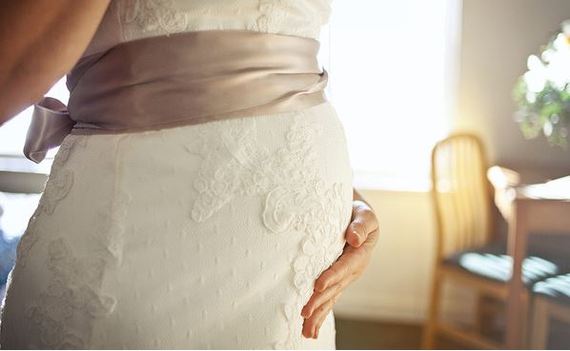 Credit: Lindsay Thorne Photography via Borrowed & Blue
Your wedding day is quickly approaching but you may be bursting to share even more exciting news -- you're expecting!

As the wedding day marks the official beginning of a new family unit, it can be the perfect opportunity to celebrate such joyous news.
Should you choose to announce your pregnancy (and show off that burgeoning baby bump!) at your wedding, go ahead and have some fun. Here are five ideas to help you tell your guests your family is growing -- fast!
1. Breaking News Alert
Take a cue from recent newlywed and mother-to-be, Savannah Guthrie, who incorporated breaking news music into her speech to make the announcement. You can select any sound clip or music that suits the two of you -- be playful!
2. Baby's First Photo
Share your big news by including a picture of the little bundle at the end of a slideshow shown at the reception. Be sure to clarify the visual announcement with a cheerful toast.
3. Fun with Favors
Give guests something to buzz about long after the festivities have ended. Put a little gift tag on your favor that says "coming soon" and include the due date (and gender if known) on the back. It also makes for a great keepsake.
4. Father of the Bride
Have the father of the bride let the cat out of the bag, exclaiming in his speech how excited he is to become a grandpa!
5. A Personal Touch
If you aren't comfortable sharing the news with a big group announcement, make it feel more personal by telling guests individually or in small groups, while you and your newly minted spouse as you visit each table. That allows you to experience the excitement again and again as you see each person's reaction to the joyful surprise.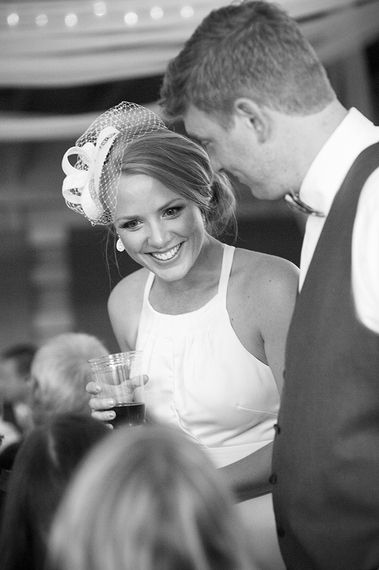 Credit: ToAmaze Wedding Photography via Wedding Paper Divas Blog