You'll be happy to know that you're not the only one gobbling down all kinds of shit this time of year.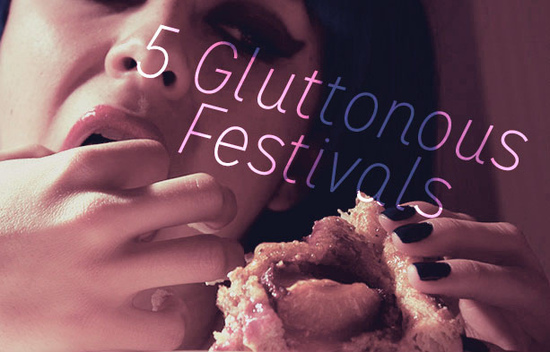 Photo by: Hannah Farsi
Americans aren't in the minority when it comes to stuffing their faces full of food in the name of celebration. While we do hold the depressing record for being the most consistently obese population, many places around the world love to jam ridiculous amounts of grub into their gullets. These five festivals are so gluttonous, they'd even make former hotdog heavyweight Kobayashi gag.
London Chicken Festival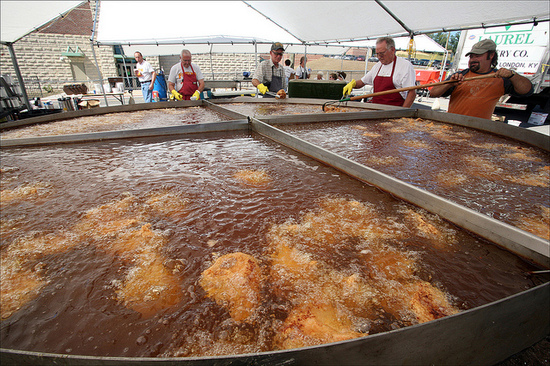 Photo by: Kentucky Photo File
Turkey's not the only pecker on the block when it comes to stuffing your face with bird. This festival stars the humble chicken, served piping hot from the world's largest skillet. Since its construction in 1992, the skillet has served hundreds of thousands of oily, battered chicken chunks to hungry festival goers. It takes 300 gallons of oil, 375 pounds of flour, 75 pounds of salt and 30 pounds of pepper to cook the 7000 pieces of chicken required for this gluttonous bird banquet every year.
Guinness World Record Hummus War: Israel vs. Lebanon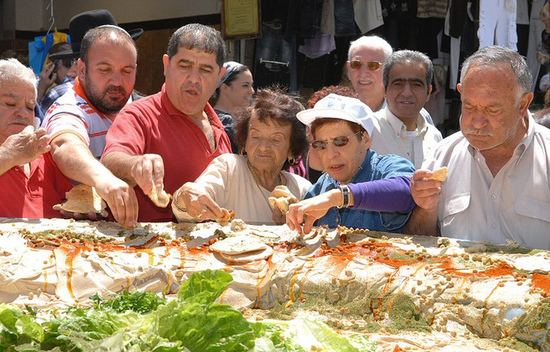 Photo by: Hummus 101
While the highly prestigious record for the world's largest bowl of hummus keeps bouncing between Lebanon and Israel every year, one thing remains the same: with every attempt to out-hummus each other, there is at least 23,000 pounds of hummus sitting around waiting to be eaten. Bring your pita, people!
OTP Fun Fact: To really bring it home, Lebanon also busted out 11,381 pounds of falafel setting the new record and majorly pissing off Israel.
Monkey Buffet Festival, Lopburi, Thailand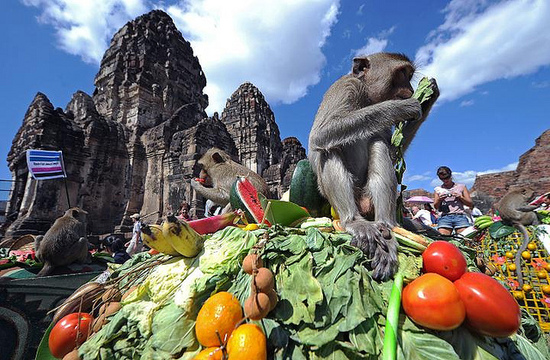 Photo by: Festivals & Holidays
Three hours from Bangkok by train, Lopburi is all about treating their monkeys like royalty. Gluttony is delegated to the monkeys who feast on endless amounts of fruit, eggs, and vegetables, all laid out by locals that believe engorging the monkeys will bring them good luck. You can check out the monkey munching action for 30 baht (which includes a stick to fend off too-touchy macaques.)
Bacon Festival, Reykjavik, Iceland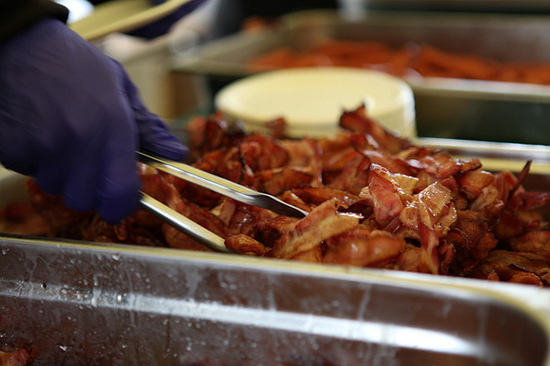 Photo by: reykjavik.com
Bacon-loving Iowans infiltrated Iceland to spread their need for pig. The bacon flash mob set up camp outside of a jewelry store and proceeded to pump the smell of over 100 pounds of lardy pig into the fresh Nordic air. Since the bacon invasion, Iceland has developed a drooling taste for America's versatile meat treat and it's now Iceland's largest growing festival, with hundreds of pounds sizzling to a crisp every year.
Maslenitsa, Russia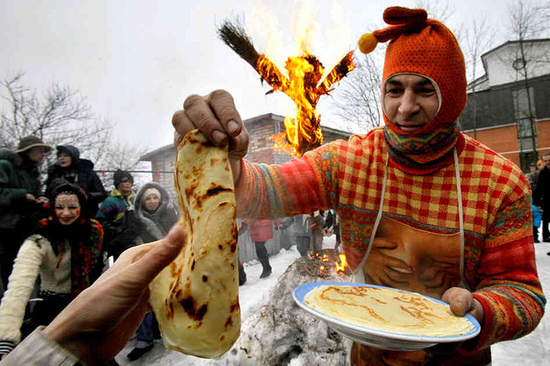 Photo by: Dimitry Lovestky
It's time to gorge on something a little sweeter. Lent is all about giving up your vices and in Russia, the weeks prior to the restrictive holiday are filled with gorging on buttery mini-pancakes. The goal is to stuff as many of these doughy treats into your gut, then fill up on enough vodka to soak through that starch paradise, and repeat until you give it all up in the name of self-control.
Bonus: Cat-Eating Festival, Peru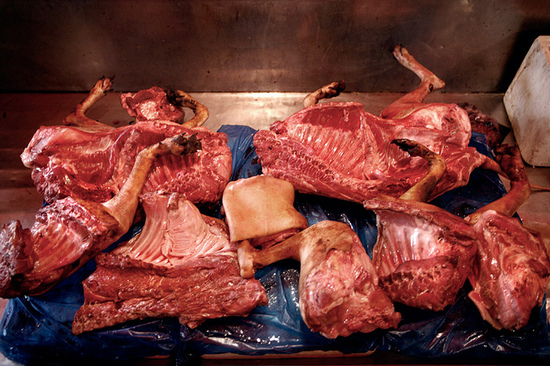 Photo by: Margaretglin
From the people that brought you the annual "dress up your guinea pig and eat it" celebration comes another festival of eating pets -- cats this time. Short-listed for getting banned by the government, this festival is absolutely horrendous. To pay some twisted homage to the original settlers of the town of La Quebrada who had no choice but to eat cats when they first arrived, the town chows down on about 100 cats every year. Like the cows and pigs we consume, cats are specifically bred for consumption at this event. They may be cuddly pets in your household but here, well, they're considered a fancy feast!
Turkey may be the meat we overeat, but rest assured that people around the world also feast on all kinds of crazy shit in the name of celebration. When you get on that scale after the party's over, know that some dude in Peru gained 10 pounds of cat fat to match your apple pie thighs. Give thanks to that!
Popular in the Community