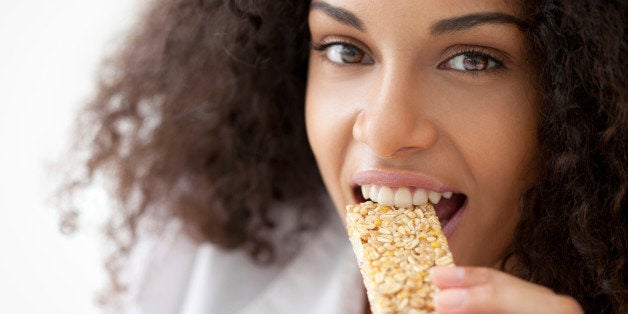 If you're serious about revving up your metabolism you're eating 6 times a day.
That means you'll, at some point, need some snacks on the go.
If your mornings are anything like mine, just making it out the door in one piece is an achievement.
The question becomes:

What are the most nutritious no-cook snacks you can make and pack in less than 5 minutes?
A healthy snack should provide a quality source of protein, carbs and some healthy fats.

Here are 5 Grab-and-Go Snacks
All you need is five minutes and you can pack a couple of ideals snacks for your day.
The last one is the most nutrient dense but you can feel good snacking on any of these.
It's a hit at parties because it's yummy and it works perfectly on the go too.
No directions needed, just dip away.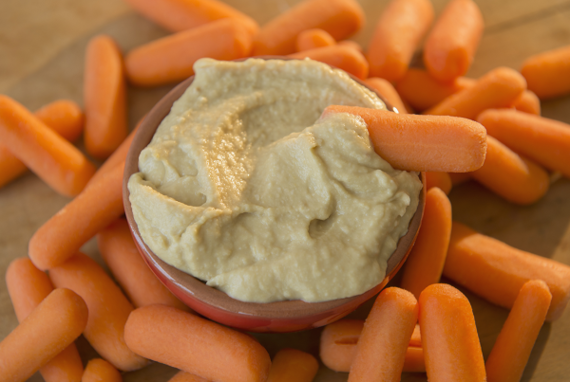 This gives you a good balance of macronutrients. Carrots are also high in vitamin A and fiber, while hummus is high in protein and a good source of calcium.
Vegan readers will love this concoction.
Add a banana, a scoop of greens powder, a scoop of hemp protein powder, 2 tbsp of chia seeds and pinch of cinnamon to a bowl.
Use a spoon to mash all the ingredients together until you get an even consistency. You can top it with nuts or berries to add some texture, if you like.
You end up with a balance of protein, carbs and fat, plus greens and fiber.
Place about 1 oz. of raw pistachios (also known as pistachio meats) across the center of a salmon lox strip. Wrap the lox around the nuts to form a roll and you're meal is ready in way less than 10 minutes.
Salmon is a good source of protein and omega-3 fatty acids. Pistachios are high in protein, healthy fat, fiber and iron.
4. Celery and sunflower seed butter
Use a butter knife to spread sunflower seed butter in the troughs of celery stalks.
Celery is a staple vegetable that offers
high water content
fiber
vitamin A
vitamin C and
calcium.
Sunflower seed butter is higher in protein than other nut butters, plus it's high in vitamin E, fiber and iron.
It also makes a great alternative if you are allergic to peanuts or almonds. Make sure to get the sugar-free kind.
If you need a little sweetness, drizzle maple syrup across the tops.
5. Most nutrient dense option
Scoop one cup of cottage cheese and Greek yogurt into a bowl.
Add 2 tbsp of cacao nibs, goji berries, greens powder and ground flax, and 1 tbsp of coconut sugar. Sprinkle a pinch of cinnamon over the top and blend thoroughly.
This contains plenty of protein, it's low glycemic, high in fiber and it has a shot of antioxidants.
Try all of these on for size and go with the ones you like best. You can't go wrong with any of them.