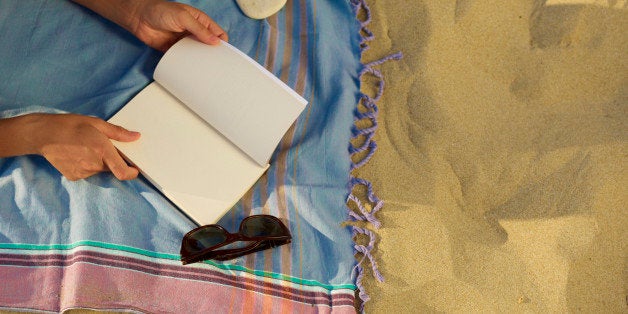 We love how the summer months afford us so many opportunities to live healthier lives. Not only can we mix up our fitness routines with outdoor workouts, pop-up classes, and hikes, but we can also indulge in some extra "me" time. We have selected these five books as our Top Summer Beach Reads of 2015. Looking for some extra motivation? Take a little time out to exercise your mind with advice on nutrition, fitness, weight loss, career, and more!
Michele Promaulayko, Editor In Chief at Yahoo Health and former EIC at Women's Health, shares insider secrets that she learned directly from the country's top experts in fitness and wellness. This will become your go-to guide to lose fat, tone and shape muscle, and erase the aging effects of stress and poor food habits. The book also includes a 6-week get-fit guide to increasing your strength and metabolism.
Blogger-turned-author April Peveteaux, turns her diagnosis on its head in this tongue-and-cheek guide to living a gluten-free life. April has celiac disease, which causes an adverse reaction to gluten. This book includes hilarious anecdotes from April's owns experiences and 40 recipes for gluten-free "comfort foods." Reviews have dubbed her the "Chelsea Handler of the gluten-free set!"
This pick is designed to help you flex those work muscles! Author Aliza Licht is the Senior Vice President of Global Communications at DKNY International and social media superstar. As the voice and clever wit behind Twitter account @DKNY PR GIRL, Aliza has a loyal following of over half a million people. In Leave Your Mark, Aliza draws from her own experiences to help mentor millions by sharing advice, inspiration, and "a healthy dose of real talk." The emphasis of the book is on communicating and building your own personal brand.
Okay, we confess, this pick is more appropriate for your kitchen than the beach - but who isn't think about ice-cold deliciousness while catching some sun. This is your go-to summer guide for 120+ delicious and nutritious recipes. Author Stephanie Tousles covers all her bases with smoothies, shakes, green drinks, power shots, mocktails, longevity elixirs, and fermented beverages. Raw Energy In A Glass is your ticket to becoming the most talked-about host or hostess of the summer.
This book is not about how to do yoga. It's all about what yoga can do for you. Author Colleen Sandman Yee documents the overwhelmingly positive impact that yoga has had on her life, as she transitioned from "a rebellious young women with a heroin habit to a globe-trotting fashion model to the First lady of Yoga." This book addresses many shared life experiences, including love, love and illness, with an approachable, candid and funny voice.