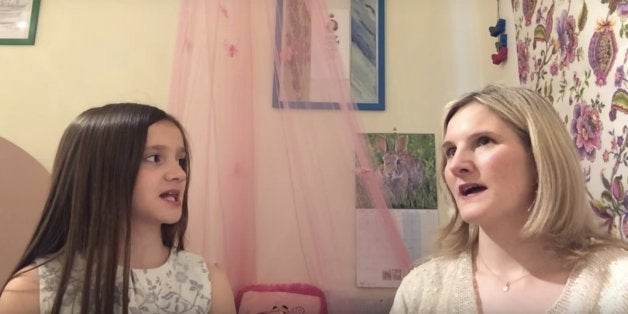 The Talk to Me series is a great initiative in which a child interviews his or her parent. I just completed mine last night and it was so much fun that I decided to write a post with 5 reasons why you should do it too!
1. The interview gives your child a chance to ask questions he/she would never normally ask you!
So if you're like me, your day looks like this:
"Mom, where are my white leggings?"
"Mom, what's for dinner?"
"Mom, is dark energy bad?" (this particular question is hot off the press from my six year old after she watched a documentary on the solar system!)
So with such a range of fascinating questions filling your day, it can be very hard to get down to questions that actually matter, such as "if you could give me three pieces of advice, what would they be?" or "what's the biggest lesson you've learned in life?"
#Talktome gives you both the opportunity to talk about things that matter; you can actually sit down, without interruption and simply talk, which is a luxury that not many of us manage to avail of these days!
2. Your child sees you in a different light.
Going back to the examples in number 1 above, a parent wears many hats; carer, cook, story teller, laundry person, cleaner, walking encyclopedia but it's not often you can become a philosopher .
This is how I felt when my daughter was asking me about life, lessons learned and hopes for the future. For the first time, I had the feeling that, if ,for whatever reason, I wasn't around for her tomorrow, next week or next year, that she would know the most important things that I needed her to say to her so that she could live a good life.
At first, when I received the invite for #talktome, I was thinking about the logistics of it, all the things I needed to do to make sure it was right, what camera to use, where to do it, how to do it.
But when the time came, it was so easy! We did it in my daughter's bedroom (great excuse for a tidy up!) so we were nice and relaxed, we set up the iphone on the dressing table and hey presto, we had a video. As you'll see, we didn't spend a lot of time editing afterwards and I think that adds to its authenticity. It's a chat about things that matter to us, on video!
4. It's something you will both have forever.
My daughter will only be 10 once, this is a moment in time where she was able to ask her mom questions that she has never thought about before. You can treat it like a time capsule and every few years, as your child gets older, take it out and watch it together. Maybe you can even do the interview every couple of years to see if the answers change. It's such an amazing snapshot of a moment in time that, without the nudge of The Huffington Post #talktome initiative, you would probably never do.
I actually really find it hard to do videos. In fact, it's a core requirement for my work as an online Business English Coach at Welcome BE however despite many attempts to create a video, I've never actually posted one because I always think "it's just not quite good enough"!
The experience doing this #talktome video was completely different. I was relaxed, it wasn't just about me talking into the camera and it was fun!
Here is our video, we hope you enjoy it!