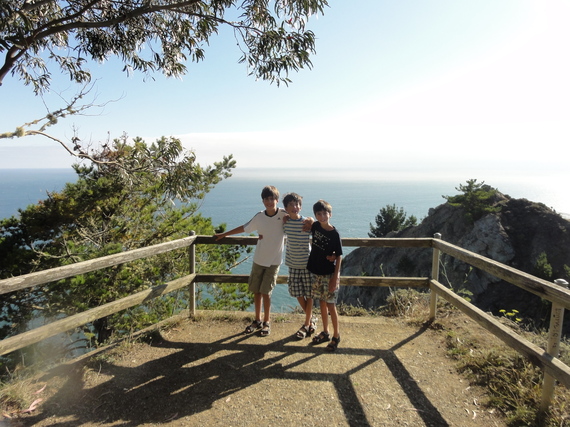 On vacation last year in Northern California.
Yesterday, may have heralded the first day of spring on the calendar, but for those of us in the Northeast or Midwest or Mid Atlantic or okay, let's face it, most of the U.S., it still looks and feels like winter. For parents, this year has been especially harsh, with kids locked in the house and unable to play outside on most days because of frigid, often dangerous conditions outside. Luckily, school spring break vacation is breaking over the next six weeks.
Our family loves to travel and we truly make it a focal point of our lives. Our kids love the adventure and it really centers us, especially as they get older when so many school and sports activities can have us going in different directions. Most families plan ahead for their spring breaks so I will leave the destination ideas to you, but before you go away for a week, weekend or even just a much needed overnight getaway, here are a few of my travel tips to make the most of your getaway.
#1 Don't Check All Your Bags. It may seem convenient, especially when traveling with kids, but for airplane trips, always bring one or two small carry on pieces of luggage. I can't tell you how many times our luggage has been lost or late for arrival. We once ended up going two and a half days of our seven day vacation without any of our luggage. Between my kids and my husband, buying essential clothes, bathing suits and toothpaste etc., everything was a huge expense and pain in the neck. Pack two days of clothing and supplies in that carry on and bring it on the plane so no matter what you have something when you land.
For your toiletries, pack TSA approved travel sizes. According to the TSA website the rule for carry-ons is "3-1-1 for carry-ons = 3.4 ounce (100ml) bottle or less (by volume); 1 quart-sized, clear, plastic, zip-top bag; 1 bag per passenger placed in screening bin. One-quart bag per person limits the total liquid volume each traveler can bring. 3.4 ounce (100ml) container size is a security measure." When you travel solo you can easily pick these things up, but anytime traveling with kids is involved, just easier to know you have all of these handy.
#2 Pack the Non-Essential Essentials. Clothes are obvious but, if you like what you like, like I do, and your kids do too, pack small versions of this in your luggage. Sun screen, shampoos, lotion, diapers or medicine, make sure you bring it with you so instead of running errands you are out having fun. If you are traveling internationally, don't assume it is easy to buy anything where you are going. More than once, we've had a child come down with a fever, head cold or stomach virus and many hotel or resort shops are either closed or limited (illness for kids always seems to strike at 11 p.m. at night). Do yourself a favor and make sure you have your favorite pain reliever or kids go to medicine packed in your bag.
For sun or mountain vacations, always pre pack sun screen. Don't leave anything as important as your child's or your health to the whim of a gift shop. Travel minis are de rigueur of the beauty industry so take advantage of it, even my favorite salon hairspray has a mini.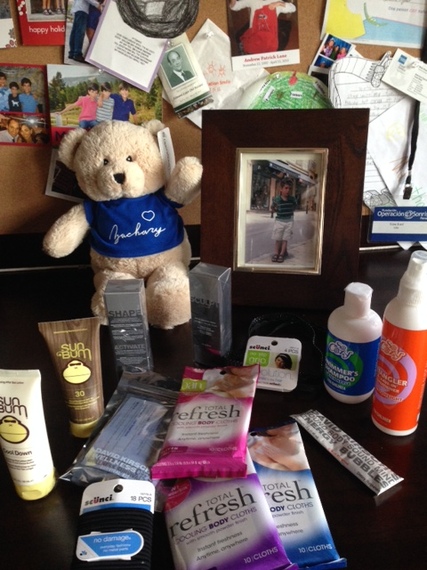 Just some of the items we like to pack for our kids or us.
#3 Kids Travel Backpack. The night before every trip, we pack the 'kids' backpack full of things they will need in the car or on an airplane. Books, small stuffed animal, Sudoku games, plastic bags of snacks, headphones, clean t-shirt (you'd be surprised how many times we need that clean t-shirt), wipes, pens, pencils with erasers and books of mazes. Each child picks one book and one game to bring along. Although many airplanes have TV's now, I don't want them watching it the whole time or playing video games. We always have them read for at least 30 minutes on the plane.
Many parents pack snacks for the kids in the car or to the playground but often don't think about it for the plane. Most short flight plane trips have no meals and no snacks or sometimes the option is just not appealing. Don't get caught empty handed. Pack some snacks for yourself and your kids. Not enough to survive a long winter, just a few favorites. When you're late for your flight and can't buy food in the airport, here come the packed snacks, and on and on. Pack. The. Snacks. BTW, kids are messy, really messy. I want my stuff separate from theirs on purpose, mine stays clean and not mixed in with smashed crackers. Just me trying to grab a little sanity when I can.
#4 Pamper Yourself, It's Vacation. Just because you are on vacation doesn't mean you shouldn't bring along items that make you happy. I always bring along things that make me enjoy my vacation that much more. For instance, I love fragrance so I always bring along a travel size version. I can't live without my favorite tunes to work out to, so my mini IPod goes with me everywhere. Lately, I've started to bring along travel sizes of wellness products, whatever your pleasure whether it is vitamin C or greens. Wellness items help with jet lag and fatigue. I love my morning coffee and only use Stevia, instead of using artificial sweeteners, I bring a bag of mine with me so I don't have to use what's in the restaurants. Hey, you like what you like.
#5 Book Your Fun Activities Ahead. In the old days when it was just my husband and I, we used to travel whenever our work schedules allowed and avoided heavy travel times. Now that our kids are all in school, we have to go on vacation when everyone else on the Eastern seaboard does. In the beginning when we were new parents, we'd arrive at a hotel exhausted, sun deprived and eager to get in a great restaurant in town, book a babysitter for one night or try the spa ahead only to be told, 'sorry we're all booked up.' Arrrggghhh, fool me once. So now I do what I have to do and book up a bunch of slots and then cancel if I need to when we are there but at least I have the option.
#6 The Freebie... if you live on the East Coast or Mid-West, here's some really good advice...go west if you have a new year's or February break, their school schedules don't usually sync with ours and the rates are dramatically lower. If you live in the South West or West, visit DC, Boston or NYC, it may be chilly but crowds are much less and you can enjoy the culture for much better rates. If you have an April break, high season rates to the islands all go down on April 15th. Even if only some of your vacation borders it, you can find significant savings.
Maybe this all sounds obvious to you, maybe you don't have a bunch of small kids in tow, operate on very little sleep and forget what it's like to pack for a whole family, but trust me, it is the very small details that can make all the difference. Even if you can't plan ahead, thanks to travel discount sites, there are always great travel deals out there, so go put on your sun screen, walk barefoot in the sand and pray that next winter isn't nearly as brutal as this one.
Related