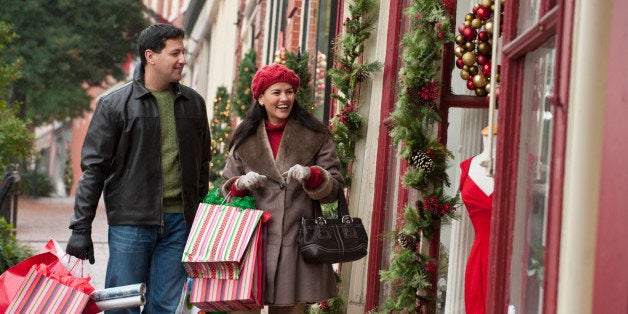 It's the holiday season, and for many of us that means spending season. Whether it's on holiday gifts or traveling to spend time with family, the costs can begin to add up quickly. Finding ways to save can help reduce the impact on our wallets.
Retail experts predict Americans will spend upwards of $630 billion this holiday season, a 3.7 percent increase from 2014 and a 10 year high. Because people 50 years and older hold the keys to 70 percent of the nation's disposable income, they are expected to be significant contributors to the increase in holiday spending this year.
In fact, Baby Boomers will make up 36 percent of all holiday shoppers and are expected to spend around $1,097 each.
With that kind of spending expected, every bit of savings can help make sure you are getting the most out of every dollar. From carefully selecting days to shop to getting crafty, there are huge holiday savings available for the taking.

Consider the following:
Make a List and Check it Twice - Making a list of who you want to buy for is a great way to stay organized and save. Use the list to note how much you want to spend on each person, not what you want to buy them. By focusing on the amount you want to spend and not the gift, you are sure to stay in budget. If you have a large family, instead of buying for everyone why not draw names, that way no one is left out and you don't overspend. Remember everyone doesn't have to be on your list to feel the holiday love.
Take Advantage of Black Friday and Cyber Monday - In 2014 approximately 9.1 billion was spent on Black Friday and 2.5 billion was spent on Cyber Monday. This year, as a result of the great savings opportunities, experts predict just as strong of a turnout. Whether you are looking to purchase electronics or book a vacation, brick-and-mortar stores as well as online retailers will offer a variety of savings. Also, start your shopping early both days as most deals are only available to a select number of shoppers both in-store and online. Remember, the early bird gets the deals!
Put Away the Plastic - Each year more Americans are using their credit cards to finance their holiday shopping than ever before. In fact, the average American adds approximately $986 to their overall debt as a result of holiday shopping. This year, if you are able, pay with cash. Once the cash you have set aside is gone, it is gone, helping you to not overspend. In worst case scenarios, if you have to charge something use a credit card with a low interest rate and pay the debt back as soon as possible. Don't forget, the holidays only last a few months -- the debt you accumulate during the holidays will hang around a lot longer.
Get Crafty - Avoid the shopping madness this holiday season by making a gift from the heart. Thanks to Pinterest and Etsy, making a holiday gift has gone from tacky to chic. A few ideas include taking leftover wine bottle corks and making a trivet, embroidering a scarf with a loved one's initials or making homemade magnets with old jewelry. Best of all, your family and friends will love the extra effort you put into their gifts.
Be Strategic When Booking Your Travel - On average between Thanksgiving and New Year's Americans travel approximately 489 miles, making the holiday season the busiest travel time of the year. While the price of traveling often rises during the holidays, many people are not aware that there are a variety of travel savings available. If you are flying this holiday season consider booking your flight the morning of the actual holiday. These flights are less expensive, empty and typically stay on schedule. If you are driving consider renting a car. Companies like Avis and Budget offer a variety of discounts this time of year in an effort to generate business. If you want to get away from it all this holiday season consider taking a cruise. This is a slower time of year for cruise lines, so they offer great bargains just to get rooms filled.
REAL LIFE. REAL NEWS. REAL VOICES.
Help us tell more of the stories that matter from voices that too often remain unheard.