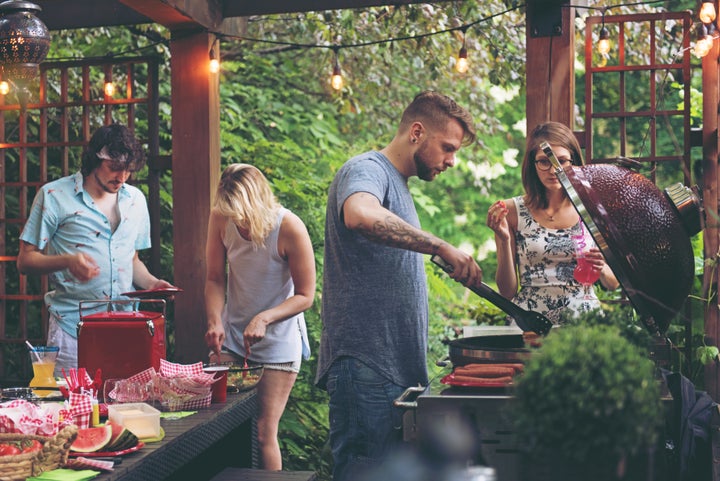 Summertime, and the livin' is easy, right? That might be how the song opens, but if you're among the millions of Americans struggling with acid reflux, Memorial Day and the season it kicks off can prove challenging. All rules, it seems, are out the open window once school is out, days are long and temps heat up outside and on the grill.
While it's tempting to crack beer after beer and indulge in at least one of everything, it's always a good idea to practice some restraint if you tend toward acid reflux. Its spectrum of symptoms — involving the entire upper digestive tract, from the throat to the stomach — can lead to gastroesophageal reflux disease (GERD), associated with heartburn, indigestion, fullness, abdominal discomfort and regurgitation. None of that is easy. At all.
In partnership with Walgreens, we've asked medical and nutritional experts for tips and tricks to help guide you through the season. Whether you're a guest or the pit master, apply their advice and feel any diet-related discomfort fade into the summer sun.
1. Drink Water, and Lots of It
"For those with reflux disease, drinking alkaline water [with an acid level of pH 8.0 or higher] can naturally neutralize acid," says Dr. Craig Zalvan, associate professor at New York Medical College and an expert on acid reflux. "Alcohol can and does exacerbate reflux disease. In some cases, it directly injures tissue, causing further irritation."
He also urges patients to avoid soda, including even seltzer water, since all are acidic, with cola at the high end. "Drinking acid in the form of soda can cause direct irritation of the throat structures, voice box and esophagus," he warns. "The carbonation in soda and beer can promote reflux of stomach contents into the esophagus, as well as expansion of the stomach that leads to reflexive increase in acid secretion."
2. Choose Plant-Based Alternatives to Meat
With more and more plant-based meat alternatives available — the Impossible Burger, for one — you don't have to forego the ritual of flipping burgers, dogs and sausages. As an alternative to high-fat meat, registered dietitian nutritionist Maya Feller suggests eating leaner cuts with minimal marbling or fish. Other lean proteins, including chicken and turkey burgers, also factor into her medical nutrition therapy for patients with diet-related chronic illnesses.
3. Be Proactive
"I tell most of my reflux patients to take an over-the-counter antacid before heading to a barbecue," says Dr. Srinivasa Gorjala, a gastroenterologist and general and bariatric surgeon at Atlanta's Northside Hospital. "There's no sense in waiting for it to happen and being miserable for 12 hours." If antacids lose their effectiveness over time, Gorjala works with patients to determine when chronic acid reflux is severe enough to warrant serious medical intervention.
"Along with barbecue, football is king here in Atlanta, and tailgating is very important to us. Of course, these all-day eating and drinking rituals mean that acid reflux is a big problem in the South," he says. "But if you're going to have a good time, at least prep yourself before you go."
4. Keep Flavors Simple to Start
While marinades, rubs and exotic condiments can be enticing, don't seek out too much excitement on your plate. "Go easy with the spices and pay attention to what your body is telling you," says Feller. "Once you have the information, then remove the offending spice from your rotation."
Zalvan agrees, adding that chemicals in spicy food can directly stimulate nerves within the throat, esophagus and mouth (hence that burning sensation), triggering reflux symptoms. Nevertheless, he says, not everyone with reflux need avoid all spices: "Trial and error is often the best approach for those with mild symptoms."
The less processed the food, the better it is for reflux. Most condiments have lots of oil, vinegar and sugar that can be irritating and trigger reflux symptoms. Although it seems harmless, tomato-based ketchup can wreak havoc with its high acid content. Zalvan advises, "Use whole vegetable slices, plant-based spreads such as hummus, plant-based mayonnaise and avocado as alternatives."
5. Timing is Everything
We've been invited to barbecues in the middle of the day, early afternoon and even under the stars, late at night. Since any variation in mealtime impacts digestive rhythm, be mindful of when you eat. "It's always best to stop eating at least three hours prior to lying down, especially at night before bedtime," says Zalvan. "Stomachs typically empty all of their contents within three hours and thus have much less material to reflux."
In applying all advice above, it's most important to listen to your body. If you know something triggers your reflux, reduce or avoid it to make the most out of barbecue season.
Through all the skinned knees, sunburns and backyard barbecues that come along with enjoying summer outside, Walgreens is committed to the well-being of American kids and grown-ups in all communities. As your one-stop shop, Walgreens has got you covered from sunglasses to flip-flops — and health support for everything in-between.