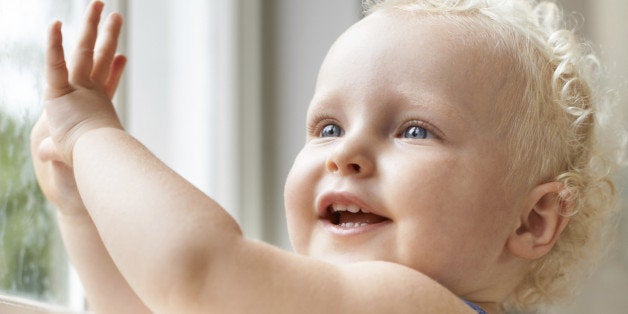 Wouldn't it be nice if that delicious baby stayed a delicious baby forever? But he won't. Don't worry mama, the toddler years are good... maybe even better than the baby years. But that doesn't mean they're easy. It's a lot of work growing up! And change is hard. Which is why we're giving you five great hacks to help ease those baby to toddler transitions.
Potty Training
There's a universal "Hallelujah!" when your little one finally learns to use the potty. But that wiping thing? It doesn't really get perfected until much later on. Leave it to Fridababy to make a Buttwasher that works sort of like a bidet. A little squirt and you'll save an awful lot of baby wipes and prevent an awful lot of clogged pipes.
Crib to Bed
We're all in such a rush to toss our crib in favor of a big-kid bed, but for those little restless sleepers, no walls can equal a big thump in the middle of the night. And yes, even a 6-inch drop will probably wake your little one -- and you -- up. Throw the DockATot Grand on your toddler's bed and let the built-in, air-permeable bumpers act as bed rails. It's so snug, we bet you'll sneak a nap in there at some point too.
Hair Care
At a certain point that peach fuzz on baby's head is going to get longer and you might find that baby soap isn't cutting it. If you're not quite ready to pour your own product on your little one's head, opt for a kid-specific shampoo and add conditioner to your routine. SoCozy makes a nontoxic line addressing kid-specific concerns (Lice. Happens.), but you can also find familiar, worry-free names like JASON and Beautycounter formulated in "kid" versions.
Bottle to Cup
You can't possibly imagine how strong your baby's hands are till you try to pry a bottle out of them. Before jumping feet first into a sippy cup, take (ahem) baby steps with Evenflo's Tilty Cup. There's an internal angled wall inside each cup that removes that tricky "head tilt" so many sippy cups require, creating an ergonomic experience for your kiddo that should lead to an easier "big kid" cup transition once you're ready to pull the lid.
Nutrition
Speaking of drinking, you may want to think about toddler formula. I know, I know, if you're a formula-feeding mom, you're saying: aren't we done with this stuff? And if you're exclusively nursing, you may have wanted to bypass it altogether. But many experts argue that even as toddlers, our babies can still use an extra nutritional boost that cow's milk alone won't provide. Happy Family's organic version is packed with healthy ingredients that meet the very specific needs of your little person, and support his continued development from 12-24 months.
This piece was originally published by Jessica Pallay on Well Rounded NY. Jessica Pallay is Co-Founder and Editor of Well Rounded NY. She is a Brooklyn mama to Libby and Elsie, and writes about all things pregnancy and new motherhood.
Please share your opinion below! For more original content, check out Well Rounded NY.