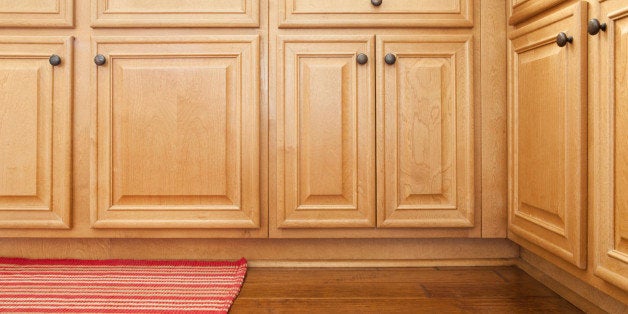 This homeowner spruced up her under-sink cabinet -- all too often a dark space -- with bright and cheery contact paper. (Bonus: It's easy to wipe down!) She also
to use as an organizing tray, and hung under-cabinet baskets up above to make use of every inch.
Many folks keep their trash bags under the sink -- a logical spot for them, since the kitchen bin is often there, too, or nearby. With dowels and curtain-hanging brackets, this homeowner constructed a
large rolls of bags within easy reach.
A tension rod, usually used for curtains, is transformed here into a brilliant solution for maximizing vertical-space storage in an under-sink cabinet. Just hook spray bottles over the rod, where they're easy to grab for a
.
Removable adhesive hooks are
who want to hang brushes and gloves in organized cabinets without making permanent alterations. The latest versions work surprisingly well--so long as you follow the directions--and come in a slew of attractive colors, from bright shades (as shown) here to cool metallics that mimic bronze or chrome.
This homeowner believed (and we agree) that even the unglamorous cavern beneath the sink deserves a little love. To make efficient and eye-pleasing use of door space, she
to clip up tools and added witty labels with stick-on vinyl.