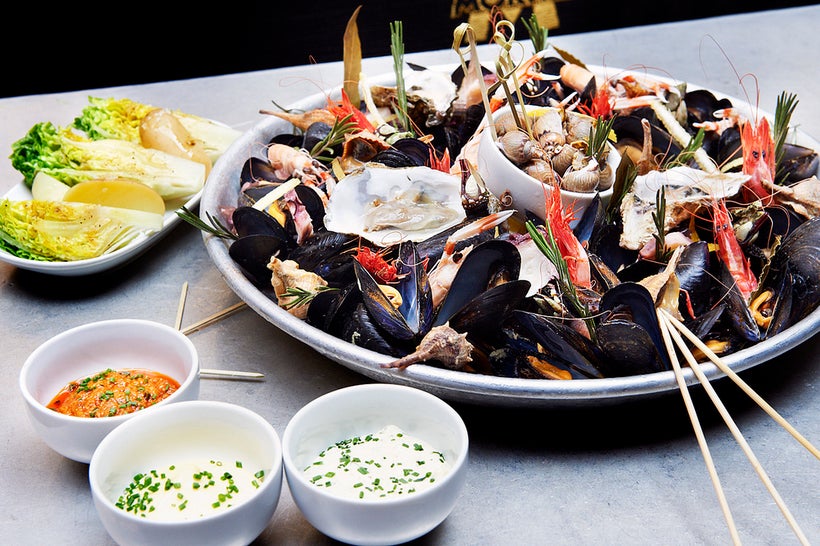 Yet for all the (deserved) attention lavished on restaurants like Red Rooster, Sylvia's, and Rao's, Harlem's northern reaches don't always get as much attention. In fact, the lion's share of the culinary acclaim seems to be concentrated in southern and eastern reaches of the borough.
But don't be fooled: even if you haven't heard anything, the fact of the matter is that north Harlem is home to a stunning array of delicious restaurants. That these restaurants are so far off the eaten path is a blessing in disguise; you'll be able to feast on a variety of world-class cuisine--albeit without the long wait times.
Read on for a selection of the best Harlem restaurants that you've never heard of.
Restaurante La Libertad
If you ask any American about Latin American cuisine, they'll likely name the standby eats that they've grown accustomed to, and which can be found in any major city: Mexican, Colombian, Cuban, and, as of late, Peruvian. Much less common, however, is Salvadoran cuisine--a pity, given the fascinating, delectable, and entirely underrated tastes of this tiny culinary powerhouse.
Luckily, Restaurante La Libertad is here to change that. Munch on La Libertad's fluffy, slightly sweet pupusas, traditional Salvadoran corn tortillas, made by hand and stuffed with chicharron, or crispy pork, or beans and cheese. Follow it up with hearty mariscada, a slow-cooked seafood stew of shrimp, mussels, chayote, yuca, and coconut milk, really a Portuguese dish with a Latin American twist.
After this, El Salvador will be a bright, tasty standout on your mind's culinary map.
The Handpulled Noodle
Harlem isn't well known for Chinese food, but that's about to change. Opened by immigrants from Xinjiang, China's northwest province, the regional specialties served at The Handpulled Noodle are emphatically not the Chinese food that you grew up eating.
Similar to the food served at the popular chain restaurant Xi'an Famous Foods, northwestern Chinese cuisine is characterized by filling, rich fare, such as homemade wheat noodles (either pulled by hand, chopped into little bites, or shaved into thick ribbons with a knife) in warm soups, a mix of spicy, bold flavors capped with cumin and cilantro, and a heavy use of lamb.
In that sense, The Handpulled Noodle does not disappoint. Though the establishment itself is crowded and small, their specialties are on point. Sample the ding ding noodles (bite-sized pieces of chewy dough) in powerful cumin lamb, or the dapanji, big pan chicken, a spicy, heady chicken casserole, which, as the name suggests, is served in a dish that's almost too big to fit on your table.
Whatever you try, you can't go wrong. And who knows? Perhaps you may even associate Harlem with, of all things, handpulled noodles.
Famous Fish Market
In yet another case of the restaurant living up to the hype, Famous Fish Market is a throwback to the earthy, humble restaurants of yesteryear; they may only offer a handful of specialties, but they pull them off damn well.
And what they do offer is fried seafood, and lots of it: lightly battered, crackling hot fish, clams, shrimp, and chips. Though it may not be the classic British style fish-and-chips, sloppily fried, wrapped in newspaper, and served with vinegar, Famous Fish Market holds its own, featuring large portions of fresh seafood fried to perfection. If anything, you'll be surprised at how they achieve the sweet spot, frying their wares just right, without overdosing on oil.
One thing to note: Famous Fish Market is a takeaway joint that only accepts cash. So be sure you have a place to sit down and enjoy it, whether it's in a park on a sunny day, or in the comfort of your car.
One of those rare spots that combines great ambience with even better food, Harlem Public is not unlike Corner Social, located further south, near Martin Luther King Jr. Boulevard. Come in after work, and it'll be packed with office workers blowing off steam from a long day, but the food and drink are certainly worth the long wait.
Sip on pop rock margaritas or craft cocktails made with locally distilled, top-shelf liquors, and try some of the atypical specialties on display, from burgers topped with thick-cut bacon and slathered in peanut butter (a winning combination) to pulled pork mac and cheese (or, as Harlem Public calls it, Mac-and-Steez). Whatever you eat or drink, you'll only have one regret: that you didn't come here earlier.
Sweet Mama's Soul Food Restaurant
Any culinary guide to Harlem would be incomplete without mentioning soul food, and any soul food guide to NYC would be incomplete with Sweet Mama's. True, they're not as well known as Sylvia's or Red Rooster, but they're every bit as good.
Housed in a no-frills, tightly-packed restaurant, Sweet Mama's buffet more than makes up for their lack of decor. Here, you don't have to choose between smoky jerk chicken, sweet and salty teriyaki chicken wings, soft, fall-off-the-bone oxtail, okra, turkey-flavored black-eyed peas, or cornbread, to name a few; instead, you can have it all. The best part? Food is charged by the pound--a godsend to all the hearty, hungry eaters out there.
If anything, it's a wonder that Sweet Mama's is still in business, given that you can eat like a king for under ten dollars. Whatever the case may be, make sure you head on over, both to gorge yourself and your friends, as well as to keep this Harlem standout in business.
Don't neglect North Harlem
Though the southern and eastern reaches of Harlem get all the buzz, north Harlem has plenty of little-known culinary gems that more than hold their own. Do yourself a favor, and head off the eaten trail: your stomach, and your heart, will thank you.
Calling all HuffPost superfans!
Sign up for membership to become a founding member and help shape HuffPost's next chapter
This post was published on the now-closed HuffPost Contributor platform. Contributors control their own work and posted freely to our site. If you need to flag this entry as abusive,
send us an email
.