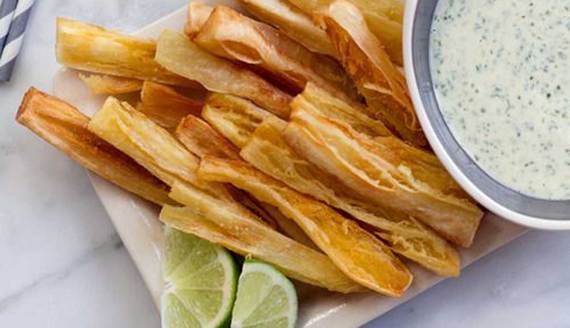 It's Jan. 2nd, you are serious about your New Year's resolution. In addition to getting in good shape, you start the year off eating healthy. You are doing extremely well until about Jan. 12th. By the second week of the year, you become tired of eating foods that taste like grass or wet cardboard. Due to the consumption of bland foods, your energy level is incredibly low, which results in exhaustion.
Why can't we find foods that are healthy and tasty that gives us a boost of energy!
I am a foodie, the type that will deliberately go looking for restaurants, even if it is hours away from my home. I'll do anything that will lead me to foods that are flavorsome, healthy, filled with energy and all of the necessary ingredients to keep me energized and vital.
I've compiled a list below of what I call "superfoods." Each of these "superfoods" carry many necessary essentials and are prepared in cuisines where they are delicious.
Yucca, also known as cassava, is a root vegetable. Yucca contains fiber, antioxidants and saponin content. Extracts from Yucca are often sold in health stores. The beneficial factors of this "super food" are reduction of inflammation, ability to lower blood pressure, and can improve skin conditions. Yucca is often prepared like potatoes and is easy to cook.
This root vegetable is frequently found in Cuban cuisine. My favorite Cuban restaurant is Rebecca's and is located in Edgewater New Jersey. The chef at Rebecca's prepares a dish called "Yucca Frita" which is the most delicious alternative to French Fries I have ever tasted.
Another root vegetable, much like yucca, are yams. It can be prepared in a variety of ways, sometimes in combination with other vegetables. This mixture is quite delicious and will make your taste buds dance. Yams are full of vitamin B, vitamin C, and potassium rendering them good for energy, metabolism, and lowering of heart rate along with blood pressure.
Yams are often found in Nigerian cuisine. My favorite Nigerian restaurant, Buka, can be found in Brooklyn, New York. The chefs at Buka prepare a dish called "Pounded Yam," which is very tasty. This unique and delicious dish provides energy to make me feel like Usain Bolt!
We are sometimes so consumed with bananas that we forget their cousin, plantains. Plantains are the superfood of superfoods. In addition to other goodies mentioned, plantains are stacked with vitamin A. Vitamin A is very good if you want to maintain muscle membrane. It also enhances skin quality, which is an added plus. Who needs Botox when you can just indulge on some delicious plantains?
Plantains are often found in in Latin and Caribbean dishes. My favorite Latin American Bistro is a place called "Tu Casa" located in multiple areas in Queens (Astoria and Kew Gardens), New York. "Tostones" and "Maduros" are two variations of how plantains are prepared and served at Tu Casa. Both of these dishes are very different in taste, and can also be found in Cuban restaurants such as Rebecca's of Edgewater, New Jersey mentioned above.
Lentil, also known as Pigeon Pea, has the second highest ratio of protein per calorie of any legume after soybeans. Not only are they easy to cook, but Lentils are considered one of the world's healthiest food. They are a good way of lowering cholesterol fiber and aid with managing blood sugar disorders. Lentils are a good source of vitamin B.
The Nest Restaurant located in Richmond Hill, New York, serves a lentil dish called "Dhal." This appetizing dish is often served with curry as a side. Dhal has the look and feel of soup and contains just the right amount nutrients needed to maintain a healthy lifestyle.
Okra, also known as "Lady finger," is extremely popular in East Africa and South India. Okra is grown in pods and are among the very low calorie vegetables. They are rich sources of dietary fiber, minerals, and vitamins, often recommended by nutritionists in cholesterol controlling and weight reduction programs.
The pods compose healthy amounts of vitamin A, vitamin C, and vitamin K. This superfood contains high levels of these antioxidants. Okra is essential to our vision, maintaining healthy mucus membranes and skin.
Paradise Biryani located in Somerset, New Jersey, is one of my favorite South Indian restaurants that serve various forms of Okra. Specifically get a meal called the Bhindi Masala, which is packed with Okra, and very flavorful for rice or Naan (a delicious South Indian roti/pita bread).
It's the new year, and we all want to eat healthy but not eat boring.
Check out these superfoods at the restaurants above, or restaurants serving the similar cuisines, and let me know about your experiences!
Related