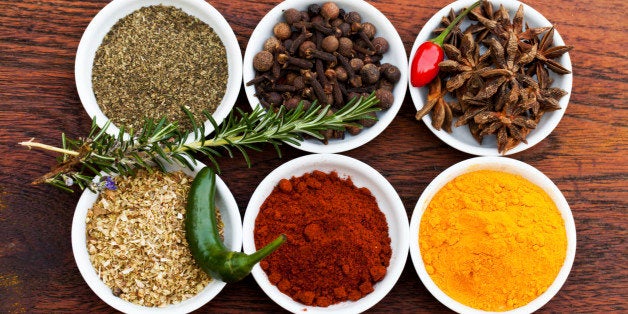 The holidays are here, and we are all getting ready to head into the kitchen to make that favorite meal. Most of us associate holiday food with overindulgence and sneaking in ingredients that we would not normally eat. Thankfully, some holiday dishes are actually loaded with healthy ingredients. Many of the spices used around the holidays have unknown health benefits and should be enjoyed this holiday season. Use this list of holiday spices in your favorite dishes this season.
Cinnamon

Pumpkin pie, sweet potato soufflé and many other holiday desserts are home to this aromatic spice. Cinnamon is best known for its warming smell and helps us identify the arrival of the holiday season. Cinnamon has a number of health benefits, many of them stemming from compounds in cinnamon oil. There are two types of cinnamon, Cassia cinnamon which is more widely available, and Ceylon or Chinese cinnamon.
Derived from the bark of the cinnamon tree, cinnamon has been found to contain a high level of manganese, a mineral important in blood sugar regulation. In fact, cinnamon has been shown to lower glucose and lipid levels in diabetics. Cinnamon also has antimicrobial and anti fungal properties, with some studies showing that it is effective against candida. Finally, cinnamon may play a role in Alzheimer's prevention. (1,2)
While the doses of cinnamon needed to exert a therapeutic effect can range from 6-10 grams, an amount tough to get in your favorite recipes, adding cinnamon through your favorite dishes can help to build that "healthy" factor in your holiday recipes.
Originating in Indonesia, nutmeg is derived from a tree now found in the Caribbean and South India. Nutmeg is a high mineral spice, containing magnesium, potassium and zinc. It has been used as a brain booster, since two compounds derived from nutmeg, myristicin and macelignan, have been found to balance neural pathways and may be able to improve focus. The rich magnesium content of nutmeg has also been found to help with relaxation and sleep. (3)
There are many other home remedies associated with nutmeg, including using the spice as a pain reliever or for indigestion. Mixing nutmeg with some honey has been used to heal acne, while mixing with chick pea flour is thought to remove blackheads. Too many holiday sweets? Try using the essential oil to help boost focus.
Ginger

One of the best known digestive aids, ginger contains the active compound gingerol, which has been shown to help indigestion, nausea and vomiting. This same compound also has anti-inflammatory properties, assisting in relief of joint pain and inflammation. (4)
Fresh ginger contains more active gingerol than dried ginger and can be kept in the fridge for up to three weeks or in the freezer for as long as six months. Add grated or sliced fresh ginger to your teas, sweets and stews to lower your inflammatory load this holiday season.
An original Chinese spice, star anise comes from the fruit of a tree in China. Chinese star anise is thought to have health benefits, while Japanese star anise is poisonous. The health benefits of star anise are traced back to the compound shikimic acid, which resembles the drug ostelmavir, used to fight the flu. Star anise has anti fungal and anti-candida properties as well.
Star anise is often used to flavor teas and desserts, while the essential oil is used in many perfumes. Consider adding this aromatic spice to your favorite holiday dishes to balance your sugar load and risk for Candida, a yeast that naturally occurs in our microbiome, but can get out of balance with overindulgence!
Cardamom

Both a digestive aid and an antiseptic, the essential oil of cardamom is one of the few spices that has high amounts of iron and manganese. The oil of cardamom can be used topically to heal infections and as an anesthetic. In many countries, the entire pod of cardamom was boiled with ginger and other spices to relieve digestive discomfort after dinner. (5)
Today, cardamom is used in many desserts, drinks and rice dishes throughout the Middle East. Add this spice to your kitchen cabinet and add the essential oil to your first aid kit.
Enjoy this holiday season and experiment with spices from around the world. These spices can help navigate the continuum between health and holiday excess, helping us all to have a healthy holiday season.
Related