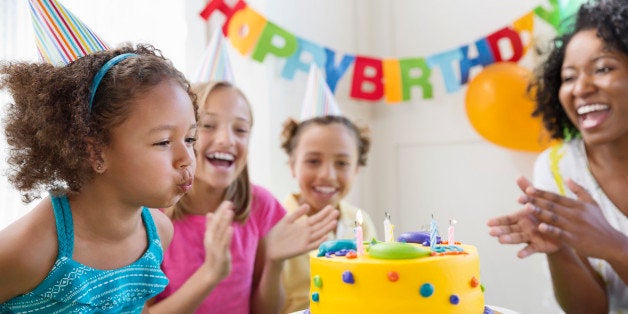 When I first started looking into trends for kids' birthday parties, I knew it would be fun, but I wasn't quite prepared for just how much fun! Now that I'm planning for my own little nugget, I have to admit, kids are on the brain. And though it's a bit early for me to be planning birthday parties, I want to be prepared for when the time comes. In the meantime, I'm here to help you plan your child's next birthday party. Forget those run-of-the-mill, standard party ideas. I did some serious digging to arm you with new, interesting and tons-of-fun themes that will stand out.
Tie-Dye
For kids 8 and up, a tie-dye party speaks for itself because you know what the activity and favors are from the get-go. Get as psychedelic and colorful as you want with the décor. And the activity is simple. All you have to do is provide the non-toxic dye and a bunch of T-shirts for them to decorate. If you're feeling adventurous, try making a tie-dye birthday cake by dividing up the batter and swirling in food coloring before gently swirling them all together in the pan.
Woodland
Your kids may be too young for The Hunger Games, but no child can resist the mystery and excitement of a magical forest-themed party. A universally fun snack you can make is "acorns," which you make by attaching a small peanut chip to one side of a small peanut butter cookie as the stem and then attaching a chocolate kiss to the other side of the cookie as the acorn. Voila! How do you get them to attach? I would use a warm pan to slightly melt the chip and kiss so that it sets into the cookie. This is even a good opportunity to introduce other woodland friends like deer, mushrooms, squirrels or foxes, as I think we all could use a break from the owls. Try some forest-inspired serving pieces like a cut log as the cake stand or forest creature shaped party favors like lollipops key chains and pencil toppers.
Under the Sea
I tried not to have a favorite when writing this article but what can I say? Under the sea won me over early on. It's the sea's knees! Turn mini croissants into crabs by adding carrots for legs, red peppers for claws and olives for eyes (attach them with a toothpick). And for dessert, stick goldfish crackers on ocean-blue cake pops. For favors, personalize pail & shovel sets with guests' names. You decorate with iridescent streamers and play pin the tail on the fishy.
Camping
A camping themed b-day party doesn't mean you have to go camping at all, though you could set up tents in your backyard and let the kids sleep out there. If you're not feeling a sleepover party though, a day at the park is just as good. For dessert, place rolled wafers on top of a chocolate-frosted cake to look like logs and use orange and yellow rock candy for flames. Serve fruit punch labeled bug juice, and for party favors s'mores kits are easy and fun.
Pirate
Another favorite, a pirate party immediately brings to mind a secret treasure hunt. Sticking with the treasure theme, cover iced cupcakes in chocolate coins and edible glitter. Make some "ahoy" flags for decoration. A fun game is to host a treasure hunt, a.k.a. scavenger hunt, where the kids have to go around the yard or house looking for a list of things using a treasure map. They'll search for things like a string of beads, a gold coin (chocolate of course), a skull ring, eye patches, etc. What they collect can be their favor to take home. Just be sure to get enough of each for everyone!
When you're gearing up for your kid's next birthday party, think outside of the owl, tea party, and rainbow themes and remember this list. Happy planning!
Dana Holmes is a lifestyle, gift and etiquette expert who acts as Editor in Chief of Gifts.com and the Gift Rap Blog. She has been working in trend forecasting and gift recommendations for the past decade. Dana loves making occasions special with her unique gift ideas, tips and touches. She has been interviewed by the New York Times, Associated Press, Fox & Friends, TODAY in NY and many more.
Support HuffPost
A No-B.S. Guide To Life
Related
Popular in the Community