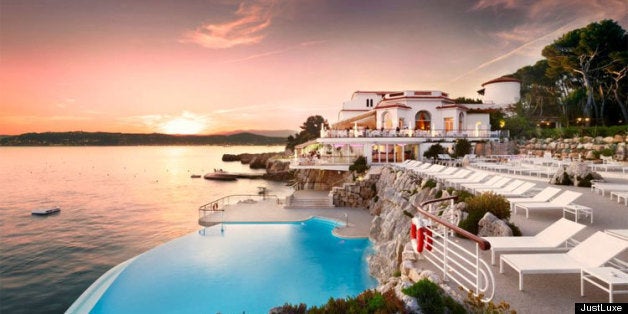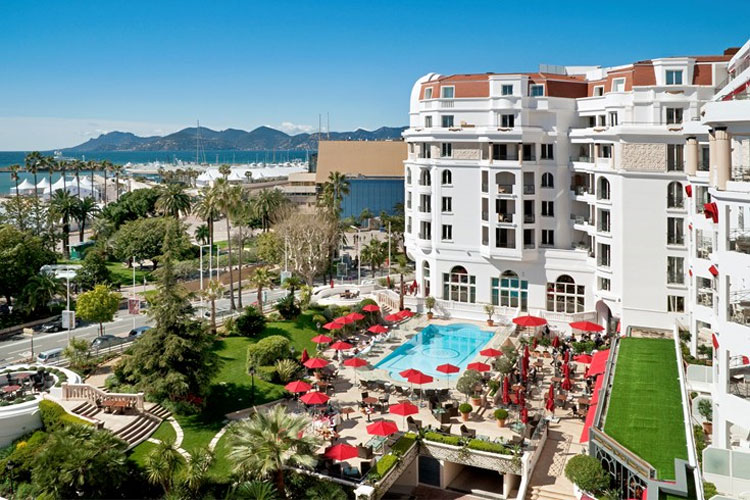 (Photo Courtesy of Hôtel Majestic Barriere)
Whether in town for business or pleasure, celebs are more than happy to take time out of their busy schedules to jet off to the South of France for the Cannes Film Festival; and could we really blame them? It is one of the most celebrated and publicized film festivals in the world, which means they'll be flocking toward the flashbulbs like a moth to a flame any second now. With 65 years of festivals already behind them, certain luxury hotels around town have established themselves as a place for the rich and famous to call home during the annual event. So if you want to "coincidentally" run into one of them, here's where to do it: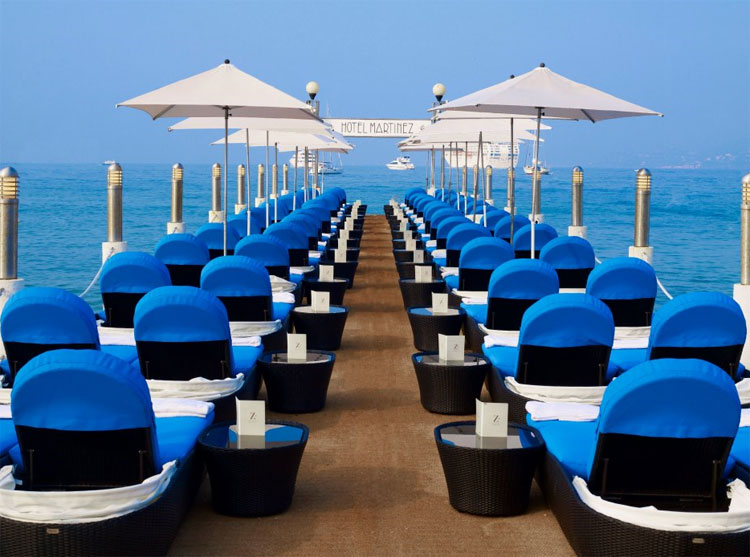 (Photo Courtesy of Hotel Martinez)
A historic property that's been roaring since the 20s, Hôtel Martinez is a Cannes staple of grand proportions. The hotel's private beach is the largest on prestigious Boulevard de la Croisette; its restaurant, La Palme d'Or, holds two Michelin stars; and rooms and suites offer private terraces with views of the Mediterranean Sea, Esterel Mountains, and the Cannes cityscape. Celebs love this spot because of the hotel's dedication to its guests' privacy. Supposedly, you can't even walk through the front door unless you're on a list of hotel guests. Eva Longoria, Bruce Willis and Robert Pattinson must've been lucky enough to make the list, because they've all been seen looking fabulous here.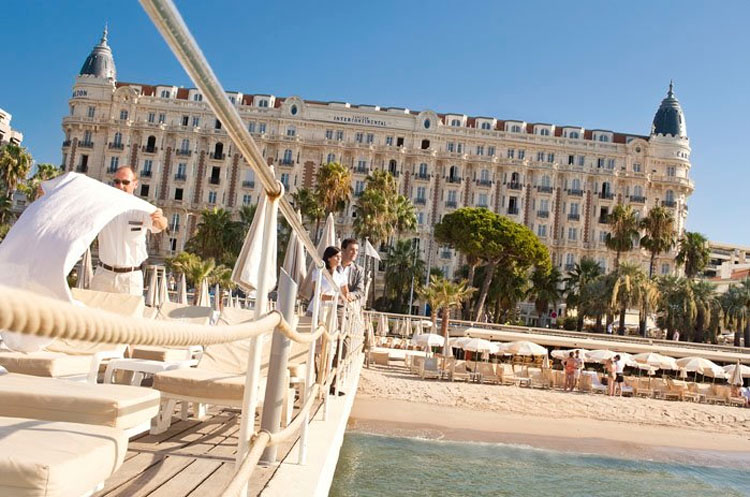 (Photo Courtesy of InterContinental Carlton)
Just a few blocks away from Hotel Martinez is InterContinental Carlton, which just celebrated its 100th anniversary. The Belle Époque building is listed as a registered historical monument and has become a point of reference for locals and tourists alike due to its location on Bay of Cannes and unique façade. InterContinental Carlton has hosted the likes of Grace Kelly, Antonio Banderas, and Jessica Chastain throughout the years. You can expect a lot more famous faces with the addition of the Cannes Movie Stars Lounge that has been set up in one of their sprawling suites. Journalists, actors, and photographers will be gathering here throughout the 11-day festival to promote some of the films with round tables, interviews and press conferences.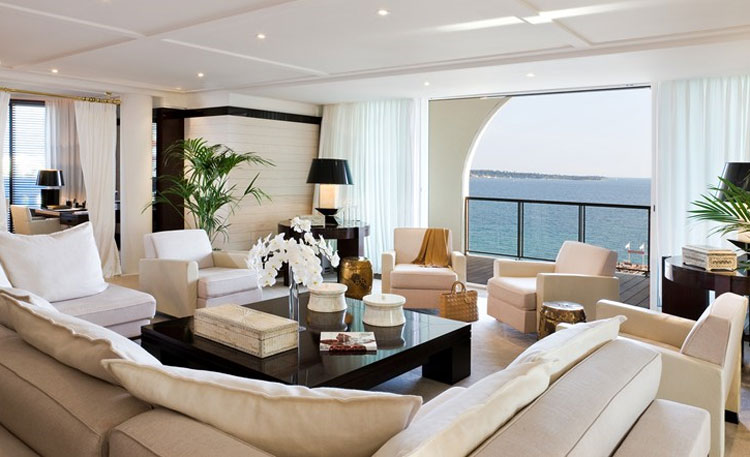 (Photo Courtesy of Hôtel Majestic Barriere)
Conveniently situated just steps from the Palais des Festivals (the site of the film festival), Hôtel Majestic Barriere features 349 spacious sound-proof rooms and suites, along with two penthouses, one with a private pool. Offering more just than just proximity to all the action, the hotel also boasts world-class dining at La Petite Maison de Nicole; the entirely renovated 5,000-square-foot U Spa Barriere; and 18 different meeting and event spaces to host any social or business function. Facing the Mediterranean, picturesque panoramic views are always readily available, and guests can take advantage of access to the private beach and jetty. Last year, Robert De Niro, Matthew McConaughey, Jane Fonda and Paris Hilton were seen enjoying the French Riviera fun from this historic hotel.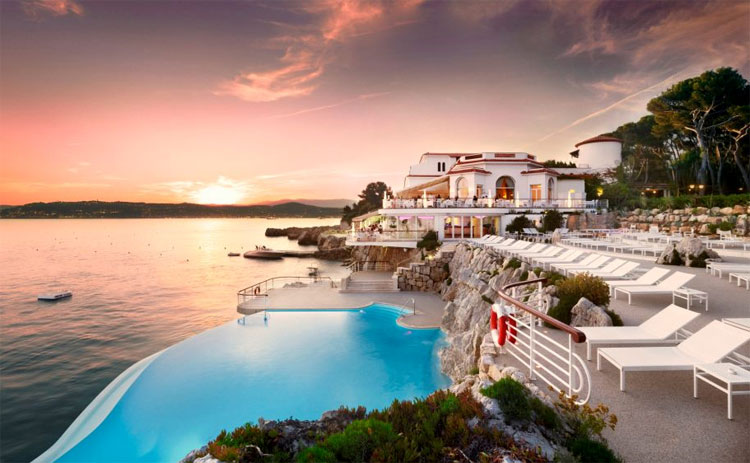 (Photo Courtesy of Hotel du Cap-Eden-Roc)
At the very southern tip of Cap d'Antibes on beautiful Côte d'Azur, Hotel du Cap-Eden-Roc has been a five-star haven for artists, writers, European aristocracy, and of course movie stars for over 140 years. Nestled into 22 acres of lush gardens and pine forests, the property provides the utmost privacy for its guests, especially during the film festival. If they're not being put up in one of the elegant suites, my guess is that celebs are vying for stays in the two three-bedroom villas set off of the main building. Fancy dinners, TV junkets and fabulous parties will bring many stars on property in the next week, but the A-list roster is already quite long and extremely star-studded: Tom Cruise, John Travolta, Kevin Costner, and Sharon Stone, to name-drop a few.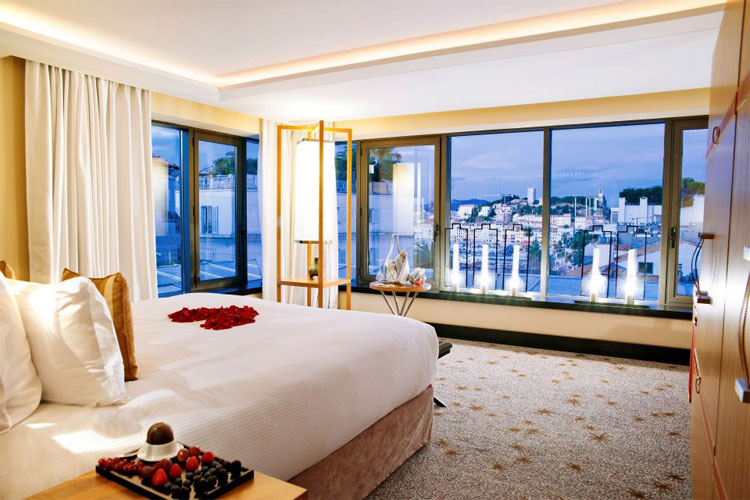 (Photo Courtesy of Five Seas Hotel Cannes)
For a more intimate experience, the five-star boutique Five Seas Hotel Cannes is a popular choice on the French Riviera. With just 45 rooms (half being suites), a roof top infinity pool and bar lounge, a tea room offering gourmet French desserts, the chic Spa Cinq Mondes & Carita, and access to a private yacht, Hollywood's hottest can't help but flock here, film festival or not. Located right next to Palais des Festivals, it's easy for guests to hop over for screenings and interviews and return for a relaxing spa treatment to keep them looking camera ready at all times.