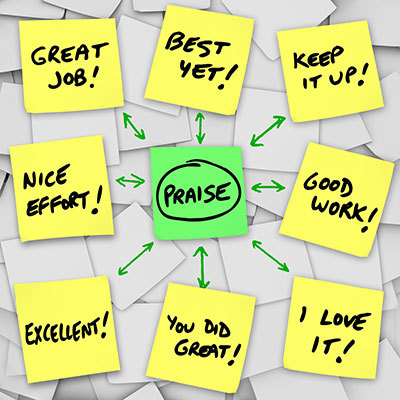 All right, so you want to do some employee recognition and make sure people who work hard get properly rewarded -- that's a great idea. Most employees want to know that their efforts on your behalf are noticed, and few things are more depressing than the belief that the company doesn't care about them. Even better, knowing recognition is possible can help other employees work harder -- and the end result will be a major gain for the company.
Still, what kind of employee recognition can a small employer offer without fracturing your budget? After all, money isn't always a good motivator -- the most expensive rewards may not be the best ones. Let's take a look at some of the more affordable HR solutions you could use to recognize your employees.
If you have a company newsletter, a section highlighting special efforts people have made can be an outstanding way of making sure everyone knows how well they've been contributing to the team. Try to avoid things like "Employee of the Month" or "Best of..." segments, though -- this kind of recognition can feel temporary at best. Instead, honestly talk about their actions and what the results were -- especially if they work remotely, since employees who aren't in the office all the time often need to be managed in different ways.

Tickets to Events
Few things feel more rewarding to employees than the sense that their job supports the rest of their life -- and few things support the rest of their life as well as tickets for their whole family to some kind of event. Perhaps they're tickets to a play, the movies, a theme park, a concert... there are countless options here, and they'll almost certainly enjoy something that's happening around them.However, it can be difficult to time things perfectly. Tickets are a great gift for employee recognition after they've really gone beyond the call of duty or just finished a major project. If you're not sure what kind of tickets to give, you can either ask outright (along the lines of "We think you did a great job, and we want to treat your family to something--what would you like to do this weekend?") or give them tickets that can be used at any point in time.

Treat Them to Lunch
Everybody likes food -- and even a meal at a good restaurant is easy to work into the company's support budget. If your relationship is good enough, consider treating your employee to lunch at a nice sit-down restaurant, perhaps with an extended lunch hour so they have plenty of time to enjoy it.Alternatively, have catered meals brought to the office -- though this works best for recognizing larger groups of people, rather than individual employees. Highly tangible rewards like food are also particularly good for meeting the needs of Generation Z employees.

Get Some Donuts
This HR solution is a little sneakier than most. With a large variety box of donuts -- several boxes, if you have a lot of employees -- announce to the company that a given employee has done a great job... and that the donuts are in their office. Anyone who wants one is allowed to go say "Hi". This will allow for a steady stream of happy employees showering recognition on someone.

Enable Profit-Sharing
If you want to recognize a
lot
of employees, a good HR solution might be to start a profit-sharing program that directly rewards employees for improved productivity (profit for the company). This is the kind of employee benefit that's actually a benefit--and its value is not to be underestimated.Profit sharing gives employees a direct stake in the profitability of the business, creating an atmosphere in which employees want the business to succeed as much as management does.
Keeping good employees is as easy as providing a bit of recognition so they feel rewarded.
Do your employees feel recognized for good work? Contact us and we can help you make sure your employees feel supported, which is a win-win for them and your company!
Margaret Jacoby, SPHR, is the founder and president of MJ Management Solutions, a human resources consulting firm that provides small businesses with a wide range of virtual and onsite HR solutions to meet their immediate and long-term needs. From ensuring legal compliance to writing customized employee handbooks to conducting sexual harassment training, businesses depend on our expertise and cost-effective human resources services to help them thrive. This article first appeared on the MJ Management Solutions blog.
Popular in the Community