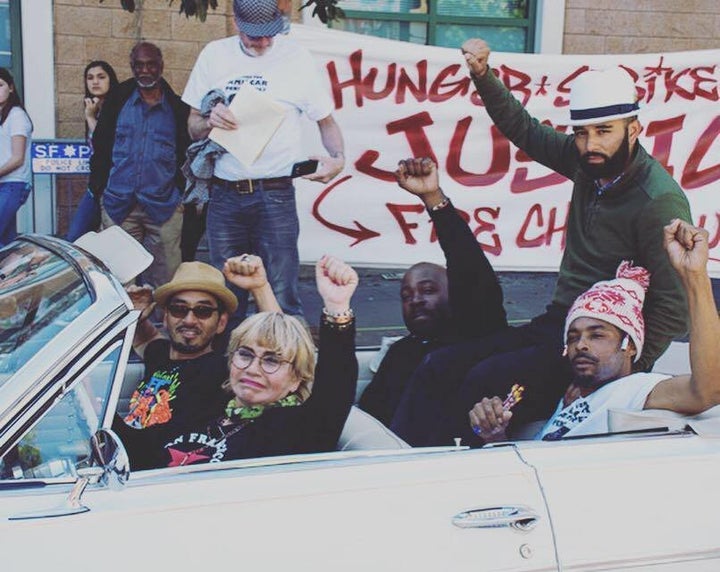 SAN FRANCISCO -- Five protesters were hospitalized on Friday 16 days into a hunger strike in front of a city police station.
Dubbed the Frisco 5, the four men and one woman demand the firing or resignation of San Francisco Police Chief Greg Suhr because of several fatal shootings by police.
"Due to their deteriorating health, all five of the hunger strikers have been hospitalized," spokeswoman Yayne Abeba said in an email. She declined to specify their individual conditions, but said they would continue to strike while under medical supervision.
"They will be monitored more closely by a professional group of doctors," said Abeba in a video recorded by Mission Local.
Sellassie Blackwell, 39; Edwin Lindo, 29; Ike Pinkston, 42; Ilych Sato, 42; and his mother Maria Gutierrez, 66, have subsisted on coconut water, juice and cups of broth since April 21 while camped in folding chairs and tents in front of the police building in the Mission district.
Blackwell, a rapper, was briefly admitted to the UCSF Medical Center on Wednesday for blood work, but returned to the group that evening.
For the first time, Mayor Ed Lee spoke by phone with the members of the group on Thursday. He'd previously tried to meet them in person by arriving unannounced at the station on Monday, but the group refused to sit down with him.
The mayor's office didn't immediately respond to HuffPost's inquires, while a police spokeswoman declined to comment about the strikers' worsening health.
"We wouldn't have any information on their condition," said the spokeswoman.
The San Francisco police department has been dogged by complaints that officers quickly resort to lethal force in altercations with suspects. In early April, officers fatally shot a homeless man they said charged them with a knife, though critics said the police should have tried de-escalation first.
The Dec. 2 shooting of Mario Woods, a stabbing suspect, has led to large protests around the city. Woods died from 20 gunshot wounds, and critics said that officers opened fire though he posed them no risk. The Department of Justice is investigating the shooting.
Popular in the Community