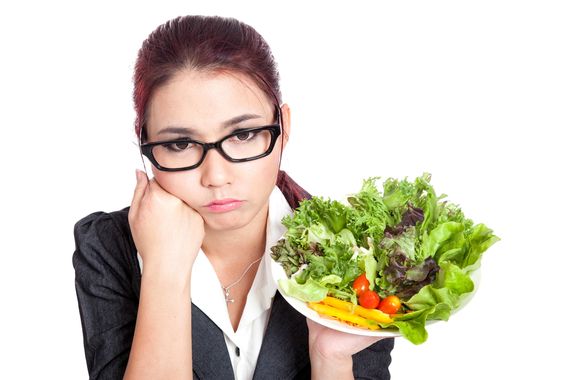 Lunch, almost by definition, is the most boring of all the meals. There's breakfast, which is all about getting your body pumped for the day. And then there's dinner, where we try and slow down and reconnect with family and friends. We make time for dinner. We make plans and reservations! But lunch? Lunch gets the sloppy seconds. It's almost always eaten cold... and ALONE!!
So yeah, you're probably down on it. You're probably sick of the old sandwich and limp salad routine you make for yourself and bring to work. Or by the end of the week, you've ordered so many of the specials at the local Szechwan joint that the delivery guy knows everything about you, including your mother's maiden name. And what about your kids? By Tuesday, the thought of the three days left in the week to have to pack lunches is almost enough to make you want to keep them home from school just to avoid packing lunch! ALMOST! You're tempted to send them in with five bucks to get their own lunch, but then you realize your preschool doesn't offer that option. Ugh.
At Little Global Chefs, we have the opposite view. We actually LOVE lunch. Call us weird, idealistic, or claim that we have too much time on our hands (objectively we don't think we're any of those things, except maybe a little weird), but we really do love packing lunch and it doesn't actually take that much time! In fact we've been known to pack lunch in less than six minutes (the time it takes to brew that pot of coffee).
On Instagram, several times a week, we share what our families are taking to school or to work for lunch, and we've got LOTS of ideas. Here are 5 of our most popular lunch boxes which we hope you use to get inspiration to end that sandwich rut. If you like what you see, follow us on Instagram for more ideas!
1. You might not even notice that this lunch is vegetarian with the fresh, colorful fruit salad. Some organic cheese crackers for crunch, edamame for protein and homemade strawberry leather and a chocolate chip banana shark for some jaw-dropping sweetness!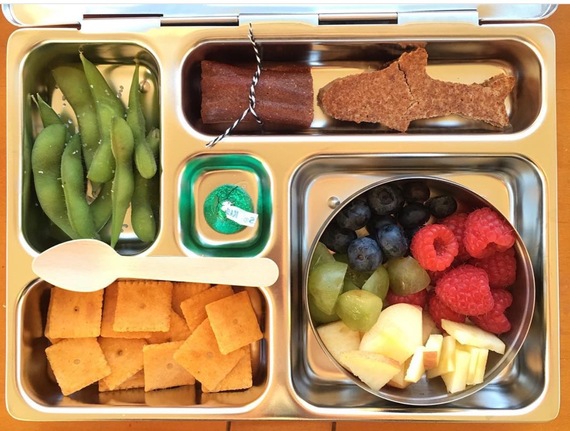 2. Can we talk about this banana we BEDAZZLED! AND it's on a stick. BOOM! A bacon and turkey whole wheat wrap with some sugar snaps, some raspberries and pineapple bites, pretzels and chocolate covered sunflower seeds for a colorful and sweet dessert.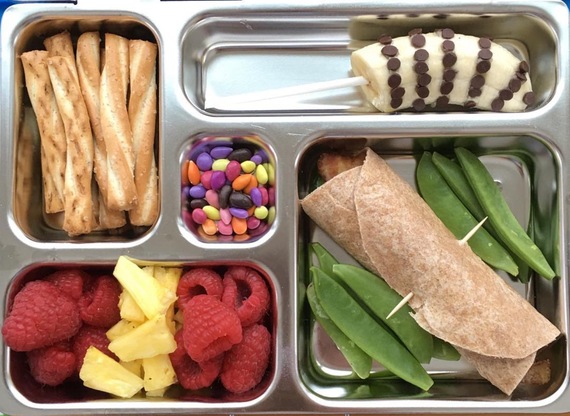 3. Whole wheat pita pocket pepperoni pizzas (say that five times fast!) with bright, juicy fruit and wholesome roasted cauliflower. And a reminder of some sight words you or your kid may be working on :) Dark chocolate covered edamame makes for a sweet treat with less guilt.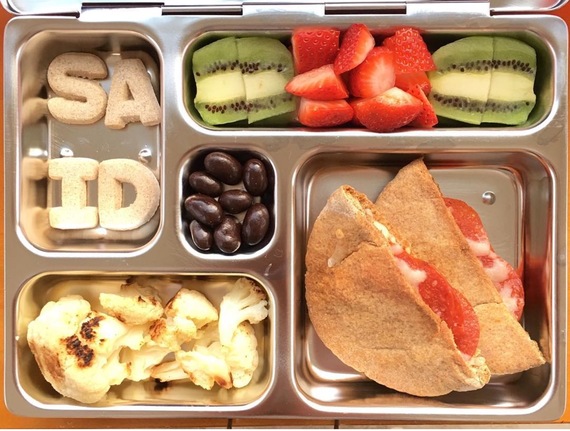 4. Wow! Another vegetarian lunch that's colorful and full of flavor and crunch! Bagel chips and fresh veggies to dip in protein packed hummus and a donut peach with blueberries for loads of vitamins to keep you charged. Seriously, a donut peach! And a chocolate coin for a sweet treat. Awesome.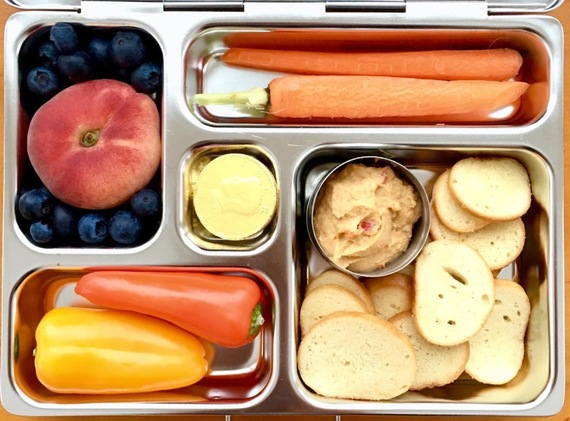 5. Hold the MSG!! This fried rice is filled with veggies and deliciousness! Baby bell peppers and cherries to check off the fruit and veggie boxes with some pumpkin seeds for extra vitamins and minerals. And you almost can't have veggie fried rice without a couple of fortune cookies, right?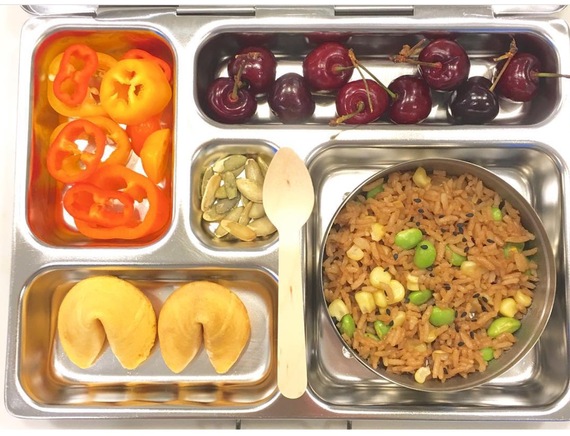 Think these lunch boxes are cool? We do too! You can get yours here.