Each time I drive my son to preschool, I drive by the high school. The same high school where I spent my senior year, which makes it strange to see kids walking towards the school looking so young when I feel like I graduated yesterday. I see kids half-asleep, less-than-enthused trudging across the street & heading to yet another day of classes. I fully understand that it can be monotonous, & I understand how senioritis gets ahold of students. It is extremely common, but that doesn't mean that every student needs to succumb to it.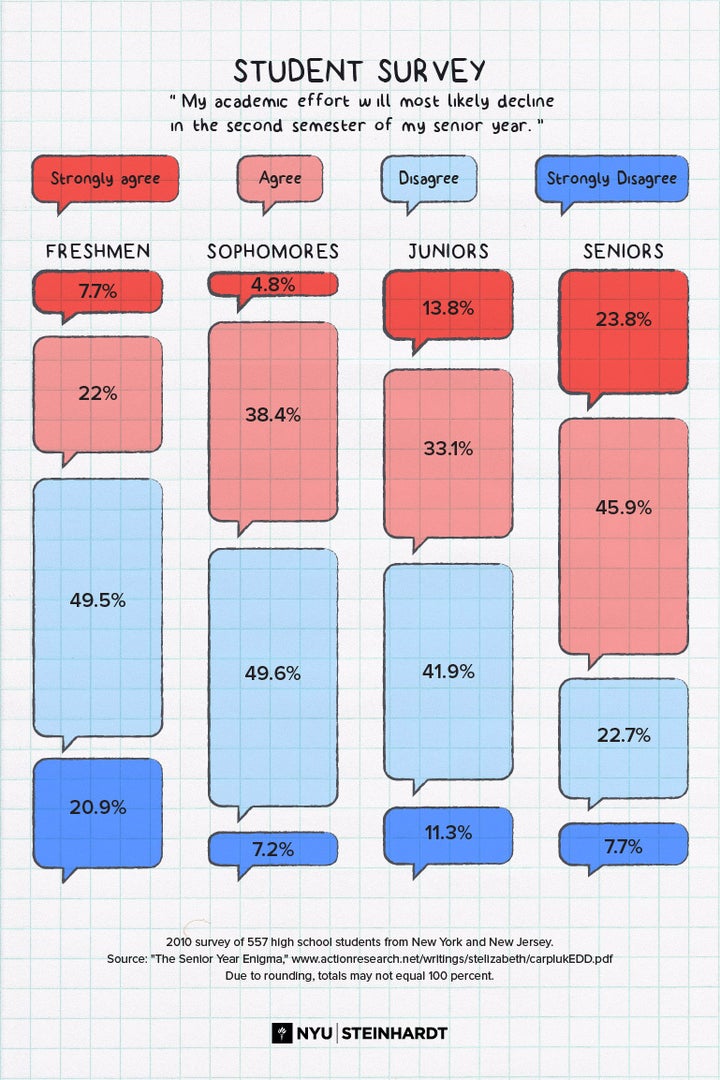 According to this, about 30% of seniors disagree that they will decrease their academic efforts in the second semester of their senior year. That is a low number, which probably falls even lower when you consider how many students actually maintain their academic efforts rather than simply saying they will. Senioritis is such a common trend that it becomes contagious to some extent; however, there are a few important reminders to help get you back on track…
Many seniors are tempted to take a year off from extracurriculars, & there are a couple things to consider here… If you have spent years playing a sport, participating in a club, or doing some other activity, now is not the time to quit. Soak in these final moments with your friends, & see your hard work through to the end. Of course, the key to staying involved is that you are enjoying these activities & not overloading your schedule. Too many commitments make anyone miserable so pick a few things that you truly enjoy & make some memories to take with you for the rest of your life.
You have been accepted to college, & everything is set! You did it, you made it this far, you've earned it. But… if your grades slip enough, colleges can (& will) rescind your acceptance. According to this article, "Many colleges don't receive final grades until June or July, so if the final report doesn't align with the information in the application, students may find they've lost their spot at the college of their choice." Don't waste all of the hard work you have put in up until this point - hang on for a few more months!
I get it. I have been there. Sometimes we just don't have it in us to work harder. We see the finish line & feel like we have made it far enough, but the reality is that we do actually have to cross that finish line one way or another. Working smarter is a great option to balance those feelings of senioritis with the reality that you need to finish strong. My high school allowed us to have late arrival or early dismissal if we scheduled a study hall for first or last period. This was a great way to have a little bit more of a relaxed schedule without being tempted to skip classes. You also should have a good idea of what you need to do to get the results that you want. Work smarter so that you keep your grades, make some great memories, & can still take things at a little slower of a pace.
In my freshman year of college, all of my friends had to take this freshman writing class that required them to write papers all of the time. This class was hated by everyone, & I was so glad that I didn't have to take it! I made my first semester of college much easier because I had taken AP English in high school & passed the AP test for college credit. There are so many transitions to make in that first year of college, & it was so helpful to be able to have a lighter course-load. Take advantage of these types of opportunities that are available to you now in high school while you have the chance.
You have been in school for years & years already, but your career as a student isn't over. Whether you have college ahead of you or a new job, you will still be required to maintain certain hours, work hard, & learn new things. Slacking off now will only make it harder to catch up later. It can be so hard to get back into the swing of things once you are used to a lazier lifestyle. There is something to be said for taking a well-earned break to avoid burnout & fatigue; however, that should be a purposeful & meaningful break rather than avoiding obligations & responsibilities.
So I guess the bottom line to all of the new seniors for this year is this…
You will never have these opportunities again. The decisions you make today do have an impact on the near future. And you've made it this far so you might as finish strong.
Calling all HuffPost superfans!
Sign up for membership to become a founding member and help shape HuffPost's next chapter